South Manitou Island is my favorite destination in the entire state of Michigan. Encompassed within the Sleeping Bear Dunes National Lakeshore, the island is only accessible by private boat or the Manitou Island Transit passenger ferry service that operates seasonally out of the Fishtown Dock in the town of Leeland.
Book Your Stay
Find family-friendly accommodations around South Manitou Island, Michigan from traditional hotels to private vacation rentals through Stay22.com:
While the ferry runs between both North and South Manitou Islands, South Manitou is really the only island conducive to a day trip. Most people visiting North Mantiou Island come prepared to camp; passengers are first dropped at the South Mantiou Island and then the boat continues to North Manitou before returning to Leland for a second run of the day.
Shown below, the Mishe-Mokwa features seating on two levels and offers a limited snack and beverage service. En transit, a concierge will come around and offer assistance on planning your day (there is an option to purchase a seat on one of two island tours; we have never participated in either of these as we have preferred to explore at our own pace and agenda).
I have ridden the Mishe-Mowka in calm waters and on rough seas. If you are prone to seasickness, plan ahead. Many people order sandwiches "to go" from one of the shops in Fishtown, we pack enough food for snacks and treats to last the entire day. In all, the trip between South Mantiou Island and the mainland takes about an hour and a half.
Once on the island, you won't have an opportunity to purchase food or supplies; the last modern restrooms are near the old boat house and ranger station. There's also a place to fill up your water bottles just outside the bathrooms (your best bet for replenishing drinking water while exploring the island is at one of the three campgrounds – but you may want to invest in a water filtration system just in case).
If you are only spending the day exploring South Manitou Island, keep an eye on the time. If you miss the 4pm departure back to the mainland, you will need to find a park ranger in a hurry. If you are camping, you will need to register at the boathouse; all visitors to the Island are required to purchase a day pass with the National Park Service (we used our annual pass).
Because my ancestors immigrated to South and North Manitou Islands from Germany in the late 1800's and early 1900's, we have a specific interest in visiting the island's small cemetery. En route, we pass the turnoff to the old family farm as well as the one-room schoolhouse where a small population of island school children spent their formative years.
The island was once known for the purity of its seed crops as well as lumber and fishing. A popular excursion is a stand of old growth cedars; among the largest and most magnificent in the entire state of Michigan. The western edge of the island is flanked by a wall of sand dunes towering over 300-feet in elevation. If you are looking for sweeping and expansive views of Lake Michigan in the direction of Wisconsin, this is an excellent vantage point.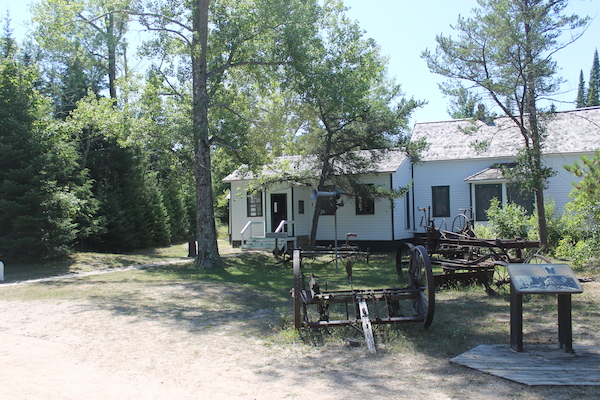 To learn about the island's early occupants, notable shipwrecks, and lifesaving efforts by the resident coast guard station, stop by the visitor center and new museum. Both of these destinations are on the path/walkway leading out to the South Manitou Island lighthouse. Standing 104 feet above the shoreline, the light was once the primary means of protection as vessels traversed through the Mantiou Passage. The lighthouse tower is open between May and November; park volunteers take guests up the 117-step spiral staircase and out onto the viewing deck.
One of my favorite things to do when visiting South Manitou Island is nothing but simply wade in the clear water and skip polished stones back into the shallows. Many people bring bathing suits and cool down with a swim in the island's protected harbor. I always find the water a bit chilly, but my kids didn't seem to mind one bit when we visited last August.
Other tips for spending a day trip on South Manitou Island is remembering bug spray, a hat, and any other light medical supplies (bandaids for blisters) that might make your trip a bit more comfortable. Know what poison ivy looks like and bring Benadryl/hydrocortisone cream if you know you will immediately react.
Other than that, we hope you love South Manitou as much as we do. Happy Trails!