I was born and raised in the suburbs of Grand Rapids, Michigan and still consider West Michigan my home. People often ask me for suggestions on what to do in Kent County so I decided to make a list of the more family-friendly destinations in the area.
Some of these venues didn't exist when I was a kid and some are going strong. Fortunately, I've been back home with my own kids and can appreciate how much the city has grown and improved in the last twenty-five years.
Take a read-through of these suggestions, and if you're yearning for more to do in Michigan, check out the recently published updated, and comprehensive guide on the 50 best things to do in Michigan on the site Your RV Lifestyle. It is completely free and filled with some great suggestions.
Frederik Meijer Gardens and Sculpture Park
Website: http://www.meijergardens.org/
Located an easy drive from East Grand Rapids and the historic Gaslight Village, Frederik Meijer Gardens and Sculpture Park is open year-round (the five-story tropical conservatory is the largest of its kind in the state). As the name implies, a diverse assortment of outdoor sculptures have been placed throughout the park's grounds. The summertime concert series draws throngs of people to the property's outdoor amphitheater. A large portion of the garden experience is designed around children; this page features many of the highlights your entire family will love. Frederik Meijer Gardens and Sculpture Park is a wonderful place, make sure this venue is on your list.
Millennium Park: Beach and Splashpad
Website: http://www.kentcountyparks.org/millennium/beach.php
If you visit Grand Rapids between Memorial and Labor Day weekends, be sure to drive out to Millennium Park and soak up the sun at the beach and splashpad. The six-acre sand beach is a popular spot for families to build sand castles and swim in the marked areas in Millennium Park Lake. Adjacent to the concession stand and locker rooms is Mehney Splashpad; more than a dozen sprayers, buckets, splashers and other water features keep toddlers and younger kids happy and entertained.
John Ball Zoo
Website: http://www.jbzoo.org/
The John Ball Zoo is West Michigan's zoological park and aquarium. The zoo is built into the hilly landscape overlooking the Grand River; one option for exploring the zoo is to ride up (or down) on the funicular and save re-tracing your steps. The zoo is almost entirely enclosed in a canopy of old growth deciduous forest and keeps visitors and animals cooler in the summer months. Highlights (not included in admission) are a zipline, sky trails ropes course, sting ray lagoon, camel rides, and budgie aviary. If you go, make sure and head to the top and back edge of the zoo property to see the new tiger exhibit and explore the Tree Top Outpost and nature play zone.
Where to Stay
Find family-friendly accommodations in Grand Rapids, Michigan, from traditional hotels to private Air B&B homes through Stay22.com:
West Michigan Whitecaps
Website: http://www.milb.com/index.jsp?sid=t582
The West Michigan Whitecaps are West Michigan's minor league baseball team. Home field is Fifth Third Ballpark, which is located in Comstock Park about ten miles north of downtown (you can see the stadium right from US-131). Like other minor league baseball games round the United States, the experience is centered wholesome, family-friendly fun. Check the Whitecaps website for various events, promotions, and "theme" nights.
Grand Rapids Children's Museum
Website: http://www.grcm.org/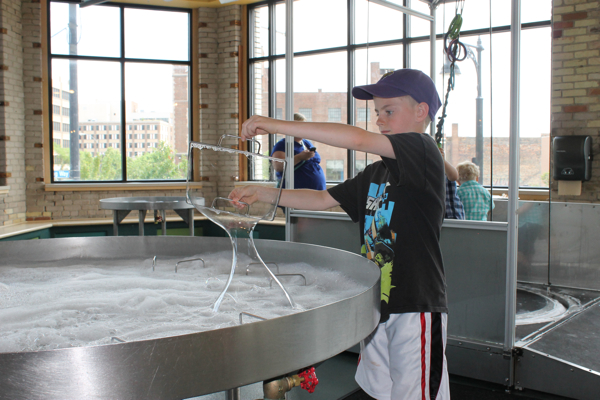 Located in the heart of downtown Grand Rapids, the Grand Rapids Children's Museum features nine key exhibits over two floors (our favorite is the Bubbles exhibit in the front corner of the second floor). The museum is a nice medium-size facility that caters to younger children and toddlers. Thursday night is family night and admission is discounted to $1.75/person. The museum is within walking distance of the Grand Rapids Public Library; on the way we like to toss lucky pennies in the fountains at Veteran's Memorial Park.
Grand Rapids Public Museum
Website: http://www.grpm.org/
Established in 1854, Grand Rapids Public Museum moved to the state-of-the-art Van Andel Museum Center in 1994. Resting on the West bank of the Grand River, museum patrons enjoy views of the downtown skyline (and especially from the 1928 Spillman Carousel housed in a glass pavilion built out over the water). An average of ten permanent and traveling exhibits are spread out over three floors, including the Streets of Old Grand Rapids exhibit I remember seeing as a kid.
Boulder Ridge Wild Animal Park
Website: http://www.boulderridgewap.com/
Another option for animal lovers is the Boulder Ridge Wild Animal Park, an 80-acre zoo and aquarium located a short drive southeast of downtown Grand Rapids (in Alto, my old stomping grounds). This attraction is seasonal (2016 opener is set for May 1) and features exotic animals, reptiles, birds, invertebrates, and fish. Many people like Boulder Ridge because the visitor experience is interactive and the animals enjoy larger and more open enclosures.
Coopersville Farm Museum
Website: http://www.coopersvillefarmmuseum.org/_index.php
In the opposite direction of the Boulder Ridge Wild Animal Park is the Coopersville Farm Museum. While I have not been to this destination, photos posted on the museum website and Facebook page look exactly like a place my kids would enjoy. Designed around farm and rural living, many of the exhibits are interactive as well as educational. Kids events range from a Saturday petting zoo to arts and crafts. Also in Coopersville is a seasonal passenger train many families love.
Grand Rapids Public Library
Website: http://www.grpl.org/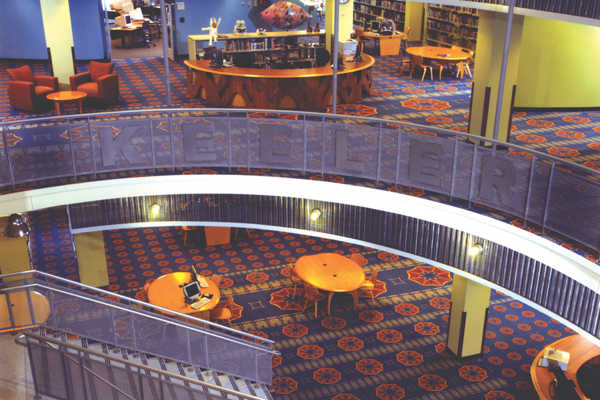 Located near the Grand Rapids Children's Museum, the downtown (111 Library St. NE) Grand Rapids Public Library is the main branch of the city's expansive library system. In the stately three-story building, families will find both children's and young adult sections. Time your visit with a story time or find the library geocache like did a few summers ago.
Grand Rapids Art Museum
Website: http://www.artmuseumgr.org/
Grand Rapids has a healthy and vibrant art scene. Another downtown attraction, the Grand Rapids Art Museum houses permanent and traveling exhibits ranging from the work of Michigan artists to the furniture that made the city famous in the industrial design community. Admission to the museum is free from 10AM – 5PM on Tuesdays and 5PM – 9PM on Thursday nights. Families visiting during summer vacation want to take advantage of the various day camps.
Blanford Nature Center
Website: http://blandfordnaturecenter.org/
Located out past the John Ball Zoo, the Blanford Nature Center is a wonderful place to get into nature. A popular field trip destination for elementary kids, families can also explore the many trails, boardwalks, and paths in all seasons (snowshoe rentals are available). Blanford has some signature events throughout the year; the sugarbush maple syrup harvest is our favorite. You can also visit the Wildlife Education Center, heritage buildings, and working farm focused on educating visitors on sustainable agriculture and the production of food.
Grand Rapids Civic Theatre

Website: http://www.grct.org/
Completely renovated in 2006, the Grand Rapids Civic Theatre has been a mainstay in the downtown community since its first performance in 1979. The 750-seat Meijer Majestic Theatre is "main stage" for productions that tackle important social issues in the same season as timeless and family-friendly productions like A Christmas Story, the Musical.
Woodland Mall
Website: http://shopwoodlandmall.com/
Back when VHS and rotary telephones were all the rage, Woodland Mall was the place to shop for neon-colored clothing. Located on 28th Street, a major shopping and entertainment corridor south of downtown, Woodland Mall has gotten much more hip-and-trendy in the past couple of decades. Case in point: there's now an IMAX movie theater, one of four Celebration! Cinema locations in greater Grand Rapids. Another popular shopping mall is Rivertown Crossings Mall in Grandville.
Festival of the Arts and ART Prize

Festival of the Arts: http://www.festivalgr.org/
ART Prize: http://www.artprize.org/
Circling back to the modern-day Grand Rapids art scene, two events are worth mentioning, Festival of the Arts and ART Prize. Festival of the Arts has been around for nearly fifty years and is a community-wide celebration of all types of art (dance, performance, music, storytelling, and visual). The event runs for an entire weekend and food trucks and vendors set up in Calder Plaza; the event is free and draws over 350,000 people.
While ART Prize is a relatively new event, it has played a major role in drawing global awareness to the city. Claiming to be the world's largest art competition, artists from around the world showcase their work with the hopes of winning a portion of the 500,000 in prize money. The best part: winners are determined by a combination of public vote and expert jury. Entries are located in nearly 200 venues around town; this year's competition will run between September 21 and October 9.
Fish Ladder
Website: http://www.michigan.org/property/fish-ladder-park/
Located along the Grand River at 560 Front Ave, the Grand Rapids Fish Ladder has been assisting the upstream spawning efforts of fish otherwise unable to maneuver the rapids responsible for the city's name. The fish ladder is within an easy walk of the Gerald R. Ford presidential museum (closed for renovations until next month) and the Indian burial mounts at Ah-Nab-Awen park. If you are in town for the 4th of July, this is an excellent spot to watch the fireworks.
But Wait, There's More!
For more information on planning a road trip to Grand Rapids, Michigan visit the Experience Grand Rapids website here: http://www.experiencegr.com/
Pin for Later: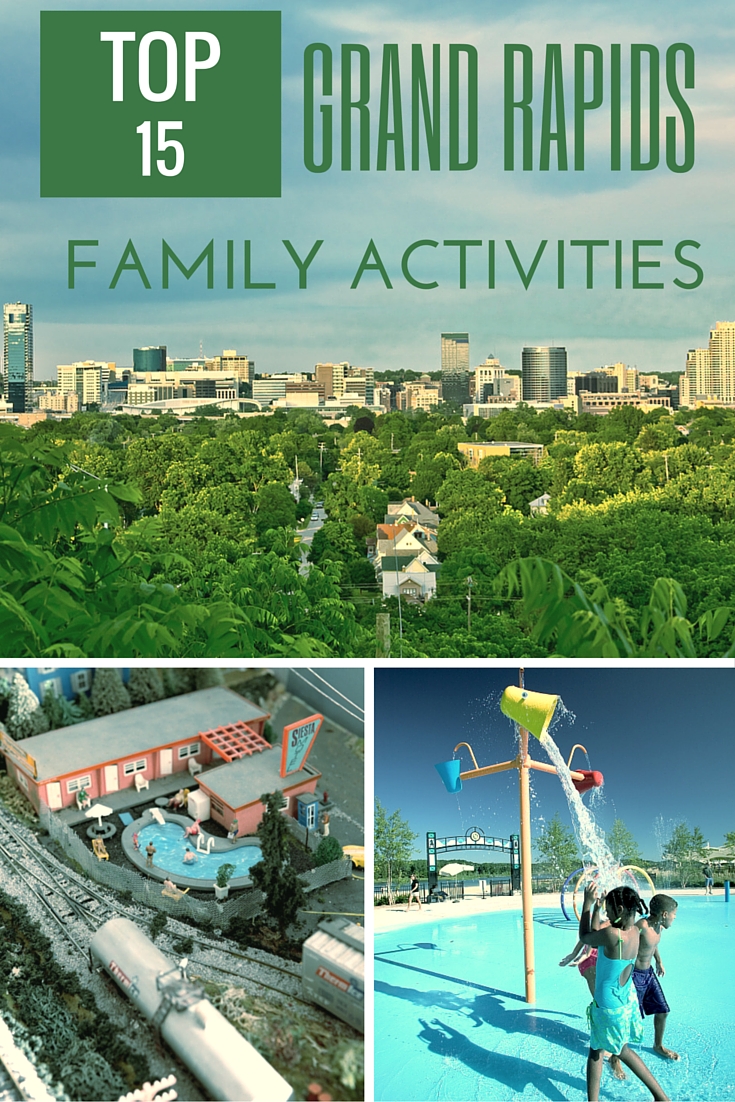 Do you have a favorite family-friendly activity in Michigan's second largest city? Leave a comment below.
Happy trails!