In autumn, families like to get outside to catch hold of the last few warm moments before the sun follows the snowbirds south. Folks bundle up on bleachers at high school marching band competitions, try and take a Saturday to see their favorite college football team play, or they toss the kids in the car and head out to the local orchard. Earlier in the year, this was mostly about apples, but with Halloween around the corner, corn mazes have turned haunted, and the u-pick apple hayrides now make a stop at the pumpkin patch.
While apples are at the heart of the fun, cider and doughnuts (cinnamon and sugar, please) are the real draw. So much so, many places forgo the orchard altogether and just sell the essentials, pressing their own cider and cranking up the doughnut machine. Here are our picks for the top ten apple orchards and cider mills in the state of Michigan. Be sure to let us know if we missed your favorite—there's still some season left and we'll want to make a visit.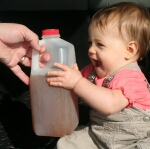 Westview Orchards and Cider Mill (Romeo, MI)
Less than 2 miles south of Romeo, and within spitting distance of Van Dyke, Westview Orchards lets you know up front what you're in for. The official name is Westview Orchards & Adventure Farm. While many orchards use special attractions to keep people on site to buy more apples and cider, Westview has created an all-out autumnal carnival. This is the kind of place that sells season tickets ($35/child, $25/adult). While no Cedar Point (or even a Ferris wheel for that matter), the place offers tons of activities, from straw mountains and corn mazes to an elaborate obstacle course and the "Three Black Holes" illusion. Just visiting for the day, tickets will run you $8.50. But don't forget the cider and doughnuts, or their delicious apple pies. Fall Family Weekends run until the end of October.
Spicer Orchards Farm Market & Cider Mill (Fenton, MI)
Just off M-23 in Fenton you will find one of the nicest apple orchards in the state for an autumn weekend out with the family. They have a nice balance here—quality fruit, a farm market store with plenty of Michigan-made treats, and lots for kids to do. There's a petting zoo, play area, corn maze, bounce houses, and hayrides. The farm is open all summer selling seasonal fruit and veggies, but it is in the fall when all the activities are kicked into high gear and the crowds descend en masse. Spicer's "Fall Festival Weekends" run until the end of October.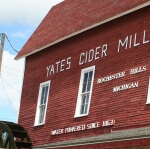 Yates Cider Mill (Rochester Hills, MI)
The Yates Cider Mill began back in 1863 as the Yates Grist Mill. A decade or so later, the Yates family added a cider mill and began pressing apples for local growers. Still powered by water, the operation at Yates is worth a visit just to see how the old ways are sometimes the best ways. Serving great cider and doughnuts, they also have pony rides and a petting zoo. But the real fun is watching the production of cider, from the water wheel that powers the mill to the pulp car that removes pulp by way of a train track. Yates is open year round (there's an ice cream shoppe for warmer weather), but the pony rides are just available on fall weekends.
Jollay Orchards (Coloma, MI)
Southwest Michigan is a fruit growers paradise. It's Michigan's original wine country (before the benefits of the 45th parallel up north were exploited for their exceptional whites). Some fine wines are produced here, but much of the region's grapes go toward making jelly and juice. Apple growers also benefit from the area's sandy soil and climate-tempering proximity to Lake Michigan. Jollay Orchards in Coloma is a product of the land's plentitude. In September and October, weekends celebrate their Harvest Festival. Kids and adults both pay just $6.50 for a corn maze, animal farm, haunted house, and (new this year) a Ferris wheel.  Hayrides take you back to the apple orchard and pumpkin patch. The farm market sells doughnuts and appley treats like pies and dumplings.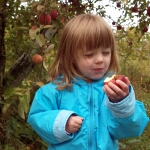 Almar Orchards & Farm (Flushing, MI)
Jim Koan's outfit west of Flint near the small community of Flushing offers more than just the usual fall fun, though it does have that. You can use a visit to Almar to teach kids something about organic farming and sustainability. The farm uses pigs and hens to provide fertilization while maintaining the usual pests. Take the wagon ride back to the apple trees and you find a much different orchard than other places. There's a bit of a wild look about the place. For the adults, Almar produces the best hard cider around. Bring home a bag of apples, maybe some doughnuts for the kids, but don't forget a case of J. K.'s Scrumpy for yourself. The store is open 7 days a week, year round (except holidays). The petting zoo is open during the week in October, hayrides on the weekends through October.
Robinette's Apple Haus & Winery (Grand Rapids, MI)
Grand Rapids has something special in Robinette's. Their Apple Haus serves up great cider and doughnuts, but also has a small lunch counter and baked goods. The corn maze is pretty elaborate, and families like the hayride. Mountain bikers should take a spin on their complex twist of mtb trails ($3/day). And the winery makes fruit wines and a decent hard cider. The autumn activities are open through the end of October. The Apple Haus and Winery are open year round. If you find yourself in Grand Rapids, check out these Top 15 family activities in this blog.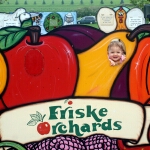 Friske Orchards (Ellsworth, MI)
Located in the unincorporated community of Atwood, between Eastport and Charlevoix, Friske's makes a perfect pit stop for travelers trekking up and down US 31. Known for fantastic cherry doughnuts (which unfortunately may or may not be available before noon), Friske's has a decent farm market, a mess of gift shops, and a small dining area for folks to enjoy their doughnuts. The orchard puts on Fall Fun Saturdays throughout October (they're always closed on Sundays). A little ways south, be sure to stop at Royal Farms down the street for excellent pies and other apple goodies.
Knaebe's Mmmunch Krunchy Apple Farm (Rogers City, MI)
You don't find many apple orchards in northeast Michigan. In fact, Knaebe's is the only one I know of, and frankly, they deserve a mention for just the chutzpah it takes to try and grow fruit on this side of the state. I mean, there's a lot working against them up here. That said, they offer a huge variety of apples—from the usual Gala and Jona-golds to classic Northern Spy to the newly discovered Rip Van Runkel—perfect for pies, tarts, and or simply taking a cheek-dripping crunchy bite. They also sell doughnuts and pies. Open Oct through Nov 24, every day but Mondays.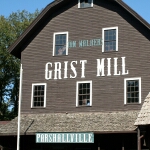 Historic Parshallville Grist Mill (Fenton, MI)
A few miles north of Spicer's Orchards in Fenton, the Historic Parshallville Grist Mill opens its doors every fall to sell cider and spiced doughnuts. Local apples are brought in and pressed on site. The cider remains unpasteurized. (For purists, this is special treat. For parents, young children should probably stick with the cider at Spicer's.) There's hardly a weekend when the line isn't creeping out the front door. Thankfully, they're open daily into mid-November.