It's pretty hard to get better than camping. But, imagine what your kids would say if you told them you were spending the night in a real covered wagon, like the ones the pioneers used more than a century ago. Or, in a tree house. Paul Bambei, president and CEO of the National Association of RV Parks and Campgrounds, which hosts GoCampingAmerica.com helped us find some of the neatest fantasy camping spots.
Heavenly Acres
Stanardsville, Virginia
This campground, located not far from Shenandoah National Park, has train cabooses that have been remodeled into cabins. Each caboose comes equipped with a fully equipped kitchen and bathroom. The park, which also offers fishing, mountain bike trails and hayrides, also offers standard cabins and RV sites.
Shelby Mansfield KOA
Shelby, Ohio
In addition to cabins and park models, rental accommodations at this campground include a remodeled corncrib and a nearly century old post office building.
Smokey Hollow Campground
Lodi, Wisconsin
This campground's accommodations include park models, yurts, and a covered wagon.
The Treehouse Camp
Rohrersville, Maryland
Located near the Appalachian Trail, this campground offers its guests the chance to escape to the forest, while spending the night in tree house cottages that literally stand on stilts, eight to 10 feet above the ground.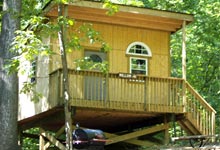 Travel Tip: Check out our story on Ten Tips for Car Camping with Kids.
Ventura Ranch KOA
Santa Paula, California
This campground features park model cabins and tipis.
Yogi Bear's Jellystone Park Camp-Resort
Larkspur, Colorado
This park features park model cabins, cottages, tipis, yurts and safari tents. It is one of several parks in the Jellystone park system that feature tipis.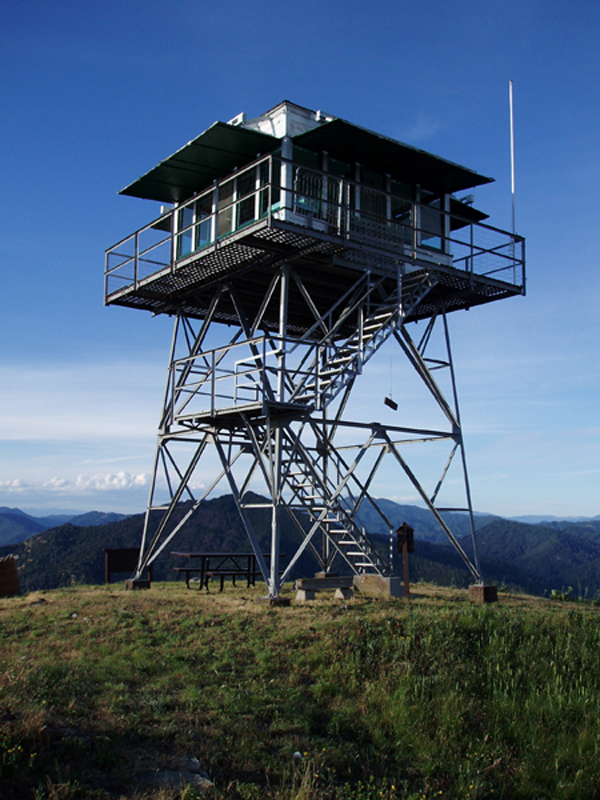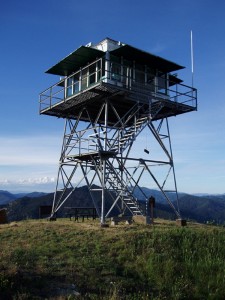 Hirz Mountain Lookout
Shasta-Trinity National Forest
Spend the night in a fire lookout tower with 360-degree views of Mt. Shasta and Mt. Lassen. This lookout is for the adventuresome – those who don't mind driving 5 miles at low speed on road 35N04, a limited sight distance single lane dirt road. The road is a high clearance mountainous road recommended for 4-wheel drive vehicles, but the payoff is something your kids will remember forever.
Hobbit House
Trout Creek, Montana
You don't have to go to Middle Earth to sleep like a Hobbit. This vacation rental home is pretty unique. The owner says:  "Surrounding the hobbit home is a village that comes to life at night with the magical display of lights from the cavalcade of mushrooms that line Hobbit Lane to the lighted mural of a whole Hobbit Village. The excitement is heightened when these fairy structures begin to light up one after the other at dusk. If you are really lucky…and quiet, you may see the shadow of Bilbo Baggins or catch a glimpse of him at home as he likes to stay up night drinking ale and entertaining his friends from The Shire."