An hour west and slightly south of Eugene, Oregon, Sweet Creek Falls is among the most family-friendly waterfalls you will experience in Lane County.
Maintained by the Suislaw National Forest, check the official falls website for driving directions and current trail conditions. Park at the Sweet Creek Falls trailhead and start at the upper falls or the Sweet Creek Homestead trailhead and walk upstream. The Sweet Creek Homestead trailhead has pit toilets, but neither location has garbage collection (pack in, pack out, leave no trace).
Visiting on a rare sunny day in the midst of a La Niña season of record rainfall, a roaring sweet creek looked nothing like the tranquil, calm photos featured in this post on EugeneOutdoors.com. A popular kayaking destination, Sweet Creek falls boasts a "superb series of ledges and falls in a very short distance" according to OregonKayaking.net.
We parked in theSweet Creek Falls trailhead parking lot and started our hike at the upper falls. Make sure you continue up the trail to the viewing point, as you cannot see the upper falls in their entirety from either location. As you can appreciate from the video below, the water was roaring loud enough to be heard from miles around.
Where to Stay
Find family-friendly accommodations in Eugene, Oregon from traditional hotels to private vacation rentals through Stay22.com:
We had our dog on a leash, which proved to be somewhat problematic as portions of the trail were slippery and/or interrupted by streams of water running down Sweet Creek Gorge. Had we been hiking with toddlers in this current high-flow condition, I would have been extremely nervous in many portions of this trail. On a warm sunny day in August, no problem!
Continuing in the direction of the lower falls, we had a bit of trouble differentiating between Split Creek Falls, Annice Falls, Punch Bowl Falls, and Ledge Falls. While we did notice a memorial marker for Annice Falls, several heavy streams of water were flowing down from the opposite side of the gorge, and I'm not sure what we were looking at. Basically you are in for a mile-long walk along nonstop waterfalls!
For anyone with limited mobility, note that parts of the trail require ascending and descending staircases without railings as well as boardwalks extending out over the water (our dog did fine with the grated bottom, although she was a bit apprehensive at first). Compared to last year's crazy adventure finding nearby (ha ha) Kentucky Falls, Sweet Creek Falls is a breeze! If you're visiting in the heat of the summer, you may want to head home via Lake Creek Rock Slides and have an epic day of waterfall awesomeness!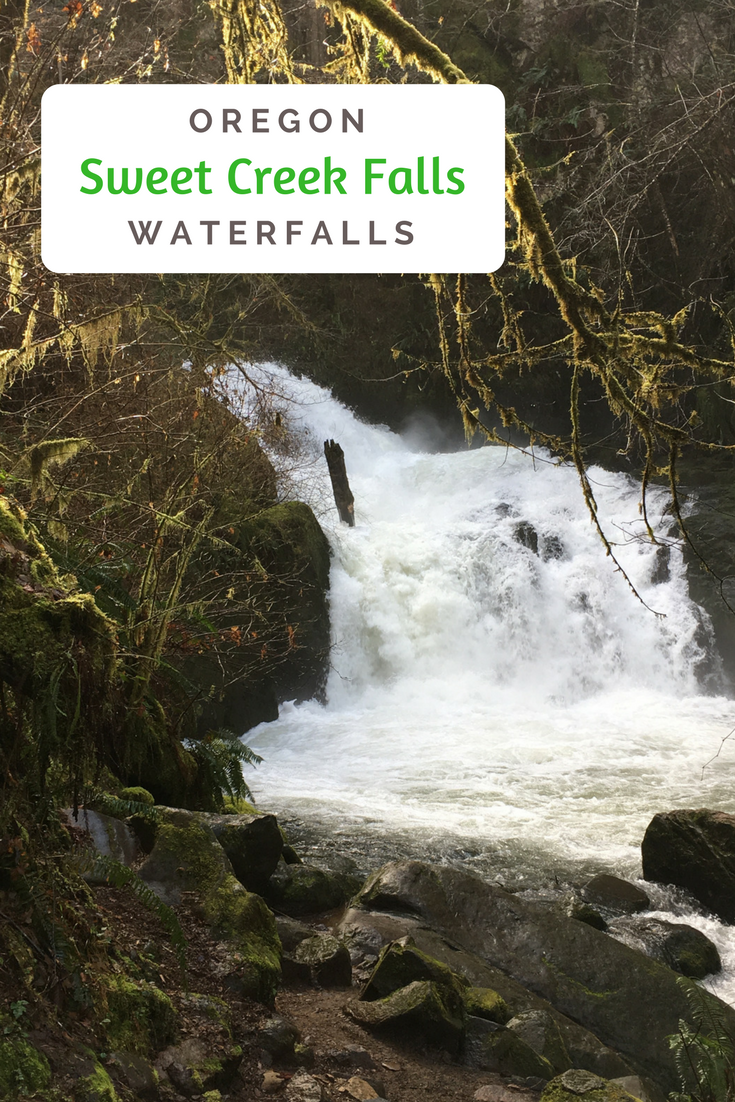 Happy Trails!