Before moving to Oregon I spent some time in Pacific Northwest on various business trips, visiting friends, and long weekends in Seattle and Portland (before kids and just because). So, needless to say, I had a fairly good idea moving here would be worth the time and expense involved in visiting our families back in the Midwest. But, one year later, I still wake up and pinch myself we live here.
For example. Take the waterfalls. Wikipedia says Oregon has at least 238 known waterfalls scattered around the state. This is over 200  more than the state of Wisconsin; some of which might otherwise fall into what a mountainous state might categorize as Class IV rapids after a glacial snow melt.  We have become so desensitized to waterfalls, I have actually had this thought, "Ho hum, just another beautiful day in the woods." #what?!?
As we slowly and methodically work our way around The Beaver State, we have maybe encountered 10% of the waterfalls Wikipedia list. Some have involved a white-knuckle adventure over a mountain pass (Kentucky Falls, read that story here) and others have been a quick stop on a fun-filled day (Munson Creek Falls near Tillamook, read that story here).
I thought I would list some of our favorite and more kid-friendly waterfall discoveries, noting why they are worth a stop and a bit more about the experience. In no particular order, here goes:
Salt Creek Falls
While the signage around Salt Creek Falls claims it is the second highest in the state, Wikipedia says it has been bumped to third place. Still on the medal podium, this cascade and plunge category waterfall has a 286 foot main drop into a 20-foot deep pool of water. We like Salt Creek Falls because it is a nice break if you are crossing the Willamette Pass (Highway 58) between Eugene and Bend. A short walk leads visitors from the parking area to a paved viewing platform. If you want more exercise, an out-and-back switchback path takes you down almost (but not quite) to the canyon floor.
Sahalie Falls
The counterpart to Salt Creek Falls on Highway 126 (the northern route between Eugene and Bend) is Sahalie Falls. Another nice excuse to stop and stretch your legs, an easy Sahalie Falls vantage point is a short walk from the parking lot (I can't remember if this is paved or not, but I think not.) A 120 foot main drop makes Sahalie the tallest of three falls all accessible on the same hiking trail (Sahalie, Koosah, and Tamolitch). When I visited in late spring, the trail was quite muddy and slippery after record rainfalls. If you have really little kids, just stick with Sahalie.
South Falls
One of ten waterfalls located within Silver Falls State Park, South Falls is arguably the most picturesque. It's also the closest of the park's waterfalls to paved hiking trails and modern amenities like a cafe, gift shop, swimming beach, and picnic grounds. When we visited, my kids were restless from the hour-long car ride and I made everyone make the one-mile hike between South Falls and Lower South Falls (ho hum, another beautiful Oregon waterfall). If you are pressed for time, walk the relatively short loop down and around the falls (noting the slick surface and low overhead clearance as you pass under the cave-like volcanic-rock). If you visit on a weekend or in nice weather, expect a possible mob of waterfall-loving tourists.
Horsetail Falls
Horsetail Falls is one of many waterfalls along the Historic Columbia River Highway and is near Multinomah Falls, Oregon's tallest waterfall. I like Horsetail Falls because of the general "park and photo" visitor experience. Look left for the start of a moderately-steep hiking path leading up to a smaller and slightly less spectacular Upper Horsetail/Ponytail Falls.
Along the Drive to Mary's Peak

I can't seem to find the exact name of the waterfall we spotted on our drive to the summit of Mary's Peak, but it is at the point where Parker's Creek runs under Forest Road 3010. At 4100-feet, Mary's Peak holds claim to highest point on the Oregon Coast Range. Waterfall sightings along this drive are part of the overall adventure; look for hiking trails along the drive or wait until the main parking lot at the end of the road (a tip: bring warm weather gear as we experienced strong winds, colder temperatures, and patches of snow when we visited in early spring). If you do stop and look at this falls, mind the traffic (if you cross to the other side of the road, the falls continue down the side of the mountain).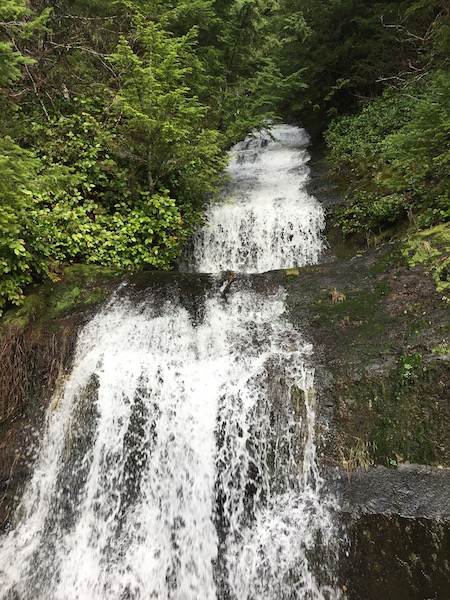 To give you a sense of where to find all five waterfalls in this story, note the individual locations on this map.
Do you have a favorite family-friendly waterfall in the Pacific Northwest? If so, leave a comment below.
Happy trails!