In the past several years, we have managed to deviate from the traditional North American road trip and expose our kids to different cultures, languages, traditions, and food. I traveled to Chiang Mai, Thailand with my daughter and met up with a girlfriend and her son last November, in a shoulder season before the start of the annual winter rains.
Located in Northern Thailand, Chiang Mail is popular with ex-patriots, retirees, and students on sabbatical. About the size of Austin, Texas, the city is more compact than Bangkok and less beach-focused than Phuket.
Pulling our kids from school for the trip, we researched several different ways to keep them exposed to social studies, art, and history. Excluding travel, we spent just about one week in Chiang Mai, exploring the various temples and shopping districts markets and venturing out into the countryside on a few different day trips.
Despite the impending cold season, temperatures were in the low nineties each day. A decision to find lodging with a swimming pool helped to balance out jet lag and overheated bodies.
Here are a few of our favorite kid-friendly activities and our favorite place to swim:
NoiNa Art Studio
Website: http://noinaartstudio.wix.com/noina
NoiNa Art Studio is located near the northeast corner of Old Chiang Mai, a one-square mile city center defined by the remains of an 800-year-old fortified brick fortress and moat. In her art studio since 2008, NoiNa offers art lesson in pencil, water color, oil, acrylic, and mixed media. She also uses charcoal powder for commissioned portraits. Before the trip, I emailed NoiNa and arranged art instruction for the kids while the moms received mandatory Thai massage in the Meechok massage parlor next door. The kids loved this activity and we enjoyed the nearby pampering.

San Kamphaeng Hot Springs
Website: http://www.discoverythailand.com/Chiang_Mai_San_Kamphaeng_Hot_Springs.asp
A 30-45 minute journey out of Chiang Mai and into the San Kamphaeng district are the San Kamphaeng hot springs, a natural hot spring reaching temperatures in excess of 100 degrees Centigrade. A popular family picnic destination, visitors to the hot springs purchase eggs and place them in a pool of mineral water near the jet of water shooting up out of the ground. Other activities at San Kamphaeng are Thai massage and a mineral springs swimming pool. Despite the heat, we decided to swim in the pool (it's covered from the sun, so you don't really feel too uncomfortable). We hired a car and driver to take us out to San Kamphaeng for the day, learning about the various regional agricultural crops as we traveled through the countryside. Have you ever seen a mimosa pudica plant? Way cool!

Sa Paper and Umbrella Handicraft Centre
Website: http://www.saa-handicraft.com/index.shtml
On the way to San Kamphaeng we made a stop at the Sa Paper and Umbrella Handicraft Centre and shopped for a few trip souvenirs. Chiang Mai is known for its paper parasols and umbrellas, which are crafted with a paper (sa) that is produced from the bark of the mulberry tree. Sa paper covers bamboo struts, dried, and is hand-painted on-site by a fleet of talented artists. For a small fee, the artists will paint designs on items purchased from the gift shop or items like your iPhone or iPad case. (In this photo, the artist is painting an elephant on the front of our purple iPad.)

Elephant Nature Park
Website: http://www.elephantnaturepark.org/
One of the more popular tourist activities in Northern Thailand is centered around interacting with Asian elephants. Some people ride elephants through the countryside, but we visited an elephant sanctuary by the name of Elephant Nature Park (located about one hour north and west of Chiang Mai in the direction of Myanmar). Elephants at Elephant Nature Park have been rescued from abuse, misuse, or abandonment. While visitors are not allowed on the gentle giants, you do have the opportunity to feed them melons, bathe them in a stream, and watch them enjoy a massive mud bath. A delicious lunch is included in this experience; if you need a break from elephants, look for the Thai massage parlor located on the second floor.

Saturday Market
Website: http://www.visitchiangmai.com.au/saturday_market.html
If you visit Chiang Mai on a weekend, make sure and visit either the Saturday or Sunday Walking Street Markets. Located in two different parts of town, hundreds of food and merchandise vendors set up temporary stalls. As you walk through the market, you'll start to see the same items in many different places (we discovered a bit of bartering is okay). Alternately, indoor markets worth visiting with kids are the Chiang Mai Flower Market and the Warorot Market, which are within walking distance. Chiang Mai also has a China Town, but we did not visit this district during our trip.

Where to Swim: Siripanna Villa Resort

We stayed in a few different hotels during our time in Chiang Mai, with the Siripanna Villa Resort our top pick for the most kid-friendly swimming pool. Mimicking the Ping River, the pool is a river surrounding an island of trees and lounge chairs. The kids swam countless laps around the pool, pausing to play in the larger fountain area on the west side of the courtyard. We enjoyed the daily breakfast buffet at Siripanna as well as a proximity to a laundry service and guide service that took us out to the San Kamphaeng district. Several reasonably-priced restaurants also line the road directly in front of the resort. A downside to this property is that it is outside the main historic district, and you'll need to hire a taxi to travel back into the city to experience many of the more popular tourist attractions. You'll also need to pay for daily WiFi in your room (free WiFi is available in the lobby area).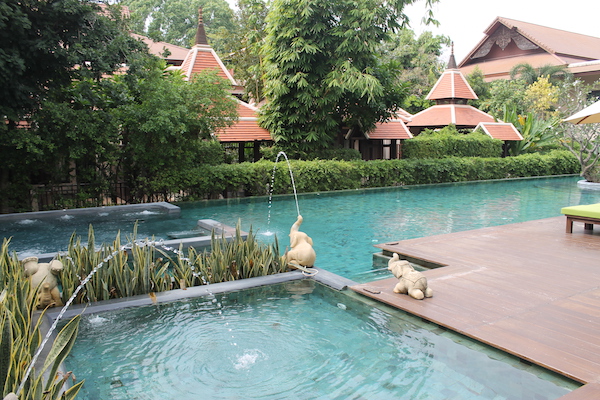 Happy trails!