Nicknamed the "Gate City to the West," Omaha, Nebraska is historically significant as a jumping off point for the Oregon Trail, Mormon Trail, and later the Union Pacific Railroad.
A centrally-located driving point for many Midwestern and Western states, here are seven family-friendly places worth stopping on your next trip to town:
Old World Market
Once a site of warehouses and packing plants, the historic Old World Market is now a vibrant shopping, dining, and entertainment destination.
Website: http://www.oldmarket.com/
Henry Doorly Zoo and Aquarium
Nebraska's most visited attraction, the Henry Doorly Zoo and Aquarium is home to thousands of animals and 130 acres of exhibits and gardens.
Website: http://www.omahazoo.com/
Strategic Air and Space Museum
Housing an impressive collection of military aircraft and artifacts in a combined 300,000 square feet of space, the Strategic Air and Space Museum is a popular destination for students, teachers, and tourists.
Website: http://sasmuseum.com/
Lauritzen Gardens
Encompassing a botanical gardens and arboretum on 100 acres, Lauritzen Gardens is enjoyed by visitors all year-round. With plans for expansion in 2014, current exhibits range from a Children's Garden to a Japanese Garden and traditional Victorian and Rose Gardens.
Website: http://www.lauritzengardens.org/

Durham Museum
Omaha's original Union Station, the Durham Museum features the restored art-deco craftsmanship of the train depot instrumental to our country's expansion in the 1930s. The museum also features a lower-level museum focusing on Omaha's history as the "Gateway to the West."
Website: http://durhammuseum.org/
Dundee Neighborhood
Considered Omaha's first suburb, the historic Dundee Neighborhood is known for a resurgence of restaurants serving local food and libations. Featuring independent shopping with an eclectic flair, a visit to 50th and Underwood is worth the drive.
Website: http://dundeemerchants.com/
Hollywood Candy
Featuring retro and nostalgic candy in a warehouse located in Omaha's Old World Market, Hollywood Candy is a fun place to get a sugar buzz. You can also enjoy a "real" Coca Cola at the soda fountain and shop for antiques.
Website: http://www.hollywoodcandy.com/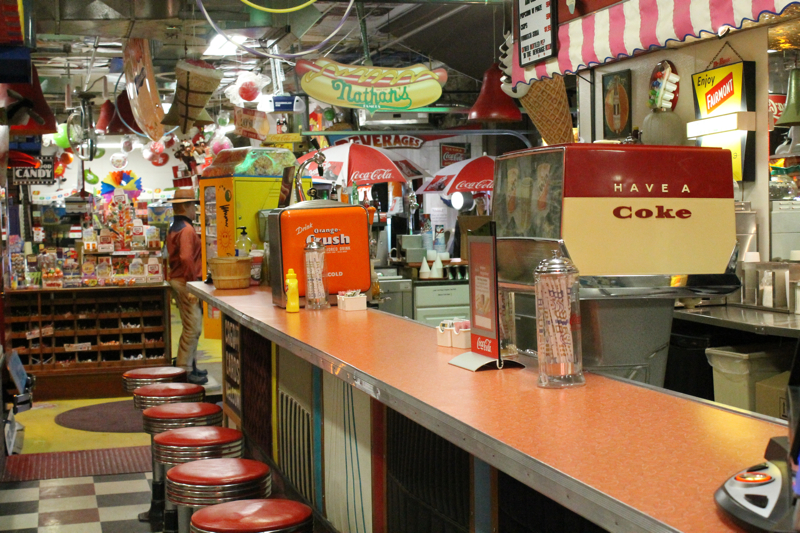 Art lovers should save time for both the Joslyn Museum of Art and the Hot Shops Art Center. You can drop your history buffs off at Fort Omaha or the Mormon Trail Center.
On the outskirts of town are the Strategic Air and Space Museum as well as Boy's Town, a former orphanage founded during the Great Depression and operated with a mission to instill a sense of social responsibility in orphan boys.
Known for some of the best steak in the country, Omaha lives up to its legend. Venues like Pitch Pizza and the Storz Trophy Room Grill and Brewery have employed award-winning chefs to turn regionally harvested food into a culinary masterpiece.
For more information on planning your own family vacation to Omaha, consult the friendly folks at Visit Omaha: http://www.visitomaha.com/