If you're quite the adventurer and enjoy off-road travel and escapades to remote locations, then you've got a bit of extra planning to do to get ready. In addition to making sure you go during the appropriate season, you'll tend to need more reliable equipment since you can't depend on civilization as much as the average traveler.
The ability to stay in touch, for example, is more important than ever. You can't expect to borrow someone's cell phone, obviously; nor can you depend on finding a landline within miles of when you would need it. Basically, the ability to reach out to the world rests squarely on your shoulders. Luckily, a wide variety of prepaid phone plans meet this need, allowing you a measure of control over communication, and allowing you to travel remotely with confidence and security.
Find Out All You Can About the Location
Check the weather and local customs of the place you're going—some locations have unconventional restrictions (compared to what you're used to, anyway) regarding dress and apparel. These can be both official and unofficial; in terms of local customs. Do some online reading and search for blogs where people who've been to those locations shared their experiences.
You'll also pick up useful info on health precautions you should take—for example if you're going on an African safari you may want to get immunized for malaria if this is relevant to that particular region.
Certain countries even mandate that you get immunized against particular diseases before traveling. All information about required and recommended vaccines can be easily found on websites like TravelHealthConnect and the official CDC website. Make sure you check these before planning any trips to travel worry-free anywhere in the world.
Accessories to Bring
Obviously, you want to travel as light as you can when traveling anywhere; but this cannot be at the expense of supplies you may need. This rings doubly true when you're headed to remote locations, where you'll need to depend almost completely on yourself and a buddy (you're taking a partner, right?!).
A canteen, a canvas bag and bottled water are the essentials. Lack of hydration would be your single greatest persistent threat in the event of an extended emergency—such as being lost for a few days, or barred from access to civilization because of inclement weather. In the same vein, you'll need non-perishable food such as beef jerky and granola bars. If you can procure some, seriously consider bringing along some water purification tablets in case your canteen runs out.
If you get injured, your best friend is a first aid kit—many great varieties exist that are already pre-packaged and sold very cheaply. A first aid kit is literally worth its weight in gold if you get hurt somewhere a few hours or days away from help.
The other necessities include a local map, LED flashlight, heat-retaining blanket, etc. Don't forget to pack a power source to charge your phone and flashlight when the need arises.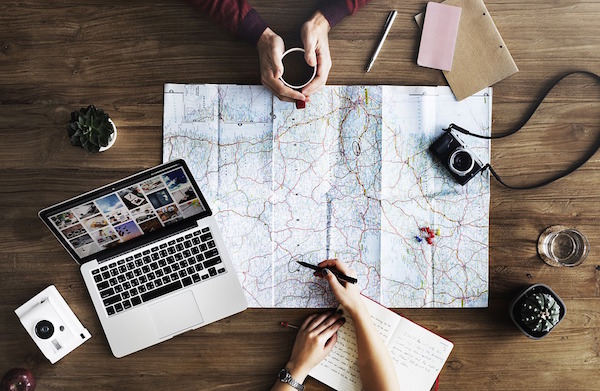 Due Diligence at your Destination
Although you're prepared, there are still some things you need to do once you arrive. Get in touch with the authorities in the area and let them know you plan to be "in the field," and for how long. Of course, your loved ones in your home country should know all this, and you should check in on a semi-regular, expected timeline—no matter how independent you are, personality-wise.
You should also know that not all smartphones will work in a given area—coverage depends on cell tower receptivity and carrier coverage. Eliminate any surprises before you leave by researching the area you will be visiting.
If you expect to be traveling by a vehicle, make sure it can handle the terrain and carry the fuel you expect to need. Familiarity with local road laws goes without saying. Also, since you'll most likely be renting, go with a brighter color in case of an emergency—simply staying next to the vehicle can improve the chances of a speedy rescue.
The better prepared you are, the more fun you'll have. A vacation in a remote place is supposed to be a stress-free experience, and by taking the above precautions, you'll be off to a great start.