While best known for its sunlit beaches on the Atlantic coast, the Eastern Shore of the Chesapeake Bay offers many spots for recreation, seafood, wildlife viewing, and water activities. Tilghman Island and Wye Island are two of my favorite lesser known gems on Maryland's Eastern Shore! Stay tuned for the piece on Wye Island coming up soon.
Tilghman Island
Located 11 miles west of better-known and upscale St. Michaels on Maryland's Eastern Shore, Tilghman Island is the place to go for an authentic Chesapeake Bay experience. Boating, seafood dining, watermen's history, and small town adventures await. Just three miles long and one mile wide, Tilghman is separated from the mainland by 50-foot wide Knapps Narrows, and linked to it by a single drawbridge.
The island was named for the Tilghman family who owned it for about a century, until it was sold as tracts to farmers and oystermen in the mid-nineteenth century. Once a flourishing watermen's community, Tilghman is now home to many retirees who treasure the island's history and relaxed way of life. Tilghman has a population of approximately 800 hardy souls, according to U.S Census data.
Easily the busiest bridge in Maryland and arguably in the United States, the Knapps Narrows Bridge opens more than 10,000 times a year to allow boat traffic to pass through the Narrows from the Bay to the Choptank River. Connecting Tilghman Island to the mainland since 1934, the original Tilghman Island Bridge is listed in the National Register of Historic Places, and, after the new bridge was constructed in 1998, was barged to The Chesapeake Bay Maritime Museum in St. Michaels where it greets visitors at the Museum's entryway.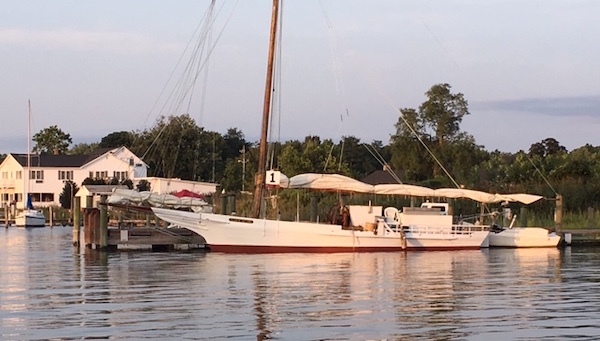 Once on Tilghman, make sure you stop by Dogwood Harbor to watch the watermen come and go on their work boats. Listen for the early morning rumble of engines as the boats rev up for the day's work on the Bay. Tilghman Island is home to the sole remaining commercial sailing feet in North America, the Chesapeake Bay skipjacks. Although there were once hundreds of these oyster dredging boats on the Bay, their number has dropped to fewer than 20. The skipjacks thrived when the Bay brimmed with oysters and the catch exceeded ten million bushels annually. The current oyster population is just ten percent of what it was at the turn of the twentieth century.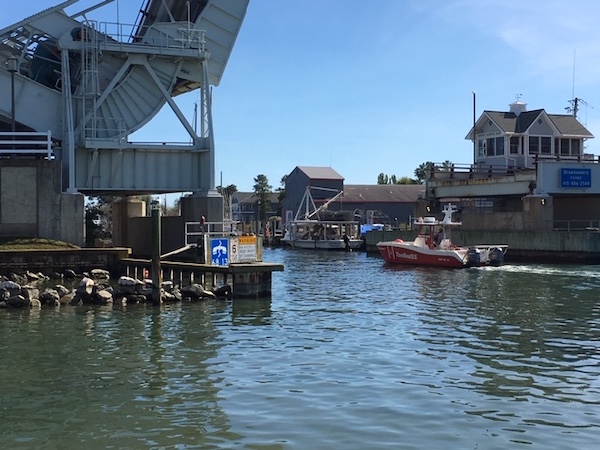 Experience the waterman's world by taking a cruise on Rebecca T. Ruark, the oldest working skipjack built in 1886, where you can take a turn at the helm, hoist the sails, and learn about Chesapeake ecology and maritime history. Or if you prefer to be your own skipper, fishing boats, motor boats, sailboats, jet skis, kayaks, and canoes are available for charter or rent on the island. The entire family will enjoy a cruise to Sharps Island Light located about 4 miles to the southwest and seen from the island's southern tip.
Tilghman Island also offers first class educational experiences at The Phillips Wharf Environmental Center and the Tilghman Island Watermen's Museum. You can go nose to nose with Chesapeake Bay critters at the touch tanks at the Environmental Center while you learn the history of the Chesapeake Bay and its shellfish inhabitants.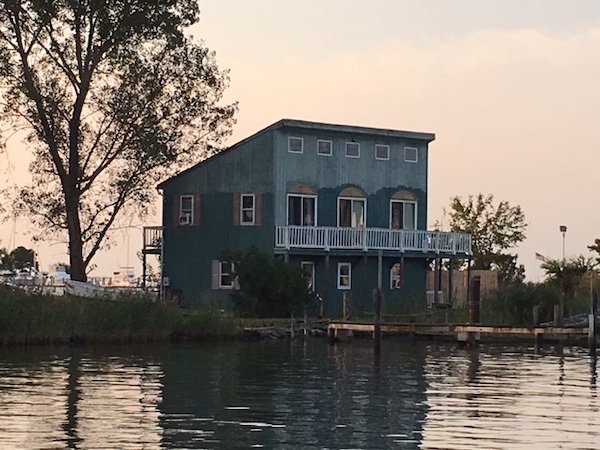 The Tilghman Island Watermen's Museum is located in one of the remaining historic "W" houses. Named after their shape and designed to catch the breeze, these unique structures were built in the 1890-1900s on Tilghman Island and in nearby Sherwood. The museum celebrates and supports the work and culture of Tilghman Island's watermen and their families through exhibits of art and artifacts related to life on the island, including a collection of boat models, paintings and prints, and historic photographs. Many original paintings of the waterman's life by Bill Cummings, who grew up on Tilghman and worked on the water for more than 50 years, are prominently displayed.
If you can, plan your visit so you can celebrate the Tilghman way of life on Tilghman Island Day. Sponsored by the Tilghman Island Volunteer Fire Department, the festival features crab picking and oyster shucking contests, a boat rowing competition, boat docking contests, live music, and lots of Eastern Shore specialties (crab cakes, steamed crabs, barbeque, oysters, corn on the cob, and more). Children's activities, games, nautical artisans, craft vendors and an indoor flea market make the festival a true family event.
Tilghman also offers several unique shopping experiences. Crawford's Nautical Book Bank, located in Tilghman Island's original bank, has an extensive collection of maritime related books, artifacts, maps and charts. You'll also find local tales of the written and oral variety, and volumes of local history written by the loquacious shopkeeper. At Fairbank's Tackle, the oldest continually operated shop and gathering place on the Island, you will find fuel, propane, fishing tackle, drinks, snacks and island lore. The Tilghman Island General Store, located on the main street, boasts freshly prepared crab cake sandwiches, soft shell crab sandwiches, rockfish tenders and seafood chowder, in addition to groceries and sundries. They also feature a carefully selected menu of beer, wine, and liquor. Don't miss their wine tastings on Fridays.
While you can make Tilghman Island an eventful day destination, why not spend a night or two and enjoy the relaxed vibe of island life? There are a variety of accomodations in Tilghman including charming bed and breakfasts, inns, and motels. And, there are several restaurants for casual or more formal dining known for their seafood as well as American cuisine. Or, if you prefer, you can drop your anchor in St. Michaels and enjoy the lively restaurant and shopping scene there before venturing to Tilghman Island.
Janet LaBella is a freelance writer who enjoys exploring a multitude of natural, historical and cultural environments in the U.S. and abroad. For many years she worked as a public interest attorney, and is embarking on a writing/editing career. In addition, Janet provides consulting services on management issues. Follow her travels on Instgagram at @lavita.labella.