It was almost impossible to narrow down our list of wish-we-were-going-this-year summer festivals to only 10 favorites. In the end we chose some iconic, famous festivals sprinkled with a few you've probably never heard of. We aimed for geographical diversity and road trip friendly ammenities or locations. If we didn't include your favorite, tell us what it is and why you love it. We promise to check it out for next summer's list.
Riverfest
Little Rock, Arkansas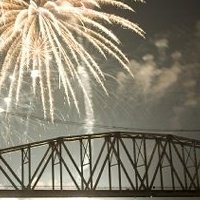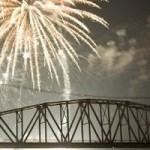 The largest single event in the state of Arkansas, Riverfest draws over 250,000 people to the banks of the Arkansas River each Memorial Day. The KidZone area has a craft area where kids can decorate a sun visor, make a pinwheel fan, make a puppet, and color an American flag. There's also a Krispy Kreme doughnut decorating station and Lego play area as well as a water spray park. You can also enjoy fun activities like Squirt Art on Canvas, Fanciful Face Painting and finger casts from Arkansas Children's Hospital. And there's more! Moonwalk Jump, Bean Bag Toss, Bubble Blowing, Chalk It Up Fun, and KidZone Hula Fun will provide hours of entertainment when you 'get down to the river' at Riverfest 2010. The whole family will enjoy The Super Retriever Series Super Dock Championship, where dogs test their skills on the dock, and the Disc-Connected K9's, the world-famous Frisbee dogs. There's a special area for teens, Teen Extreme, art and market shows and all the other festival activities (including fireworks!) that make a great time for the whole family.
Billy the Kid Festival
San Elizario, Texas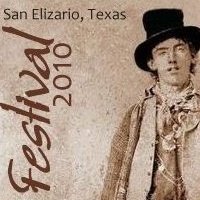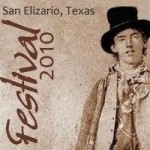 Brotherly love brought frontier outlaw, Billy the Kid, to San Elizario, Texas in 1876.  This year, San Elizario celebrates Billy the Kid's visit to San Elizario in the first-annual Billy the Kid Festival. From June 11-13, watch the historic breakout of Billy's friend at the old El Paso County Jail re-enacted in front of your very own eyes. Take in the original one-act play, "Midnight Rendezvous: Billy The Kid & The Mystery of 1876," sing along by the camp fire, join a country style ho-down, browse the Mission Trail art market, and participate in ghost tours and guided talks in the historic district. And, if you have boots, spurs, and a top hat consider entering the Billy the Kid Look-A-Like Contest. Food, live entertainment and arts and crafts are also part of the three-day celebration.
Summerfest
Milwaukee, Wisconsin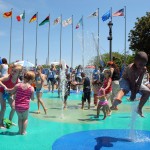 To most people, Milwaukee is known for beer, brats, and quite possibly Summerfest. The World's Largest Music Festival (not to mention Milwaukee's cornerstone summer celebration) attracts the music industry's hottest stars, along with emerging talent and local favorites. Jutting up to Lake Michigan, the Summerfest grounds hold a 23,000 capacity amphitheater, 10 additional stages, diverse selection of food and beverages, marketplaces, and interactive exhibits. Especially kid-friendly highlights are the entertainment and activities in the Children's Hospital of Wisconsin and Northwestern Mutual's Children's Theater and PlayZone. Take time out to make crafts in the Kids Activities Tents or ride the Skyglider. Sports fans will want to stop at the SportsZone with Newsradio 620 WTMJ for interactive daily sports demonstrations. But everyone's favorite will likely be the Elizabeth "Bo" Black Family Fountain Splash Pad. Kids of all ages' can splash and play the day away while keeping cool. You may want to plan ahead and pack towels and a change of clothes or even a bathing suit. And, don't forget to stay for the nightly fireworks display. Sailboats back-lit on the water as it mirrors the grand finale is a magical moment for any kid (and even a parent or two).
Traverse City, Michigan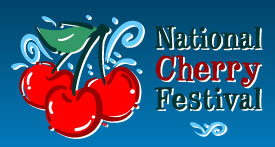 The National Cherry Festival is known all over the world for a reason. It's kitchy and fun and has cherry-branding everywhere so you feel right at home if you came looking for a hometown festival. But there's literally something for everyone. Families will enjoy the range of activities, from everything Lake Michigan has to offer to music and air show. Don't forget arts and crafts and wine tasting (very family-friendly and the wine is world-class!) as well as fireworks and sand sculptures. The surrounding area of Michigan is all family friendly and road trip heaven. Plan to spend time just exploring and taking your time. Farm stands have everything imaginable out for sale, so you'll never go hungry.
Music City Hot Chicken Festival
Nashville, Tennessee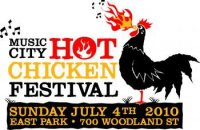 Hot chicken is to Nashville what pizza is to Chicago or New York. Nashville's signature dish, hot chicken, is southern fried chicken plus a whalloping dose of spices. Incredibly addictive, this is one of those food festivals you go to for the food. But there's also entertainment and festivities plus an amateur hot chicken cooking contest. Don't worry, there's also kid-friendly food for those who prefer their lunch sans the spices, and snowballs (Southern treat similar to snocones) plus music and lots more.
Laura Ingalls Wilder Pageant
De Smet, South Dakota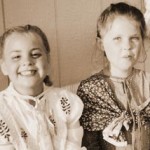 The Laura Ingalls Wilder Pageant is a local tradition. Volunteers entertain families from all over the world and Laura's books come alive for another generation. This year's performance is of "The First Four Years with Memories of Silver Lake". It is the first ever performance of this adaptation of Laura's book, "The First Four Years". The Pageant is only one of the attractions in De Smet, the location for five of Laura's books and two family homes. Ingalls Homestead has covered wagon rides, camping and many family activities and exhibits. Tour the Laura Ingalls Wilder Historic Homes, The Loftus Store, and the De Smet Depot Museum.
Chincoteague Pony Swim
Chincoteague Island, Virginia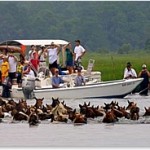 The tradition of swimming the wild ponies from Assateague each July goes back to the 17th century but became famous all over the world when Marguerite Henry's book, Misty of Chincoteague, was written in the late 1940's. Each year, "saltwater cowboys" herd the ponies across the channel from Assateague Island to Chincoteague. After swimming the channel, the ponies take a rest and are herded down Main Street to the carnival grounds where the yearlings and foals are auctioned off the next day. All proceeds benefit the Chincoteague Volunteer Fire Company. The main events are Wednesday and Thursday, but Friday the ponies that weren't sold swim back to Assateague Island and that's often a less crowded way to enjoy the festivities. There's plenty to do all weekend on the island, from beach activities to crabbing or clamming and dolphin or eagle spotting.
Santa CaliGon Days
Independence, Missouri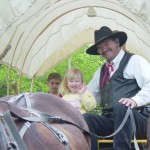 The first Santa CaliGon Days Festival was held in 1940 to celebrate Independence, Missouri as the starting point of the Santa Fe, California and Oregon Trails. The festival is now one of the nation's biggest, drawing more than 225,000 people yearly. With a community stage, gospel stage, carnival and festival food (festival food benefits over 100 local non-profits) and top-ranked market vendor show, there's plenty to do for the whole family. The Independence area is rich with Civil War and pioneer history, as well as many museums and historic homes. Kids will particularly enjoy the National Frontier Trails Museum and a trip around the city in a covered wagon, as well as a trip to Adventure Oasis waterpark. The 1859 Jackson County Jail is also fun for little gunfighters.
Rubber Ducky Regatta
Lincoln Woodstock, New Hampshire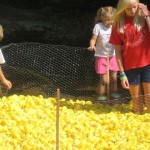 This is one event you won't want to "duck". The Rubber Ducky Regatta is the centerpiece of the event, but is far from the only thing going on. Kids can enjoy "ducky" games, face painting, and play in the Bounce House. The ducks will dive in to the Pemigewasset River at 11am and their swim will take them through the rapids as crowds line the river bank to cheer them on.  There is a virtual river of prizes for those who want to "Adopt a Duck" and at noon the prizewinners will be announced at Cascade Park. You can adopt your ducks at many local businesses or at Lincolnwoodstock.com. You need not be present to win any of the prizes. All proceeds benefit the Lincoln-Woodstock Chamber of Commerce Scholarship Fund.
Fathoms O' Fun
Port Orchard, Washington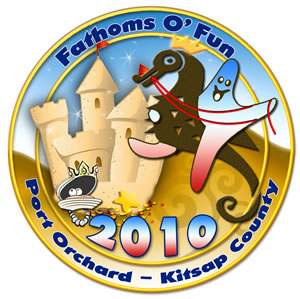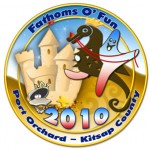 Over 40 years old, the Fathoms O' Fun Festival by the Sea, in Port Orchard, Washington is an annual summer celebration, emphasis on the word celebration. Spanning the entire summer (sandwiched by events in the spring and the fall), the cornerstone celebration occurs the last weekend of June and into 4th of July weekend; drawing crowds over 60,000 (but don't worry, you can still see the Grand Fireworks Show on the Sinclair Inlet from three towns away). The mission of the festival is to provide family recreational activies in addition to youth leadership scholarship programs. Activities include a Grand Parade, concerts, children's events, a golf tournament, street fairs, and an award-winning community festival float that makes cameo appearences in parades across the state. With more miles of coastline than anywhere in the entire country, a trip to Port Orchard and Kitsap County would make a grand nautical adventure any time of year.