Driving through the Arkansas countryside, passing the odd house and fields, doesn't give any visual cue that there's a castle nestled just into the crests of trees and hills. Even when you arrive, there's still a bit of skepticism, maybe this is just another roadside attraction or Renaissance Fair. If you've traveled to European castles, you still have the experience only partly right. The Ozark Medieval Fortress is no replica, Renaissance Fair fantasy or tourist trap. It's a real castle. Being constructed for the next 20 years with 13th century tools and techniques.
It's impossible to explain the full experience because everything is so unique and subjective and customizable to your interests. Each time you visit you'll do something different, see something you never saw before and find a new favorite activity. And, each time you visit, the castle will be at a new stage of construction.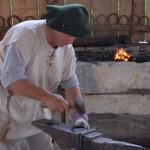 Kids will love the castle models in the entrance area, but then there are sheep and a garden just a few yards down the path to pull them along. If you're interested in medieval textiles, stop and chat to the women who tend the garden and spin the wool. This is where the fantasy of most interactive history attractions takes over. Employees are playing parts that they repeat day after day. But at the castle, you talk to modern-day artisans who are doing something extraordinary. Building a castle. There's period wardrobe, but the people are real and talk freely about modern day life and learning how to do something like spin wool, quarry stone or make baskets like they did 800 years ago. This isn't an act that they repeat 360 days a year, rain or shine. It's real life.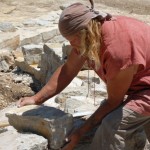 The castle is being constructed by a team of historians, architects and artisans. There are currently 25 workers doing everything from spinning wool to gardening to pottery to making rope to harvesting and curing lumber to quarrying stone and doing actual castle construction.
The project is the brainchild of Michel Guyot, who launched a similar project in France 10 years ago. Families who visit are encouraged to interact with the workers and learn about the skills they are using, the tools or techniques. Also visiting the castle are scientists and engineers, researchers and history buffs. Students and teachers alike are volunteering to be interns for a weekend at the castle just to have the experience of contributing to an undertaking this unique.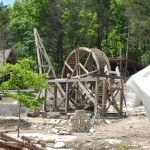 Stations are set up all around the castle to demonstrate techniques up close and teach kids how to make rope, carve stone, throw pottery, weave baskets and more. Your trip to the castle is completely self-guided. Wander in any order, stay as long as you wish at any station. Guaranteed to spark interest in history and the environment, the castle is committed to being sustainable and eco-friendly. All water, sand, stone, wood and earth is being harvested from the area immediately surrounding the castle.
Expect to spend several hours at the castle. Excellent for a pit stop on a road trip or a day trip from any of the surrounding areas, families will probably want to bring a lunch as dining options appear to be limited at this time. Comfortable walking shoes, sunscreen and water in the summer are also smart. A fun weekend trip would be to combine a visit to Eureka Springs with a day at the castle.
What many working on the project (and everyone who hears about it!) agree to be the most exciting development in 2011 are the catapult demonstrations. That's right. The castle is going to war. As if bashing rocks and felling trees isn't enough excitement. Dibs on front row tickets!