Nestled in the rolling hills and river valleys of Western Wisconsin, the Eau Claire and the Chippewa Valley offers natural beauty, outdoor recreation, and unique indoor and outdoor attractions for the entire family.
During our visit, we started at Action City. From the highway you can see go karts, mini golf, and a human maze. Action City has a giant climbing wall, indoor go karts, a huge arcade area, rooms for birthday parties, a batting cage, lazer tag, bumper cars, and a toddler area. Adjacent to Action City is the Metropolis Resort and Chaos Water Park.
The Children's Museum of Eau Claire is located in historic downtown district and is surprisingly large for a city of 60,000 people.With areas for just for toddlers, water exploration, "kid"struction, and exhibits like Body Smarts, our younger kids were sufficiently entertained.
Where to Stay
Find family-friendly accommodations in Eau Claire, Wisconsin from traditional hotels to private vacation rentals through Stay22.com:
Other museum type options are the Paul Bunyan logging camp and the Chippewa Valley Museum; both of these venues are located within Carson Park and near Halfmoon Lake. Carson Park is a popular Eau Claire destination with picnic areas and playground structures for kids (look for the huge tube slides).
The Chippewa Valley Museum addresses the region's agriculture and logging industry and the Scandinavian influence present even today. Many of the exhibits are interactive and this is a good place for elementary-age kids and older (look for the replica school house, early French trading post, and even a mock dairy farm). Before you leave, buy a scoop of ice cream for everyone in the family.
As you might suspect, the Paul Bunyan Logging Camp Museum focuses more on the region's logging and lumber industry. Visitors start with a short video and then tour a bunk house and blacksmith shop. History buffs will enjoy various artifacts and equipment used to fell trees before modern-day machinery automated much of the trade. Note: This experience is less interactive then the Chippewa Valley Museum.
Other options for exploring Eau Claire (at least in warmer weather) are the Bulldog Fish Farm and Irvine Park and Zoo. At the fish farm, kids can fish from the pond and keep their catch; equipment rentals are available if you came unprepared. Like Carson Park, Irvine Park and Zoo is another popular family hangout. The zoo has a free petting area with goats and miniature horses. Bring your swimsuit and towel if you want to swim at the pool or splash pad.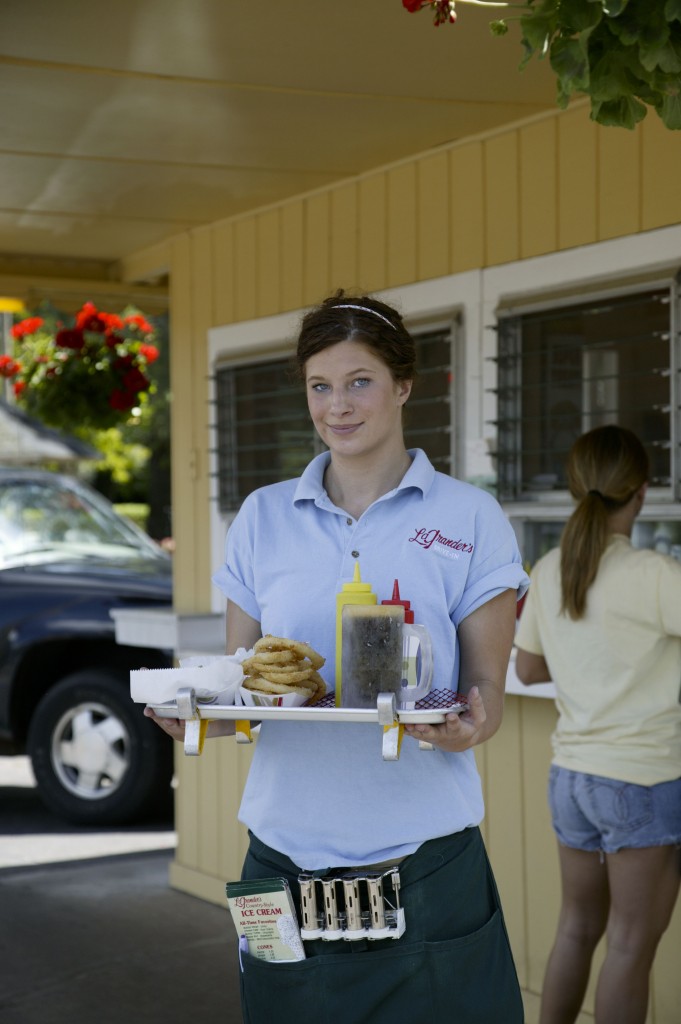 For a late dinner, we made the short drive to the neighboring town of Chippewa Falls (originally a logging camp and still home to Leinenkugels Brewery). Having previously only been on the brewery tour, my experience in Chippewa Falls has mainly been along the river near downtown. However, if you venture out to Lake Wissota, absolutely stop at LaGranders Drive In (even if you only order a root beer float).
While you can dine in your vehicle, if you have kids, let them explore the paths between tables and around the gnome tree. We ate in a gazebo and the kids took turns pushing each other on the wooden "love seat" swings. Skip the ice cream and go for custard if you want the true Wisconsin experience. LaGranders is open May 1 – Sept 1 and weekends in April and September (weather permitting).
We've always stayed at the Plaza Hotel and Suites on our trips through Eau Claire. The hotel has a few different pool options for kids and they have a large indoor atrium/bar area with free popcorn. The larger pool has a giant snake for kids to climb on; a big hit with our kids.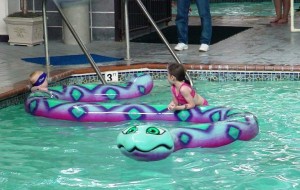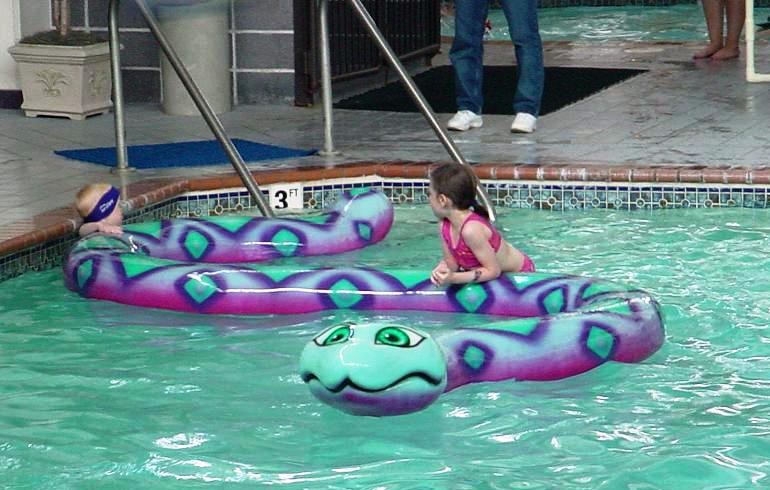 For more ideas on planning your own vacation in Eau Claire and the Chippewa Valley, start here: http://www.visiteauclaire.com/
Happy trails!