Our guest post this week is by Jill M. Rohrbach, travel writer for the Arkansas Department of Parks and Tourism.

Moving through a forest canopy like Tarzan was something I associated with television until recently when I found myself on a 35-foot-tall tree platform with a rope in my hand ready to jump off and swing more than a bowling alley length to a large net. Could I do this?
Could you? Find out by visiting Loco Ropes, a ropes challenge course located at Ozark Folk Center State Park in Mountain View. This new attraction opened to the public on Oct. 30.
"We are the first treetop adventure park in Arkansas," said Judy Cox, Loco Ropes executive manager. "It's like a playground in the trees."
My husband and I were eager to give Loco Ropes a try, and I am not exaggerating when I tell you it was more fun than getting everything on your wish list on Christmas morning.
What is it that makes mixing healthy fear with exhilaration so much fun? Loco Ropes has done that perfectly with its zip line and three ropes courses.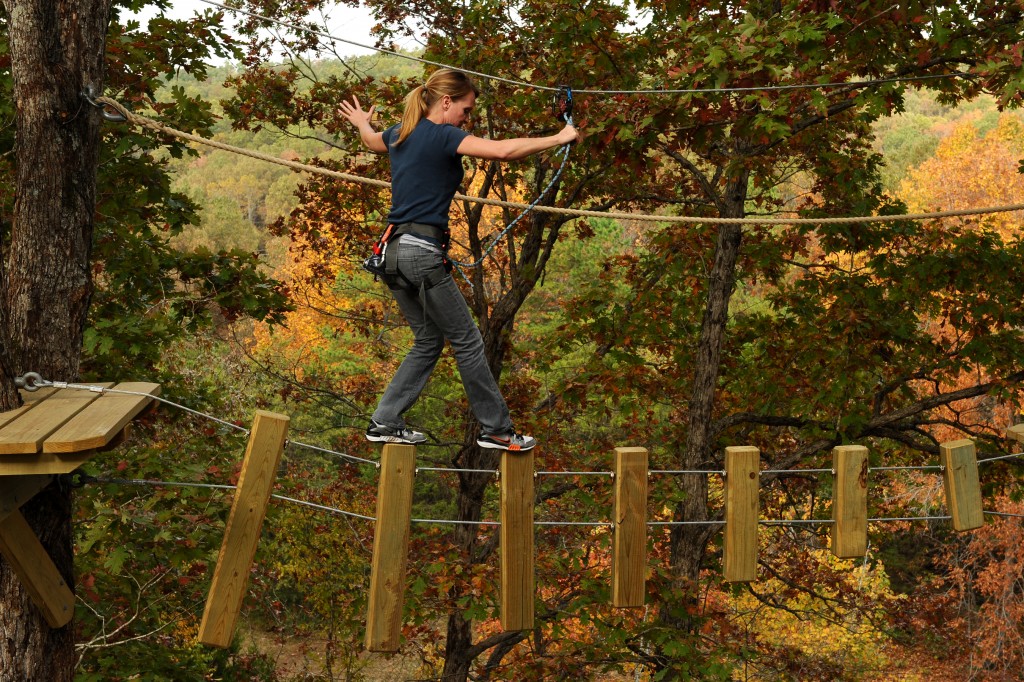 Named The Flying Pig, the zip line from a 30-foot-tall tower is 300 feet long. Then, a trolley system pulls you back for a slower view of the canopy and ground around you. That's a panorama ripe with fall foliage right now.
The three ropes courses consist of more than 30 elements. Some are more mentally challenging, some physical. Balance and agility play a more important role than brawn. To give you an idea of what you'll be facing, picture walking a thick wood plank, like a gymnast on a balance beam. Easy enough. Now picture that beam cut into sections that hang like rope swings from a cable. Move from one to the other as they swing to get to the next tree. Two of the hardest ones for me were the simplest looking – ropes strung in the shape of an X and double X. I fell on the double X. The safety harness securely held me while I regained my footing and started again.
All of the ropes courses have a continuous belay system. Two are hands on and one is not.
Loco Line 1 is the easiest. You clip your safety harness onto the overhead cable using a zip line trolley. You never unclip, just roll along the line to the end as you balance and maneuver through the course. The coolest part is that it is a tandem line, allowing two people to go together.
"I wanted that grandparent to get to go with that grandchild or the teacher with the student," explained Cox. I've already hit my eight year old up to go on Loco Line 1 with me. I can't wait to see the look in his eyes when we start as well as at the end.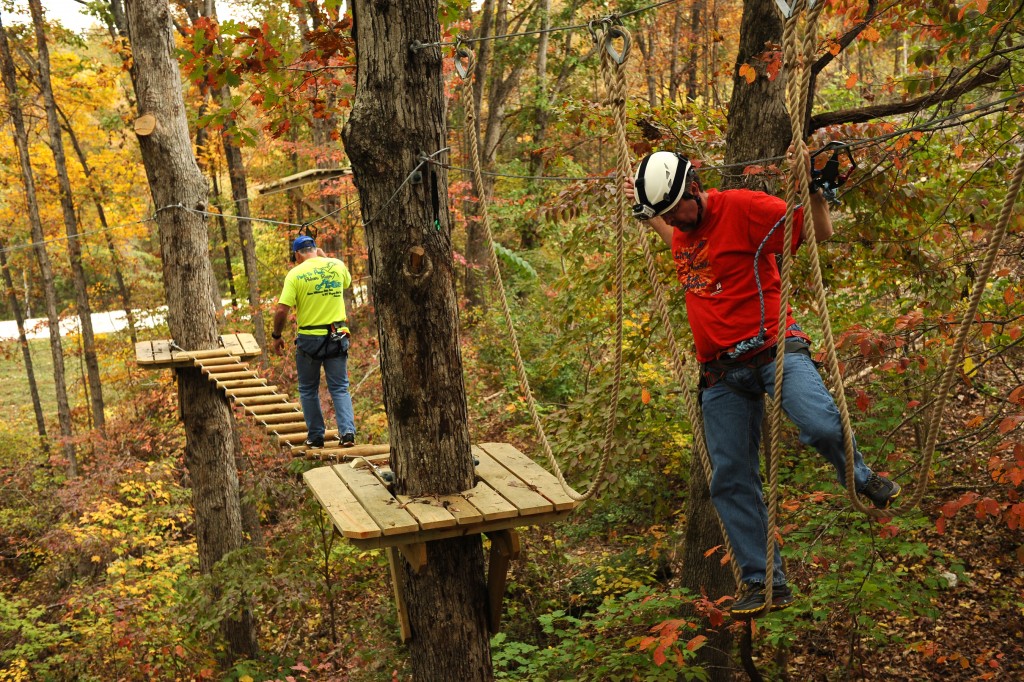 Loco Lines 2 and 3 require you to clip and unclip yourself at each tree platform to move from one course element to another. You use a double carabiner designed so that you can never unclip from one cable line without being clipped into another. It's a fail-safe system, and adds to the fun.
While the safety harness is there to catch you, the experience still gives a heightened sense of danger. "We all crave adventure in our lives," Cox said. She added that the ropes course "take us out of our comfort zone and that's when we grow."
I'm proud to say that I grew, starting with the moment I let fear turn to trust of the equipment and dropped off the tree platform to swing like Tarzan. Adrenaline-fueled excitement morphed into a great sense of accomplishment. Me Jane! And it turns out my husband makes a great Tarzan despite his apprehension of heights.
Cox said height is what usually gets to most people. The tallest element on the course is 65 feet above the ground. The aerial adventure can be done by all ages. There was a couple in their 60s that did quite well when I was there. Whether as a group team building experience or strictly on a recreational basis, Cox said "you're going to walk away feeling good about yourself."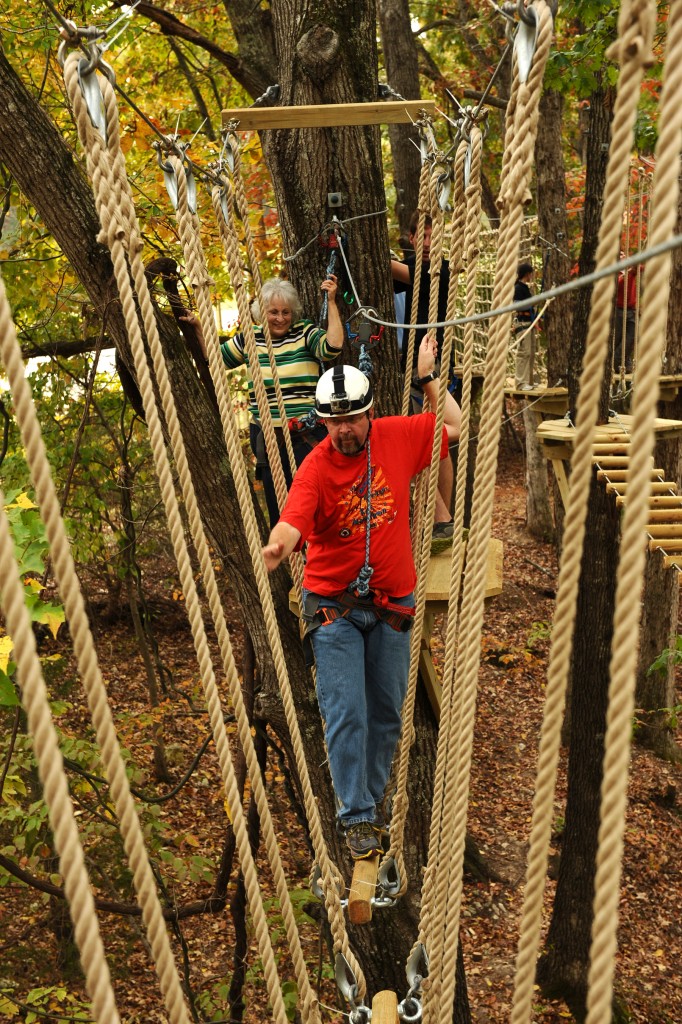 Loco Ropes offers this new attraction through a partnership with Arkansas State Parks. Cox, who lives in Batesville and has two boys, said she wanted something more for young adults to do and began researching possibilities. She fell in love with the idea of a ropes course and originally thought about locating it in Batesville. "But I realized it needed a tourist town, so I automatically thought of Mountain View," Cox explained.
Mountain View is known for its beauty, fishing opportunities, art, music on the square, Blanchard Springs Caverns, and the Ozark Folk Center State Park. "We encourage visitors to take advantage of the Ozark Folk Center while they're here," Cox added. The center has lodging, a restaurant, folk artist village, and concerts.
If You Go:
Make reservations. You can call 870-269-6566 or book online. They will try to fit in walk-ups, but there is no guarantee. Think of it like tee times at a golf course. The attraction is open from 10 a.m. to 5 p.m. on Monday, Thursday, Friday, Saturday and Sunday.
The cost for the Flying Pig only is $7.50. No reservations are required for the zip line.
The rope courses are offered in two ways: just Loco Line 1, also known as the "Short Line," or all three lines, called the "End of the Line." Cox added, "You do one or all, and they all three end in a zip line to the ground."
The cost for the Short Line is $15 regardless of age. The cost to do the End of the Line is $40 for ages 17 and under. Adults 18 and older pay $50.
Loco Ropes also offers season passes. The Short Line is $40 for children and adults. The End of the Line is $125 for adults and $100 for children. There are some conditions regarding the season passes, such as four bookings allowed per month, two of which can be on the weekend.
You can enjoy the remaining 2010 season for free when you purchase your 2011 season pass. The 2010 season ends Nov. 30. Loco Ropes will reopen in the spring on March 1. It is closed on Easter.
Student groups booking the End of the Line receive a 20 percent discount for weekday bookings during the school year (school holidays excluded), and the accompanying teachers are admitted free. Youth groups doing the End of the Line receive a 10 percent discount for weekday bookings throughout the season (school holidays excluded).
The Short Line takes about an hour to complete, and the End of the Line takes around three hours. However, that also depends on the number of people in your group and how much time it takes each individual to move through an element.
You have to be at least 43 inches tall to participate. "It does require some supervision as far as children," Cox explained.
There is a maximum weight of 290 pounds allowed on the course. Cox said it's not that the cables and gear can't hold more weight than that, but rather it involves the comfort and fit of the harness.
All participants sign a waiver and receive a training session before going on the high wire adventure. Loco Ropes is insured, and is accredited by the Association of Challenge Course Technology. The staff is fully trained and can perform a rescue and recovery.
What to Wear:
Closed toe shoes are required. Otherwise, dress in comfortable clothing you can move in that is appropriate for the weather. All jewelry must be removed and long hair tied back.
Leave all non-essentials locked in your vehicle. You can carry a small point and shoot camera. Staff will supply a lanyard to attach your camera to your harness.