When I first started geocaching, I wasn't sure what I was looking for when it came to finding a bison tube. Like other geocachers, I have questioned how the bison tube earned its name. Take a minute and read this blog post for some insight into the origin and evolution of the small, metal, cylindrical tube now commonly used by the geocaching community.
Armed with the backstory, you know you are not actually searching for a container shaped like a buffalo. However, if the container is hidden by team T&A137 you might be looking for a bison inside a buffalo.
With over 60 containers hidden in my corner of the world (Eugene, Oregon), T&A137 is responsible for a handful of cleverly disguised bison hides like: Get a Kick out of Geocaching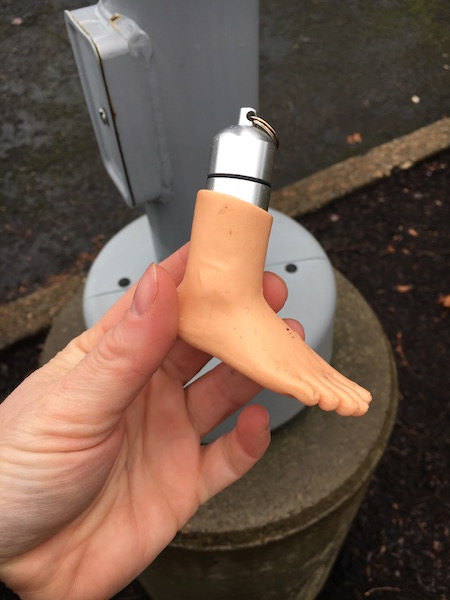 and Giving You a Hand!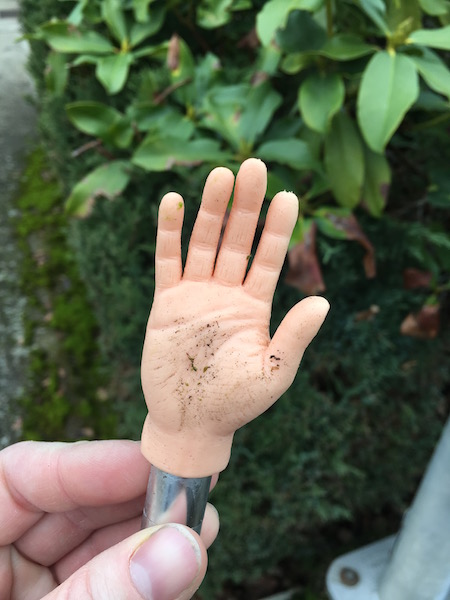 So, I reached out to Terry Purcell (the T in team T&A137) with some questions about the themed bison hides. Here's the geo-scoop.
Where do you find inspiration and materials for your themed bison containers? 
In Eugene, we found a lot of our material at Hirons Drugs*. We also find a lot of ideas at Harbor Freight Tools and Michael's Craft Store, which carries furniture and accessories for doll houses and other small accoutrements. We also check Goodwill and other thrift stores for small toys. We placed a bison tube in the cockpit of a toy helicopter and created a themed cache around that container; currently hidden down the street from us in Denver.
* Hirons is Eugene's "most unique everything store and oldest locally owned pharmacy" — if you come to town you need to experience the claustrophobic chaos that is Hirons. If you live in Minneapolis, go to Axeman Surplus Stores. If you live in Milwaukee or Chicago, try American Science & Surplus.
Amazon.com has a variety of bison tubes in all different shapes, colors, and sizes. Some product offerings even come in a combo pack, like this one:
And, just because, a few random extra questions for Terry:
How do you geocache as a team? Do you have any unique geocaching habits? 
My girlfriend is a traveling nurse, so we move every six or seven weeks. We tend to coordinate our geocaching around hikes or other explorative journeys in the different towns. She really likes puzzle caches and is the "brains" behind our team; we geocache together at least 25% of the time.
What advice do you have for people just getting into geocaching? 
Try not to make geocaching a part-time job. Remember to have fun and enjoy the journey.
Happy Trails and Happy Caching!