Located in the heart of Virginia, surrounded by the majestic Blue Ridge Mountains, the Charlottesville area is the perfect place for any family-friendly vacation, with attractions that are sure to appeal to people of all ages. Start your vacation with a trip to one of our area's renowned historic attractions. Children and adults alike are sure to be amazed by the presidential homes that dot the landscape, like Thomas Jefferson's Monticello and nearby James Monroe's Highland. These two homes are virtually next door to one another and located just a short, scenic drive from the bustling historic pedestrian Downtown Mall which lies at the heart of the city.
Where to Stay
Find family-friendly accommodations in Charlottesville, Virginia from traditional hotels to private vacation rentals through Stay22.com:
Thomas Jefferson's Monticello
Children will especially love the Griffin Discovery Room at Thomas Jefferson's Monticello, which features many hands-on activities, perfect for ages 6 to 12. Here, little ones can connect with history in a unique and engaging way and learn more about Thomas Jefferson and what life was like at Monticello in the early 1800s. Kids and adults can write on a polygraph machine, based on the one Jefferson owned, try on clothes crafted from the time period, and play games that were popular back in Jefferson's day. The Griffin Discovery Room is open daily and can be found on the lower level of the Smith Education Center. There's also a Mountaintop Hands-On Activity Center located in the lower level of the North Wing of the Main House. Here, visitors can write with a quill pen, play 18th-century games, and many more hands-on activities that are perfect for visitors of all ages.
Michie Tavern
As you leave Monticello and head back toward the city, be sure to make a stop at the historic Michie (pronounced like Mickey) Tavern located along Route 53. Not only can you eat a delicious lunch featuring traditional Southern delights (the fried chicken is addictive), but guided tours of the historic tavern are also available. Guides dressed in period costumes tell visitors about the rich history of the building and the area. There are even seasonal colonial-themed games and scavenger hunts for kids of all ages to enjoy!
Carter Mountain Orchard and Blue Ridge Mountains
Hopping back on Route 53, you'll pass by Carter Mountain Orchard, which is a mecca for family fun! Take the short, but winding drive up the mountain and you'll be rewarded not only with some of the best panoramic views of the city and surrounding Blue Ridge Mountains, but you'll also be treated to (depending on the season) some of the best apples, peaches, and hot, fresh-from-the-cooker, apple cider donuts that you'll ever find. Do not pass on these legendary apple cider donuts – in fact, just save yourself the trouble and buy them by the dozen! Also, depending on the season, children will love picking the perfect pumpkin, going on a hay ride, or picking their own apples and peaches straight from the trees. It's a spot not to be missed for anybody traveling to the Charlottesville area with children!
Downtown Charlottesville and Virginia Discovery Museum
From Route 53, take Route 20 northbound for a very short drive to Downtown Charlottesville. Located at the heart of the city, you'll find the bustling historic Downtown Mall. This eight-block pedestrian avenue is lined with shops and restaurants and has something sure to entertain people of all ages. Children ages 2 to 6 will love a trip to the Virginia Discovery Museum, which is located directly on the Downtown Mall. Once inside, visitors can explore the engaging exhibits, like the A-Mazing Airways, a STEM Lab, the Literacy Lounge, and a Sensory Studio designed to stimulate and pique the curiosity of all children who stop by for a visit.
Fridays After Five
Directly outside the museum, hop on the carousel for a quick spin, before browsing the shops and eateries, many of which have outdoor seating, perfect for the kids on a nice, sunny day. For a sweet treat, be sure to get a scoop or two of your favorite ice cream or a delicious milkshake from one of the many ice cream or gelato parlors! Plus, in the spring and summer months on Friday afternoons, a family-friendly event called Fridays After Five takes place, which is a free concert series at the Sprint Pavilion located on the east end of the Downtown Mall. Hundreds flock to this seasonal event each Friday afternoon and kids love listening to the music and dancing outside in the warm Virginia weather!
University of Virginia
For the older kids, a trip to the University of Virginia is a must-see attraction when visiting the Charlottesville area. Founded by Thomas Jefferson, this university is known around the country and around the world for being one of the top institutions of higher learning. Famous former students include Edgar Allan Poe, Woodrow Wilson, Katie Couric, and Tina Fey! A visit to the iconic Rotunda and a stroll on The Lawn are musts when touring the Grounds at this historic and breathtakingly beautiful school.  Be sure to check out the calendar of events and attend one of the many events that take place on Grounds, such as a concert, a play, a special exhibit at the Fralin Art Museum, or even go to cheer on the Hoos at one their many popular sporting events. Who knows, it might even just inspire your children to become Virginia Cavaliers at some point in the future!
More Ideas!
For the outdoorsy family, consider a trip to Shenandoah National Park for a quick hike, or perhaps a leisurely stroll on one of the many trails located all throughout the region, most of which are easily accessible for children of all ages. However, if the weather isn't as cooperative, there are plenty of indoor options for the kids. Check out the newly-opened IMAX Theater located in the Shops at Stonefield, or the Violet Crown Theater on the Downtown Mall. A few steps away from the Violet Crown, you'll find the Main Street Arena, which is perfect for some ice skating fun on a dreary day! Or for something a bit more interactive, City Clay lets visitors create their own clay creations, or at The Glass Palette, you can create a handmade ornament or trinket from glass. Finally, let the children burn off some of their extra energy by taking them to Jump Cville where they can jump and bounce in an indoor trampoline park until they are completely tuckered out!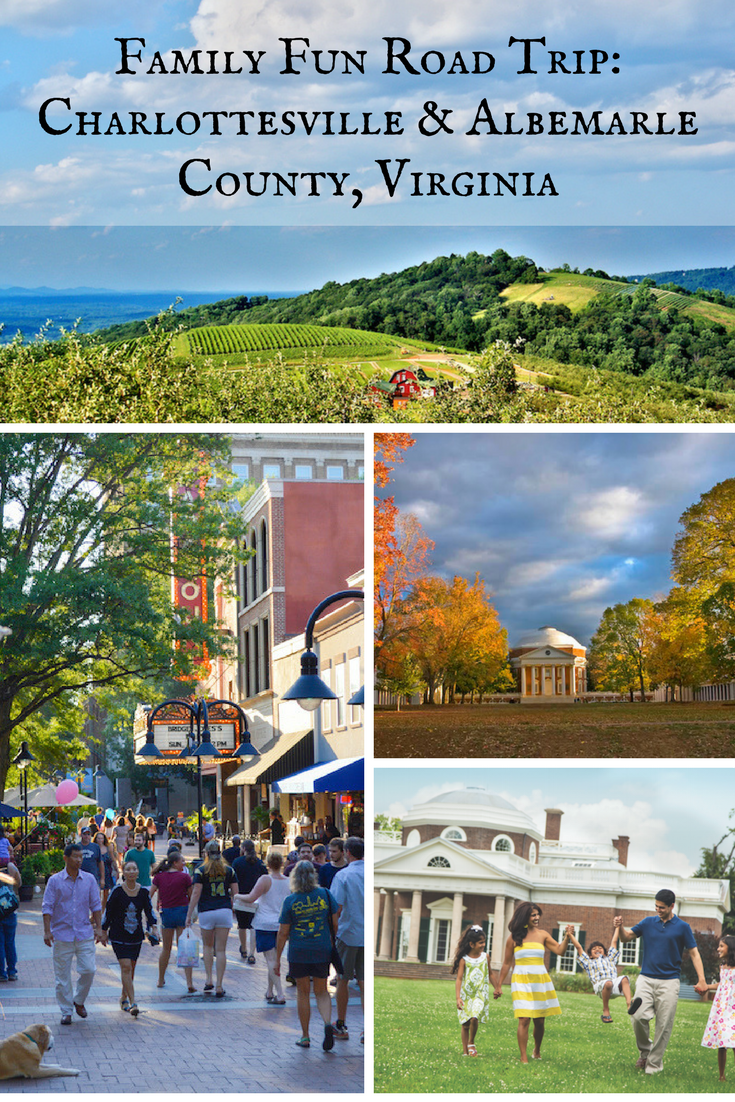 Speaking of tuckered out, when it's time to turn in for the night, the Charlottesville area has plenty of hotels and inns that the kids are sure to love! Keswick Hall, located a scenic 10-15 minute drive from downtown, was recently named one of the "15 Child-Friendly Hotels Kids Love in North America." To find more information about all of the lodging options located in the Charlottesville area, just check out our website, www.visitcharlottesville.org. Not only will you find information about lodging, but you'll also discover more about our popular and unique attractions, many of which are just perfect for that fun family road trip to Charlottesville & Albemarle County. Stop by one of our two visitor centers when you arrive and we will be happy to help answer any questions you may have, or assist you in planning the details of your trip.
Safe travels and we look forward to seeing you soon!
About the Author: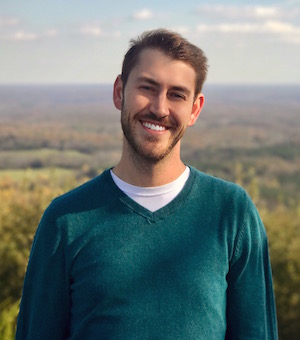 Brantley Ussery has been living, working, and playing in the Charlottesville area since 2005. He was quickly captivated by the region's charm, history, and beauty and is now proud to call this fine city home. He recently accepted his dream job with the Charlottesville Albemarle Convention & Visitors Bureau on the marketing team and now gets to spread his enthusiasm and love for the Charlottesville area to everybody! When he's not working, he enjoys running, photography, writing, and trying new culinary creations from one of the area's many incredible farm-to-table restaurants.