Vacation isn't reserved exclusively for sunny summer weather. If your family is hitting the open road in the winter, you want to ensure you and your family stay safe when traveling in snowy or icy terrain. Once you've secured an RV rental for your journey, you want to equip it with the right items to keep your family safe if you encounter an emergency or winter weather.
Follow these tips to ensure your winter road trip is filled with fun and without any problems.
Pack an Emergency Kit
Stock your RV with an emergency kit in case you get stranded on treacherous roads during your winter road trip. Icy roads that are too difficult to impasse might leave you camping out on the side of a highway until conditions improve. You'll want to have an emergency kit on hand so that you have access to essential items until you can reach your destination. First, focus on food and water. Pack non-perishable foods that will keep your growing kids well fed during any emergency. Stock up on breakfast bars, granola bars, crackers, and other portable snacks that are easy to pack. Have enough bottled water on hand for every family member for 24 hours. Your emergency kit should have basic first aid supplies—bandages, gauze, and antibacterial ointment—as well as a flashlight.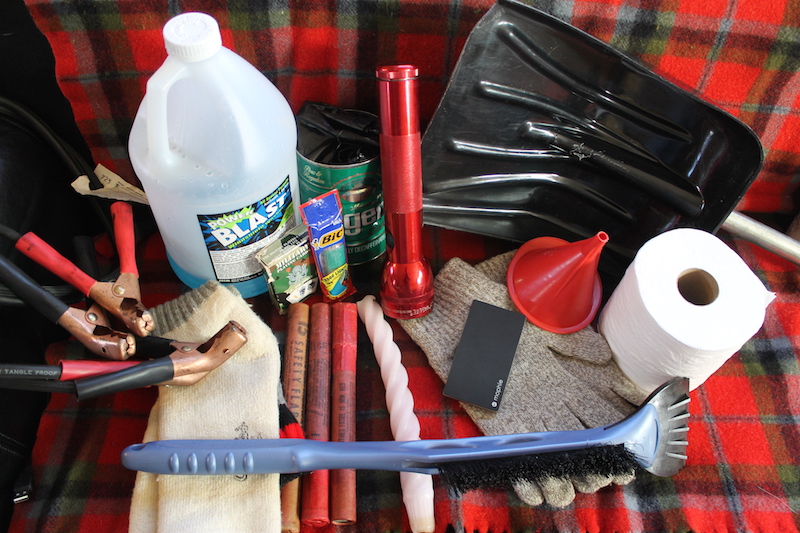 Check the Roads and Weather
Before you depart, make sure you aren't driving into dangerous weather conditions. Winter roads can become slick or even impassable, putting a halt on your winter road trip. Check the weather report for your route to ensure that you aren't driving into a dangerous snow or ice storm. Fortunately, accessing road conditions is easier than ever. Most states have a 511 website, app, or radio station that you can access to get up-to-the-minute reports on road conditions. Check this information frequently throughout your journey to ensure you're driving your RV on a route that is deemed safe by state authorities.
Equip Your RV With the Right Tools
In the event you encounter wintry conditions on your RV road trip, make sure your vehicle is stocked with the right tools. First, you'll want an ice scraper and snow brush to keep your windshield and windows clear and ultimately improve visibility and help keep your family safe. Jumper cables are always a smart addition to your road trip kit, ensuring that you can get your RV up and running again if cold temperatures zap the battery. Also invest in some flares or reflective triangles that can set up around your RV should you need to pull over when you encounter icy roads. These tools will ensure that your RV is visible to other vehicles, helping to minimize the risk of collisions. Some states require snow chains, so know the laws and be prepared.
Make Sure You Can Stay in Touch
Your smartphone is your lifeline when you're on the road, allowing you to stay in touch with family, update friends with travel pictures, and, most importantly, reach out to authorities should you need assistance. As a result, you want to make sure you can keep your electronic devices charged when you're on the road, especially when you're traveling in winter weather. A car charger for your smartphone that plugs into the cigarette lighter or a USB port is a popular choice for keeping your gadgets charges. Provide another layer of protection against dead batteries by bringing a portable battery charger; one with several USB ports that can also provide instant life to dying electronic devices.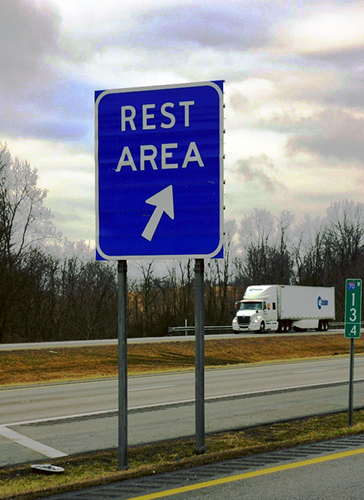 Identify Rest Stops Along Your Route
When you're mapping out your winter road trip, look for rest stops and RV parks along your route. Should you need to unexpectedly stop for the night, you'll be able to find the right spot if you already have pit stops mapped out. Familiarize yourself with the accommodations at each stop so that you know what to expect.
Equip Your RV for Chilly Nights
Make sure everyone can stay especially warm during your winter road trip. Bring at least one blanket for each family member, along with a few extras just in case your RV loses power. Hand warmers are an easy and inexpensive way to warm everyone up. Pack layers for each family member so that you can adapt to any changing temperatures. You might also consider a portable camping power supply if you kow you are traveling in a remote part of the country.
Hopefully your family's winter road trip will go off without a hitch. But if you encounter any unexpected delays, severe weather, or deteriorating traffic conditions, you can rest easy knowing you're well prepared for any challenge. Happy trails! 
Feature Photo: Image BY MIKI Yoshihito via flickr.com under a Creative Commons License CC BY 2.0.