New residents of Oregon and the Pacific Northwest, we're enamored by the Pacific Ocean. About a one-hour drive from our new house, we're venturing out from Florence, Oregon.
Here are some of our initial favorites.
Devil's Churn
North of Florence and just south of Yachats on 101 is Devil's Churn, a narrow inlet where the sea spectacularly crashes into the shore. Devil's Churn would have been a deep sea cave, but the roof has long collapsed onto the ocean floor.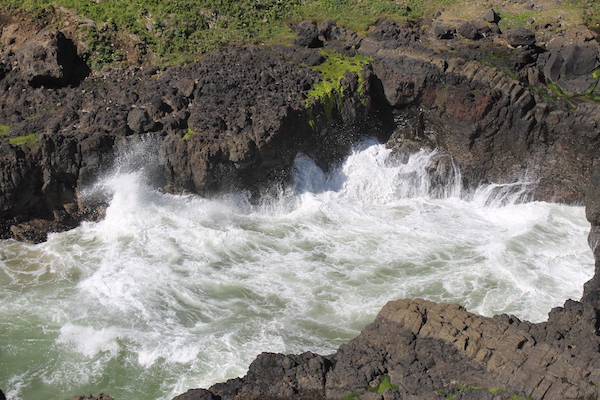 While we have an Oregon State Park pass, we still ended up paying a $5/vehicle day pass. This is somewhat confusing, but I think the money goes to the Cape Perpetua Scenic Area.
Anyway… park in the lower lot and plan ahead to have five bucks. You'll find clean bathrooms here and (depending on the time and season) a small snack shop that serves strong coffee and hot dogs; road trip essentials if you ask me.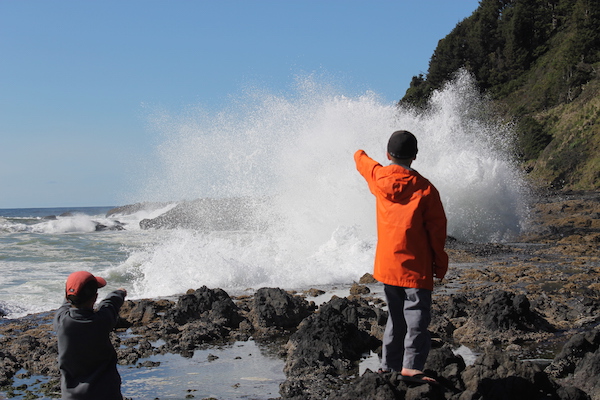 We brought our dog down with us and I would NOT recommend this if you plan on walking out on the rocks (you'll need to keep your footing and there are lots of barnacles and pokey sea creatures that might cut into the padding on their paws). I would also NOT recommend this location for people with toddlers and children that like to spontaneously like to run one way while looking another. As it was, I received several dramatic eye rolls from my elementary-age kids as I shouted, "That's far enough!" to the tune of a broken record player. Also, wear something more durable than sandals or flip flops.
After walking down a steep, paved path, you'll reach a landing and a staircase leading down into the churn. This portion of your experience has a handrail. Once you are at the level of the churn, you can walk out onto the rocks and around the bend (I think there's another path down this way, but we just stayed on the same trail).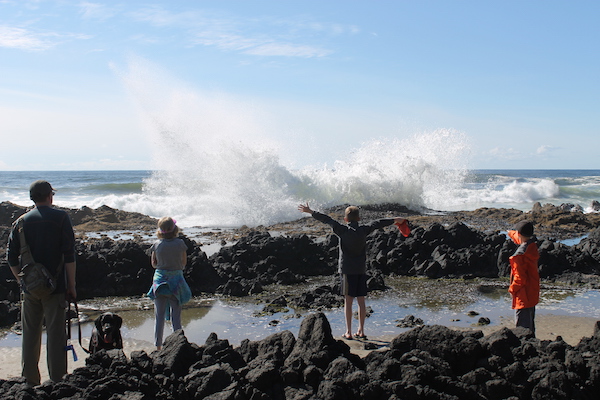 As you can see from the photos, the experience was breathtaking. I suppose you could time your visit as the tide is coming in (more dramatic wave crashing) or going out (more critters in the pools of seawater). I felt like we could stay here for hours just watching the waves and feeling the spray on our faces. Devil's Churn is near Cook's Chasm, where water spouts through a rock fissure from underwater caverns below the shoreline. We're going there next!
Heceta Head Lighthouse
The Heceta Head Lighthouse was named for Spanish explorer Bruno Heceta who sailed along the coast in 1775. Standing 250 feet above the Pacific Ocean, the lighthouse flashes its one million candle power beacon every ten seconds, and can be seen as far as 21 miles at sea. Built in 1894 and maintained by the United States Coast Card, Heceta Head is one of the most photographed lighthouses in America.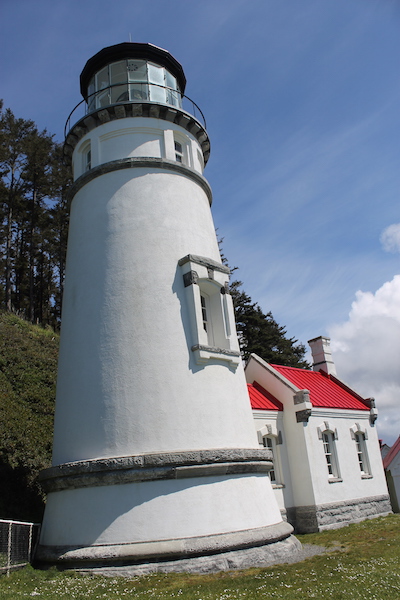 Tours of the lighthouse are available seven days a week between the hours of 11AM and 3PM. The tower stands 56-feet and you'll need to hike about a half-mile up from the parking lot on a gravel pathway that winds up through a pine forest and past the original keepers quarters.
We visited the lighthouse in early May and enjoyed the climb up to the lighthouse. Dogs are allowed, but must be on a leash. We did not take a lighthouse tour, but did enjoy breathtaking views of the rocky Oregon coast in both directions.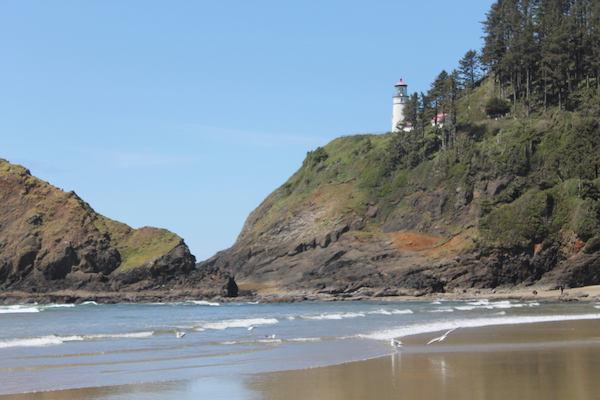 Prepared with sand pails and shovels, the kids enjoyed collecting sand dollars and shells and wading through the cold, rocky, shallows where Cape Creek meets the ocean. Towards the direction of the lighthouse, we climbed on the rocks and found tide pools teeming with ocean life. Depending on the tide, you can also find natural caves perfect for exploring (wear shoes or sandals if you head this direction).
Heceta Head beach is a fabulous place for a picnic on the beach, or perhaps flying a kite. Important to note if you have kids is the bathroom structure located a few feet from the parking lot.
Because Heceta Head Lighthouse is registered as a State Scenic Viewpoint, you'll need one of these payment options: a daily $5 parking permit, 12-month or 24-month parking permit, an Oregon Coast Passport, or a valid state park camping receipt.
Driftwood Shores
One of our first trips to the Oregon Coast was the beach at Harbor Vista County Park in Florence. A Lane County Park (you'll need to pay $4 to park unless you have a county park pass), look for blue signs pointing to "Driftwood Shores".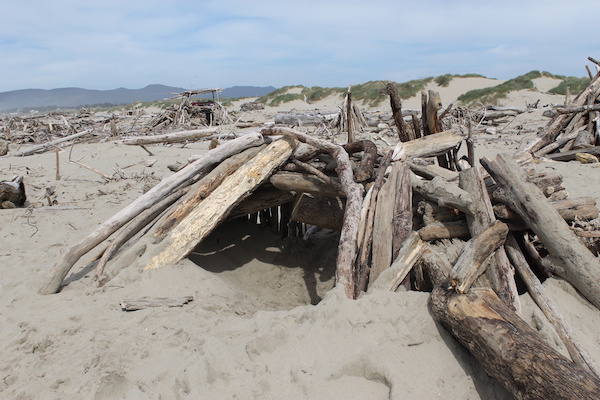 Park in the gavel lot and either walk on the sand trails through the dunes or take the paved walk on the pier that runs along the Suislaw River and cut over when you can't go any further. During our visit we noticed surfers riding the waves in the channel where the Suislaw meets the Pacific Ocean.
Travel Tip: Read about our experience at the America's Largest Sea Lion Caves.
I did not notice a bathroom facility at the park, but you can find nice, clean, modern toilets at the nearby Harbor Vista Park campground. (Note: Harbor Vista Park also features a grassy field with swings and picnic tables.)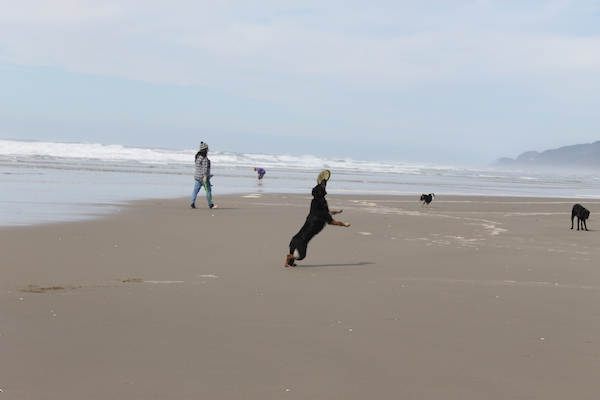 On your way down to the water you will encounter an enormous expanse of driftwood that has been dragged and rearranged into structures, ranging from a simple shelter to a castle like fortresses with entire rooms carved into sand. By the time we arrived in the mid-afternoon, most of the structures had already been "claimed" by large groups.
Instead, we watched people flying kites and enjoyed filling pails with shells and sand dollars. Dogs were running free up and down the beach, but ours stayed on her leash, as she has not yet mastered the fine art of obedience. Obviously, bring a bag to collect any dog doo, as we all remember the consequence of the notorious "doog poop beach scene" from the movie "Marley and Me."