The 4th of July is such a popular time to road trip, we've written a whole series of articles, dedicated to helping you find the best celebrations for your family — whether you prefer small and hometown or the biggest and best the country has to offer. We don't repeat recommendations, so check out some hometown celebrations and parades as well as our favorite 4th of July road trips. We also have lots of fireworks for other holidays as well — search "fireworks" in the search bar at the top right of our site. 
Independence Day. Whether it means a weekend getaway to eat watermelon, watch a small town parade and wave a flag or a week-long dirt bike excursion like Sandfest, it's all about family and making memories. Here are our picks for this year's best hometown celebrations and trips for the 4th of July.
New Castle, Pennsylvania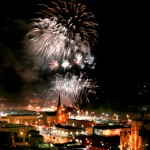 For the fireworks enthusiast, there's the fireworks road trip to New Castle, the "fireworks capital of America". New Castle is home to two of the world's biggest fireworks manufacturers – S. Vitale Pyrotechnic Industries, Inc. (Pyrotecnico) and Zambelli Internationale. Understandably, New Castle attracts 40,000 fireworks enthusiasts for this annual spectacle. If that weren't enough, New Castle is also known as the "Hot Dog Capital of the World," serving some of the first chili dogs brought here by Greek immigrants in the early 1900s.
Halifax County, North Carolina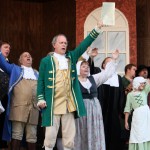 On July 4th, celebrate Independence Day with a day-long festival in Historic Halifax, the birthplace of independence (where the first resolution to declare independence from England by any colony was adopted), culminating with excerpts from the historical outdoor drama First for Freedom (that tells the story of the Halifax Resolves and the Revolutionary War) and a magnificent fireworks display.
Estes Park, Colorado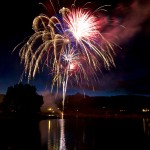 Estes Park, Colorado puts on one of the best fireworks shows  in the state of Colorado, with a great lake view from anywhere in town. Free concerts take place all weekend, and the town has numerous family-friendly specials and activities. Rocky Mountain National Park, the giant slide, the highest rock climbing gym in northern Colorado and mini-golf will keep everyone busy between the celebrations.
Lake County, California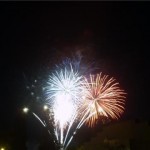 Just two hours from the San Francisco Bay area, Lake County has dozens of options for families looking for a weekend getaway. The famous Clearlake International Worm Races pit competitors ranging from children to senators and congressmen against each other. The City of Lakeport hosts its Independence Day fireworks show following a lighted boat parade. Other fireworks shows include the City of Clearlake fireworks display and the fireworks show at Robinson Rancheria Resort & Casino.
Mystic Country, Connecticut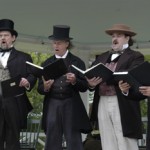 Located in the eastern part of the state, Mystic Country is a favorite family getaway. Families love the special activities at Mystic Seaport including the children's parade, a family picnic and an old-fashioned spelling bee. Stay for an 1876 Independence Day ceremony and a concert by the Silver Cornet Band. Engage in a genteel game of croquet in Mr. Thomas Greenman's side yard. Churn ice cream and reap the delicious rewards!
Stone Harbor, New Jersey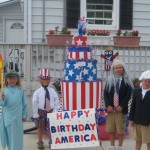 On the Seven Mile Island of the Jersey Cape, Stone Harbor is famous for family fun. Their "independence from boredom" festivities begin with a sand sculpture contest in the morning and move to the Hoys 5 & 10 Candy Scramble (for kids six and under). Foot races give everyone a chance to work off all that sugar and the Phillies Home Run Derby lets your little slugger show off his or her swing. The Slow Bike Races are just like they sound — prizes are given to the slowest times through the obstacle course without any part of your body touching the ground. Let your creativity run wild at the Decorated Bike Contest and then relax and watch the fireworks.
Southport, North Carolina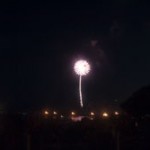 Over 50,000 people attend the Southport 4th of July festival each year. Festival events include: naturalization ceremony, over 100 arts & craft booths, food vendors cooking everything from shrimp burgers to bar-b-que, 5K Freedom Run/Walk, parade televised live on WECT TV-6, Sea Notes Choral Concert, live stage entertainment, fireworks, Franklin Square Art Gallery's National Art Show, children's entertainment & games, the opening of the Old Jail, pancake breakfast, Beach Day events such as sandcastle building, surf, horseshoe, volleyball and Shag contests.
Bristol, Rhode Island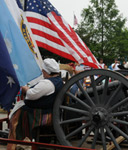 A small town in the East Bay of Rhode Island, Bristol is home to the oldest and biggest 4th of July Parade in the USA, founded in 1785. Bristol is close to Newport, RI, known for its spectacular mansions, ocean beaches and myriad shopping, lodging and dining opportunities. Bristol, however, is a great travel destination in its own right, with a classic downtown with nice locally-owned stores, lots of great restaurants, a beautiful bike path and the amazing Colt State Park –on Narragansett Bay with great water views and places to walk and fly kites.
Wilmington, North Carolina's Cape Fear Coast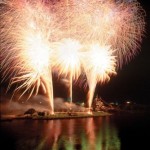 Start the weekend festivities with the Pleasure Island fireworks over the Carolina Beach Boardwalk. See the rare Venus Flytrap at Carolina Beach State Park; venture out on a kayak tour; meet a rare albino alligator and observe marine life at the NC Aquarium at Fort Fisher; explore Civil War history at Fort Fisher State Historic Site; or enjoy carnival-style rides, games, and a water slide at the Carolina Beach Boardwalk. View the fireworks from Downtown.
Stowe, Vermont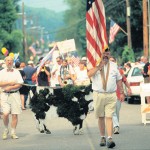 Remember celebrating Independence Day as a kid with cotton candy, streamers, BBQ, fireworks and a parade? Well, head to Stowe this 4th of July for Stowe's Old-Fashioned Family 4th of July Celebration and re-live that memory. Start off the day with the Moscow Parade, a beloved town tradition dubbed "the world's shortest parade". After the parade, Stowe's village will be alive with activities including a kid's bounce house, politicians' dunk tank, live music, bike and pet parade and food throughout! Also, enjoy Stowe's '7 Miles of Sales', with retailers offering special sidewalk and tent sales. Like any good old-fashioned 4th of July, end the evening with a magnificent fireworks display.
Charleston, South Carolina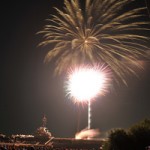 Patriots Point 4th of July Blast is an action-packed festival featuring rockin' live music, a terrific one of a kind children's play land – The Kidz Zone, cold drinks and adult libations from the beverage garden, a tempting food village featuring some of the best restaurants in Charleston, and when the stars come out -a spectacular fireworks show! Admission to the land side festival is free. Admission to the ships, Medal of Honor Museum and other exhibits not included in admission to the festival. Bring your lawn chairs, blankets, smiles and even dancing shoes but please with all the tasty treats and beverages available at the festival, no coolers and outside food or beverage, or pets are allowed.
Salem, Massachusetts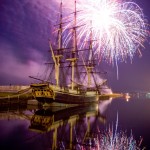 Salem celebrates the 4th of July with a Pops concert and fireworks on Derby Wharf at the Salem Maritime National Historic Site. Modeled after the wildly popular Boston Fourth of July Celebration, Salem's celebration draws nearly 50,000 people each year who bring blankets, chairs, and picnics. The 42-piece Hillyer Festival Orchestra is preceded by local bands that have ranged from Dixie Land to Pop, and there is a Kids' Space with games, crafts, and a DJ. Fireworks are launched over the tall ship "Friendship", a replica of a 1797 East Indiaman Merchant Ship, as the orchestra plays the "Battle Hymn of the Republic". Camping is available at Salem's Winter Island Maritime Park.
Cleveland, Ohio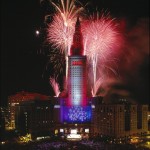 The "Star Spangled Spectacular" in Cleveland showcases one of the world's greatest orchestras, The Cleveland Orchestra. More than 80,000 people visit Public Square to enjoy the Star Spangled Spectacular includes a program of patriotic favorites and popular classical repertoire. The pre-concert festival features local musical groups and a free arts festival. The music begins around 4pm and ends with a spectacular display of fireworks set against the Cleveland skyline.