While you could make it from Asheville, NC to Nashville, TN in four to five hours on the Interstate, taking the scenic route offers opportunities for unique stops that make a memorable family road trip.
When visiting Asheville, plan at least a full day at the Biltmore. Walk through America's Largest Home with their excellent self-guided audio tour and you'll feel as though you have truly experienced what it was like to live there. You can also enjoy the expansive gardens, the winery, and the farm, or spend time hiking, biking, kayaking, horseback riding and more on the 8,000 acre estate.
Get up the next day and drive into Smokey Mountain National Park. Don't miss Cades Cove, an 11-mile loop with several opportunities to pull off and enjoy a variety of historic buildings, hiking, wildlife and the smokey-blue scenery for which the mountains are famous.
You have two options driving out of the park: Drive directly into tourist trap heaven or bypass the hub-bub and head for the interstate. If you choose the first option, you'll head into the Gatlinburg/Pigeon Forge area. Love it or hate it, this strip (Route 71/441, aka Pigeon Forge Parkway) offers some of the most unique tourist attractions I've ever seen. You'll find an Elvis museum, Titanic museum, adventure golf, comedy shows, go-karts/action parks, wax museum, magic shows, sporting/adventure outfitters, helicopter rides, dude ranches, dinner theater (Dixie Stampede, Murder-Mystery, Lumberjack Feud) – even a breakfast theater! – and a bajillion places to buy your souvenir T-shirt. And there's Dollywood, in case you're itching for a day at an amusement park.
Continuing west to Knoxville, TN, you can stop at the Discovery Center or the Knoxville Zoo. Both are on the small side and fine options for a half-day stretch of the legs. After Knoxville, I recommend hopping on Interstate 40 for a bit. When you need a snack/bathroom break, pull off at Crossville, TN and check out the (unofficial) world's largest tree house. About 10 minutes off I-40, it's well worth the detour. I was absolutely fascinated by this 10-story treehouse built by a minister from salvaged lumber. You are free to explore all around the house – right up to the top tower. There's a sanctuary inside, a big swing in the back, and random furniture and odd decor around every corner. But enter at your own risk and definitely watch your little ones!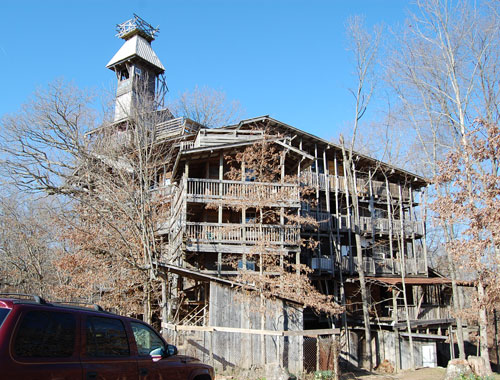 Your next stop is Burgess Falls State Park in Sparta, TN. You'll probably want to spend at least an afternoon hiking and exploring. Be sure to check out their Butterfly Garden and download the Butterfly Checklist for the kids. From Sparta you're less than two hours to your final destination of Nashville.
Asheville to Nashville is a road trip that can be done any time of year, but be aware that winter weather can close roads in Smokey Mountain National Park. I did this trip in late February during a very mild winter. Temperatures were in the high 60's, but the Cades Cove loop was still closed. Nevertheless, my drive through the Smokies was beautiful.
Book Your Stay

Taking photos of your trip? As a long-term traveler, it is a good idea to subscribe to Cloud solutions from CloudDesktopOnline and CloudAppsPortal. That helps you to access your Cloud Based Windows Desktop and your Hosted SharePoint Site from all kinds Windows/Macs/iOS and Android devices.
Tip: For some neat ideas on what to do once you arrive in Nashville, read this story: Top 25 Things to do in Nashville, Tennessee