Ocala is conveniently situated for Florida road trips. It's in the center of the northern half of the state, on the way if you're going east-west from Daytona Beach to Crystal River or north-south from Gainesville to Orlando (or anything else that takes you down I-75).
It's also next door to the 387,000-acre Ocala National Forest and famous as the Horse Capital of the World, thanks to Marion County's long equestrian history and more than 1,200 horse farms.
Here are a few of the best family-friendly activities to enjoy in and around Ocala.
Horseback Riding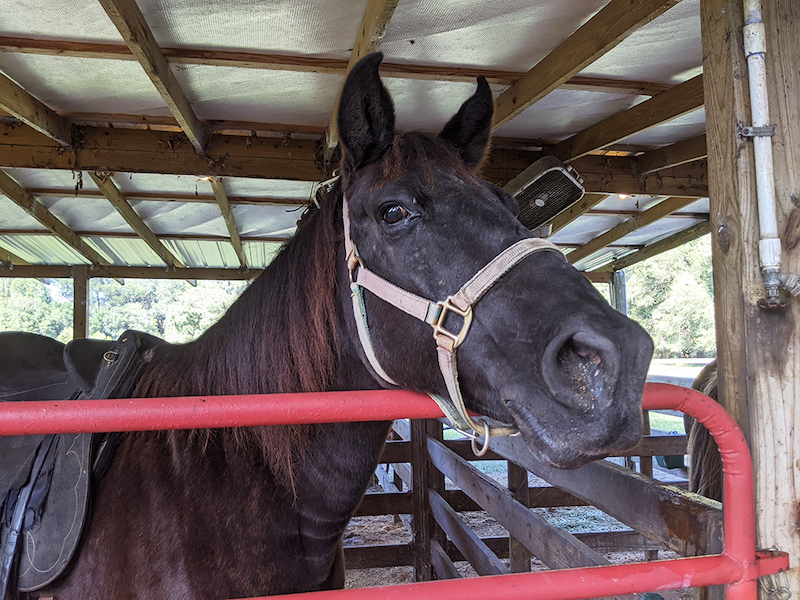 When you're in horse country, you go horseback riding, it's as simple as that.
Plenty of local trail rides are used to hosting families. Cactus Jack's Trail Rides, which we visited, is open to riders 6 and older, and the horses are gentle. 
The setting is picturesque. Our 90-minute ride passed through the Ocala Cross Florida Greenway, a wilderness of oak hammocks and pine forests. Our guide shared about the flora, fauna, and history of this 110-mile preserve that reaches from the Gulf of Mexico to the St. Johns River. When people talk about the "real Florida," this is it.
If horseback riding is on your bucket list, this is a must. I recommend going when it's slightly cool, fall through spring, but the trail is mostly shaded, making it pleasant even in warmer weather.
Biking the Trails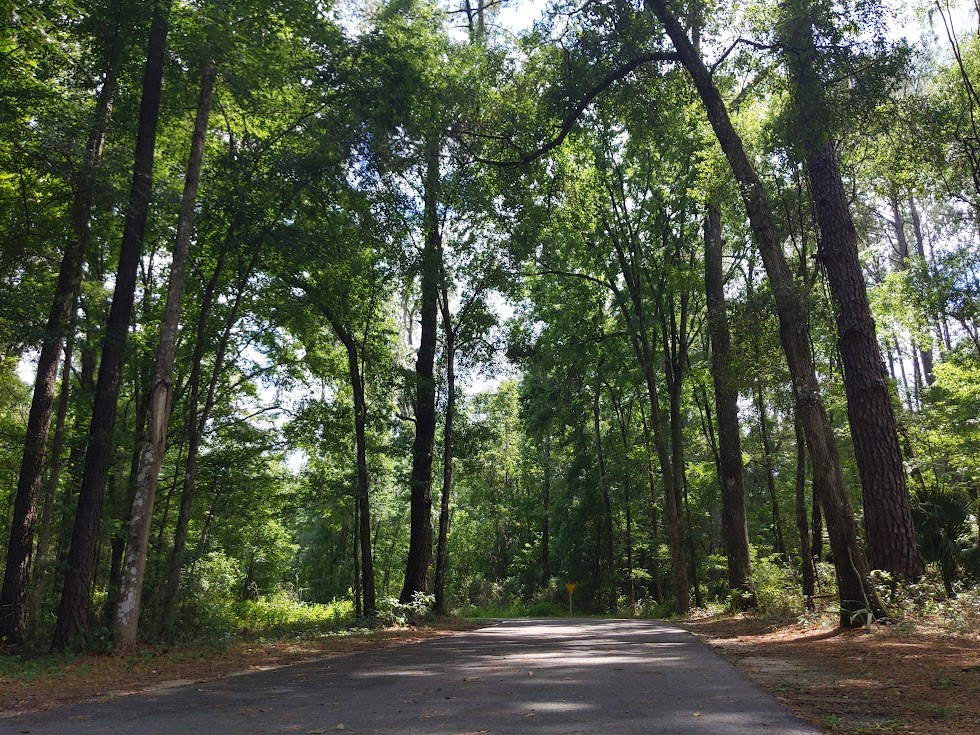 Ocala is a mecca for mountain bikers with some of the best offroading trails in Florida. Branching off from the Santos Trailhead are over 80 miles of offroading trails ranging from beginner to advanced with interesting terrain created from former limestone quarries. 
Don't have a bike? Right across the street from the trailhead is Santos Bike Shop. Their main shop is nearby, but they opened their second location across from the trailhead in 2021. They have excellent service, free trail maps, and quality bikes, including kids' mountain bikes and even road bikes and cruisers if you prefer to take the paved trail. 
That was more our speed, so we hopped on a bike (they do daily, weekly, and monthly rentals) and set off. This trail is better than your run-of-the-mill greenway. Unlike trails on repurposed railroads, this path has curves and slopes. You're also in the middle of a shady forest much of the way. We spotted deer on the ride out and coming back in.
The feeling of achievement made this one of the highlights of our trip. I highly recommend a family ride here.
Zip Lining Over a Canyon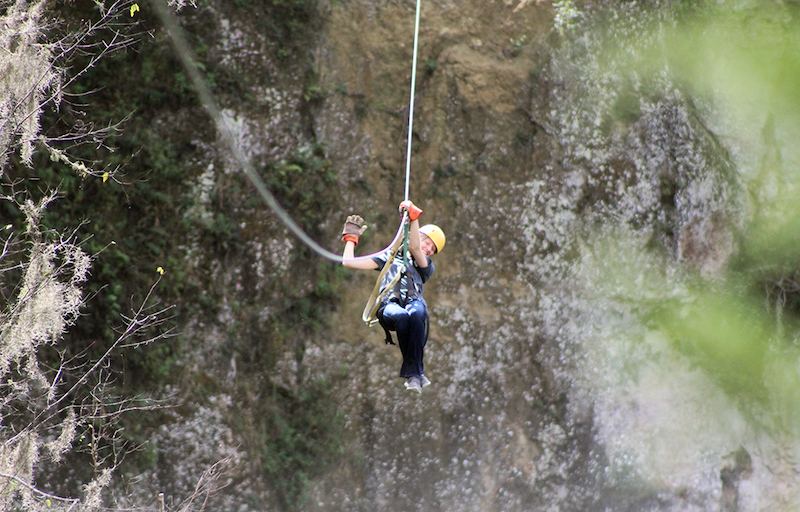 While there are a few places in Marion County for horseback riding and biking, there's really only one place for zip lining: The Canyons Zip Line and Adventure Park. It has the fastest, highest, and longest zip lines in the state. Why? Because of the canyons.
The park's two canyons were man-made years ago, but today, they seem like a natural oasis, filled with lakes and lined with cliffs. The view as you zip over them is incredible. Don't worry — you work up to these so by the time you're there you can actually enjoy the scenery. As you see in the photo, I'm smiling!
There are a few different tour options, from just three zips up to nine, and there's even a nighttime tour under full moons (with glow sticks, sky bridges, and optional howling at said moon). At the start, you'll do a practice zip line just a few feet off the ground to get comfortable with how it works. The guides do all the clipping and gear checks, so it's safe, and they keep everyone, kids to adults, entertained.
Rather than an age limit, there's a minimum weight of 70 pounds to participate. Zip lining is the ideal family activity because you challenge yourself together, yet individually. It's a bonding experience with lots of thrills that you'll be talking about long after you leave.
Seeing a Show
It's nice to balance all that outdoor adventure with some culture indoors, but the Ocala Civic Theatre is more than just an escape from the heat — it's your ticket to another world. 
Travel back in time or around the globe from your seat (comfy seats, I might add) with the magic of live theater. Entering their 73rd year, Ocala Civic Theatre has incredible dramatic talent and production quality backing up each of its shows. I saw Newsies and the dancing, singing, acting, and set designs were all top-notch. I'm talking acrobatics on stage and moving clouds in the background. I overheard a woman at intermission saying this performance was as good as the one on Broadway.
Most of the shows are family-friendly. They always do a few musicals and at least one children's production in a season. Upcoming selections include Peter Pan, Clue on Stage, and Escape to Margaritaville. 
Be sure to book in advance. Shows can sell out, and you want to get a good seat. We had so much fun at our Sunday matinee. It was the perfect way to wrap up an eventful weekend getaway! 
Bonus: Tickets are half price for those 18 and under.
Dining in Downtown Ocala
Make sure to save time to explore Ocala's historic downtown. There's a farmer's market, a First Friday Art Walk, and plenty of places to eat.
The Gathering Cafe was our favorite. Although they're not new to Ocala, they just opened their downtown location this spring. It's gorgeous, with two floors, the second overlooking the first, decorated in wood and white. This place is designed to be somewhere you can chill, super family-friendly, so come in and linger over breakfast or lunch.
And that meal is going to be good. If you're there for breakfast, try one of their popular "nests," with an egg baked into a hash brown cup or the biscuits and gravy. If you go for lunch, like we did, you can't go wrong with the avocado toast or hummus turkey wrap, and kids will love the grilled "cheesy." Get it with the tomato bisque for maximum dipping.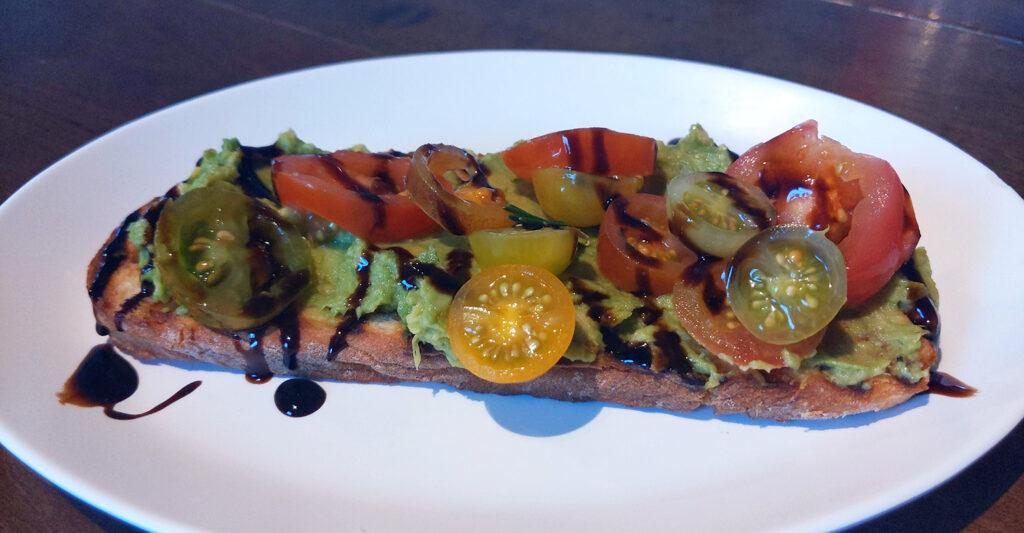 Between coffee, tea (including a matcha frappe), and smoothies, you've got to order a drink here. The lattes are best-sellers, like the Euphoria: espresso, chocolate sauce, Irish cream, chai tea, and milk. For something ultra refreshing, because let's say you just biked 30 miles (see above), smoothies are the way to go, particularly the Green Goodness, which is a great way to get the kids to eat spinach and like it.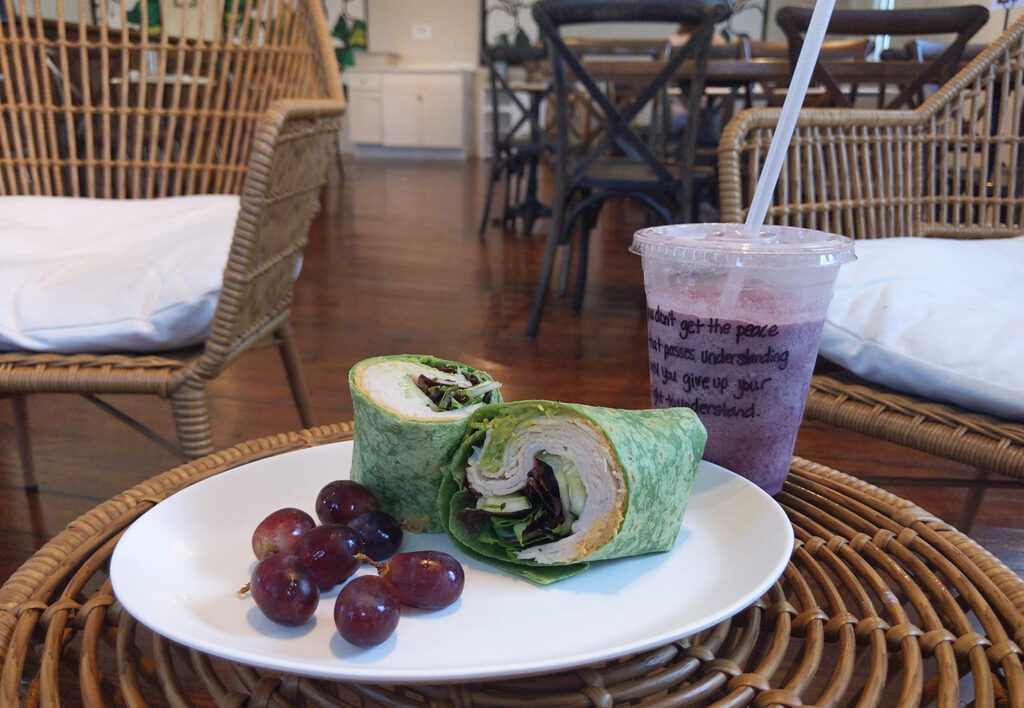 For something still counter-service but a bit fancier, stop into Stella's Modern Pantry. The chef owner, Albert Barrett, who hails from Jamaica, serves up an international menu in an airy bakery. We tried the flatbread and loved it. Nothing on the menu is fried, and it's all made in house. The cafe also sells cookware, wine, and kitchen-y gifts if you want to do some shopping.
Exploring the Springs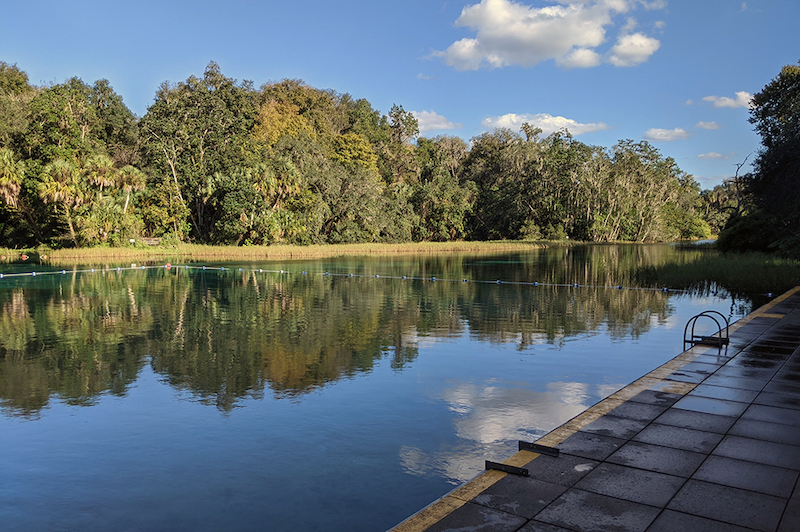 Like much of Central and North Florida, Marion County is rich in natural springs. In summer, it's bliss to go swimming and tubing or just enjoy the beauty of the springs.
You have several springs to choose from nearby, but here are some of the best:
If you visit just one, choose Silver Springs State Park. Beloved for its glass-bottom boat tours, which date back to the 1870s, the park boasts one of the largest artesian springs in the world. You can hike the miles of trails, tour historic gardens, or rent a canoe or kayaks. Kids will love the Pioneer Village, recreating a 19th-century Florida "cracker" settlement, and the Silver River Museum, including a bilingual section covering Native American dugout canoes.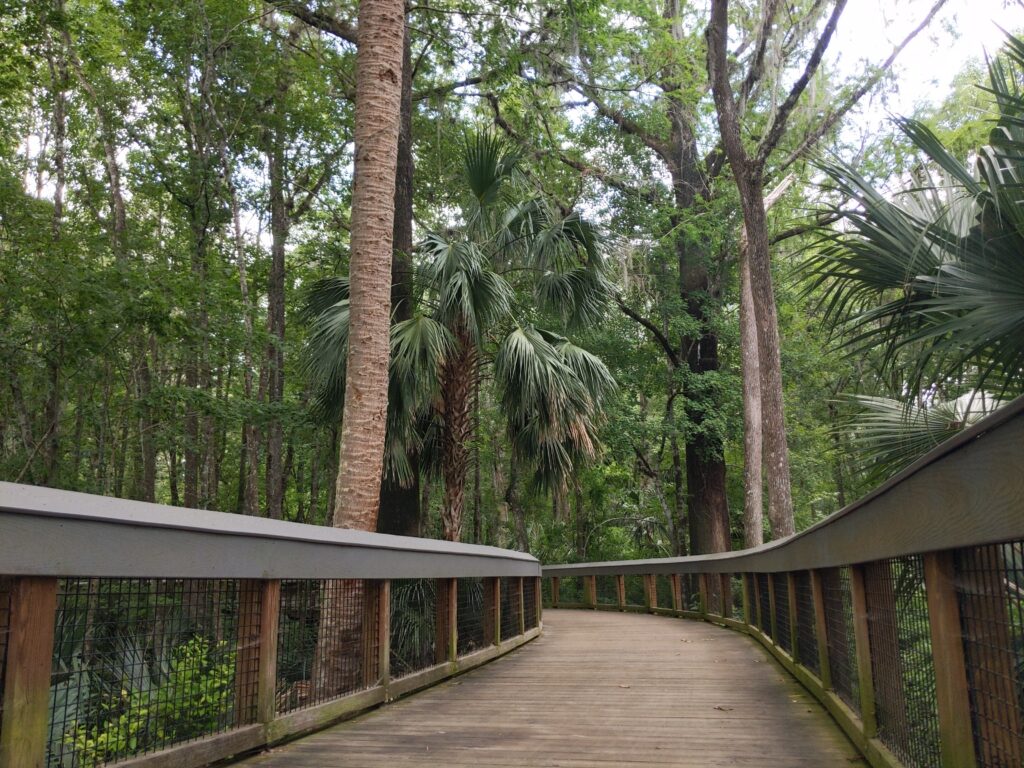 The park has undergone a number of recent updates, including the addition of an accessible glass-bottom boat in 2021 and a renovated visitor building. There are water bottle refill stations, campgrounds, food, even a gift shop — everything you need for the perfect Florida afternoon.
Where To Stay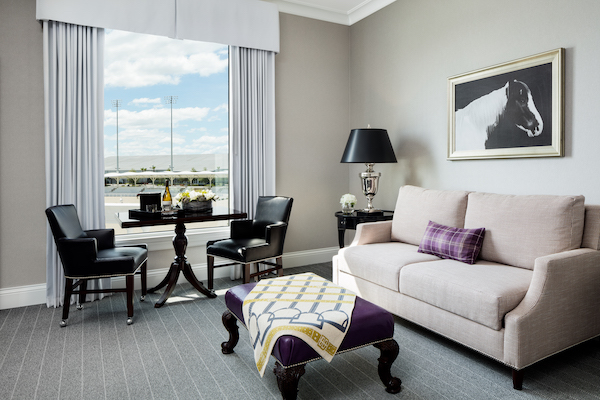 The classic place to stay in Ocala is at the 380-acre World Equestrian Center. This is where you can see horse shows, shop for boots and leather goods, dine on a terrace overlooking the Grand Arena, and in general, get a taste for the finer things in live, equestrian-style. 
For a luxury getaway, The Equestrian Hotel is a must. Read our review to see what staying here is like — including the most deluxe toy store you could possibly imagine.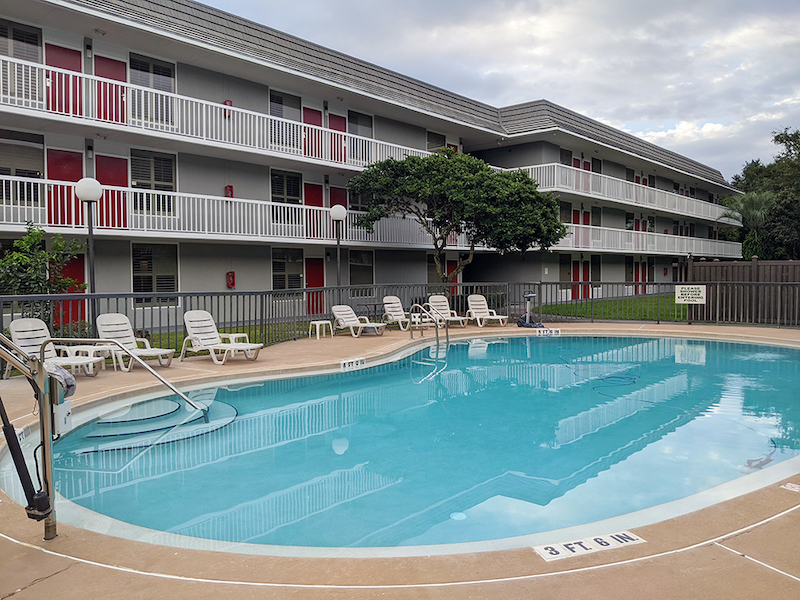 For a bit thriftier option, try Equus Inn, a boutique hotel about 10 minutes from downtown Ocala. The theme, appropriately, is equestrian.
The exterior-corridor rooms are updated with modern bathrooms and also have fridges and microwaves, helpful for road trips when you need to unpack the cooler. Breakfast is also included.
Ocala: Road Trip Ready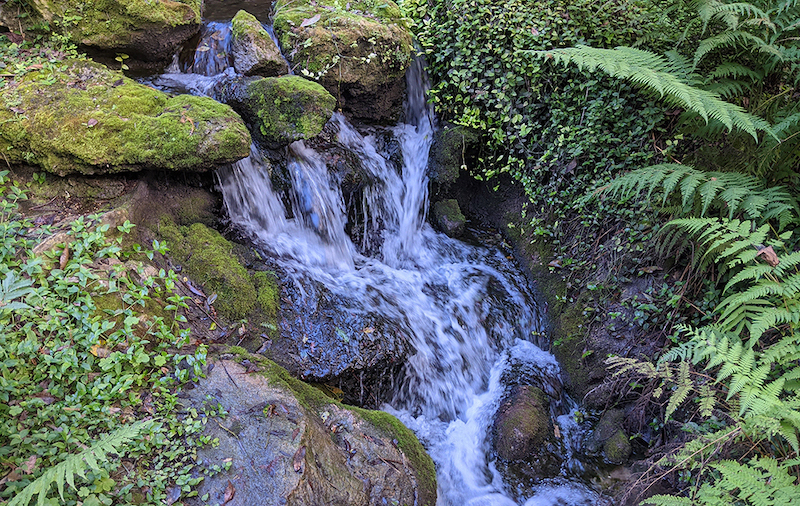 When you're looking for outdoor fun in Florida, remember that there's more than the beaches. From zip lining over canyons to riding horses through the forest to chasing waterfalls alongside springs, there's a lot to discover in Ocala. Don't miss it on your next Florida road trip.
About the Author
Cheryl Rodewig is storyteller, marketer, and award-winning feature writer specializing in travel. Her Venn diagram includes minimalism, waterfalls, French, and the em dash. Find her at cherylrodewig.com or on Twitter at @cherylrodewig.