Needing to get outside, you say? How about horseback riding, zip lining, and swimming in crystal clear springs?
Ocala is conveniently situated for Florida road trips. It's in the center of the northern half of the state, on the way if you're going east-west from Daytona Beach to Crystal River or north-south from Gainesville to Orlando (or anything else that takes you down I-75).
It's also next door to the 387,000-acre Ocala National Forest and  famous as the Horse Capital of the World, thanks to Marion County's long equestrian history and more than 1,200 horse farms.
Here are a few of the best family-friendly outdoor activities to enjoy in and around Ocala.
Horseback Riding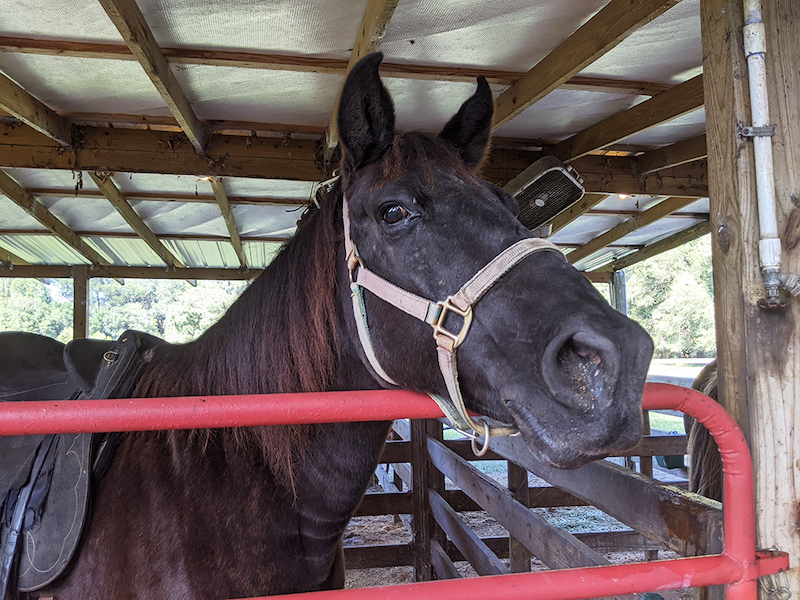 When you're in horse country, you go horseback riding, it's as simple as that.
Plenty of local trail rides are used to hosting families. Cactus Jack's Trail Rides, which we visited, is open to riders 6 and older, and the horses are gentle. During COVID, they're taking extra precautions with sanitizing equipment, and you're naturally socially distanced up on that horse by at least 6 feet — no problem there!
The setting is picturesque. Our 90-minute ride passed through the Ocala Cross Florida Greenway, a wilderness of oak hammocks and pine forests. Our guide shared about the flora, fauna, and history of this 110-mile preserve that reaches from the Gulf of Mexico to the St. Johns River. When people talk about the "real Florida," this is it.
If horseback riding is on your bucket list, this is a must. I recommend going when it's slightly cool, fall through spring, but the trail is mostly shaded, making it pleasant even in warmer weather.
Zip Lining Over a Canyon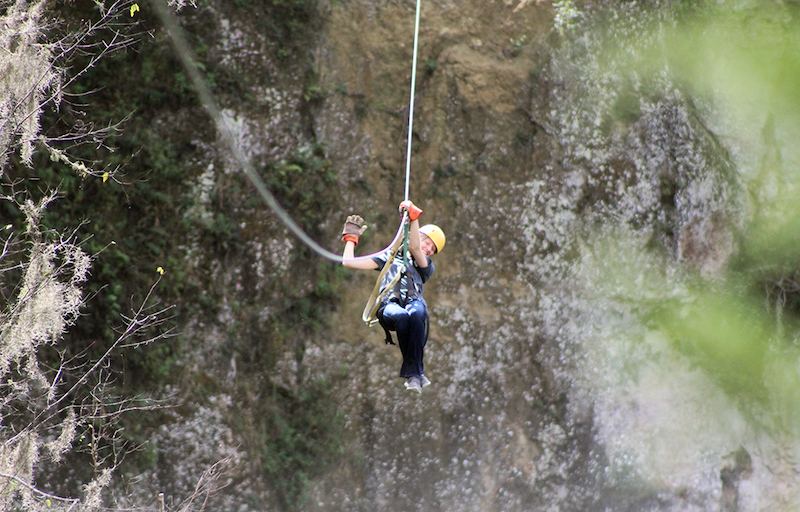 While there are a few places in Marion County for horseback riding, there's really only one place for zip lining: The Canyons Zip Line and Adventure Park. It has the fastest, highest, and longest zip lines in the state. Why? Because of the canyons.
The park's two canyons were man-made years ago, but today, they seem like a natural oasis, filled with lakes and lined with cliffs. The view as you zip over them is incredible. Don't worry — you work up to these so by the time you're there you can actually enjoy the scenery. As you see in the photo, I'm smiling!
There are a few different tour options, from just three zips up to nine, and there's even a nighttime tour under full moons (with glow sticks, sky bridges, and optional howling at said moon). At the start, you'll do a practice zip line just a few feet off the ground to get comfortable with how it works. The guides do all the clipping and gear checks, so it's safe, and they keep everyone, kids to adults, entertained.
Rather than an age limit, there's a minimum weight of 70 pounds to participate. Zip lining is the ideal family activity because you challenge yourself together, yet individually. It's a bonding experience with lots of thrills that you'll be talking about long after you leave.
Swimming in the Springs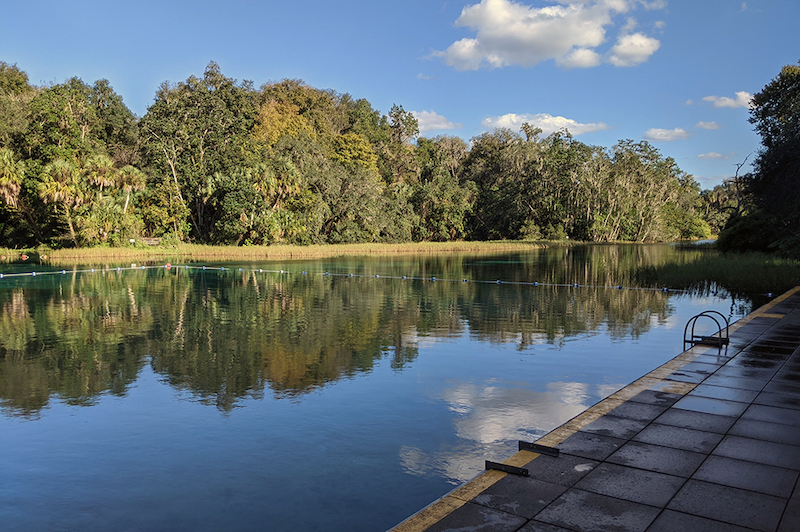 Like much of Central and North Florida, Marion County is rich in natural springs. In summer, it's bliss to go swimming and tubing or just enjoy the beauty of the springs.
You have several springs to choose from nearby, but here are some of the best:
Silver Springs State Park, just east of Ocala, was one of Florida's first tourist attractions. It's best known for its glass-bottomed boat, but there's also gardens, horseback riding (with Cactus Jack's Trail Rides), and paddling along the river. 
Rainbow Springs State Park allows swimming, and in the summer, tubing. It also has a hiking trail with waterfalls, a rarity in Florida.
Walking Downtown Ocala
Make sure to save time to explore downtown. Ocala's historic square is walkable and quaint, filled with murals, shopping, and a horse statue that's just begging for a selfie. This is also the place for events, from the farmer's market to the First Friday Art Walk. When we were there on a Saturday night, there was a band playing in the gazebo.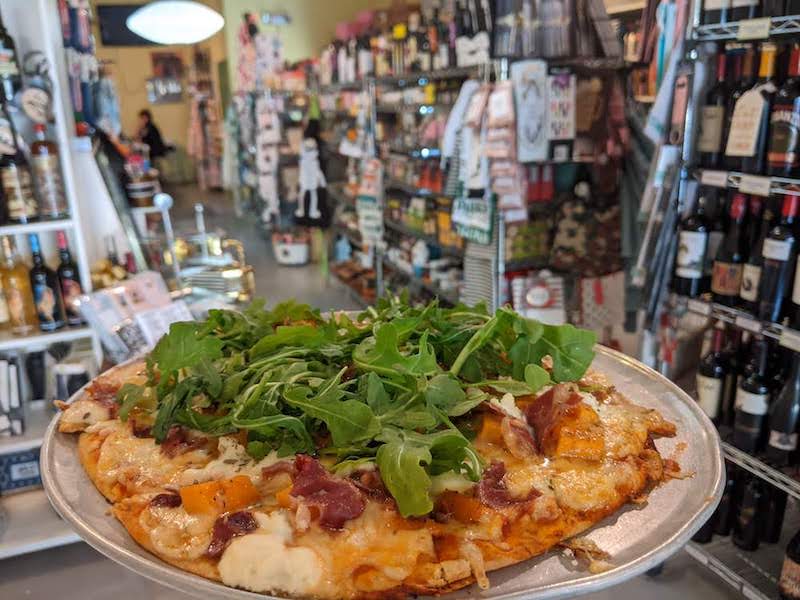 Downtown Ocala is a good place to grab a meal, too. There are loads of choices, but we fortunately stumbled upon Stella's Modern Pantry. The chef owner, Albert Barrett, who hails from Jamaica, serves up an international menu in an airy bakery.
We tried the seasonal special, butternut squash flatbread, and loved it, but there's cheese flatbread for less adventurous palates. What's cool is that nothing on the menu is fried, and it's all made in house. Stella's is unusual, worth checking out because you won't find anything quite like it anywhere else. The cafe also sells cookware, wine, and more if you want to do some shopping, and there are plenty of pastries for dessert.
Where to Stay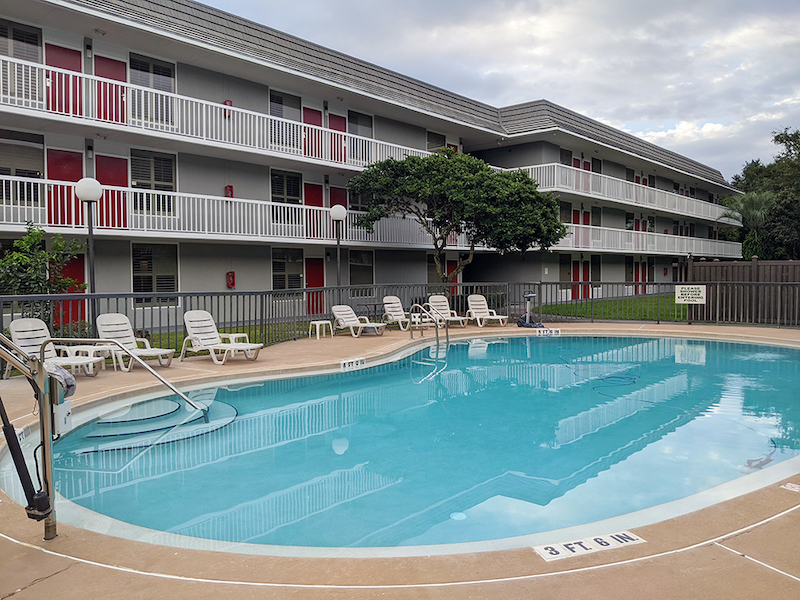 We stayed at the Equus Inn, a locally owned and recently renovated boutique hotel about 10 minutes from downtown Ocala. The theme, appropriately, is equestrian.
The exterior-corridor rooms are updated with modern bathrooms and also have fridges and microwaves, helpful for road trips when you need to unpack the cooler.
If you're visiting during COVID, the breakfast is bagged. Equus Inn had more by way of a bagged breakfast than we've seen at other hotels, offering a breakfast sandwich, cereal, and more. There were also prepackaged cookies and milk for the kids (or anyone) at night.
Ocala: Road Trip Ready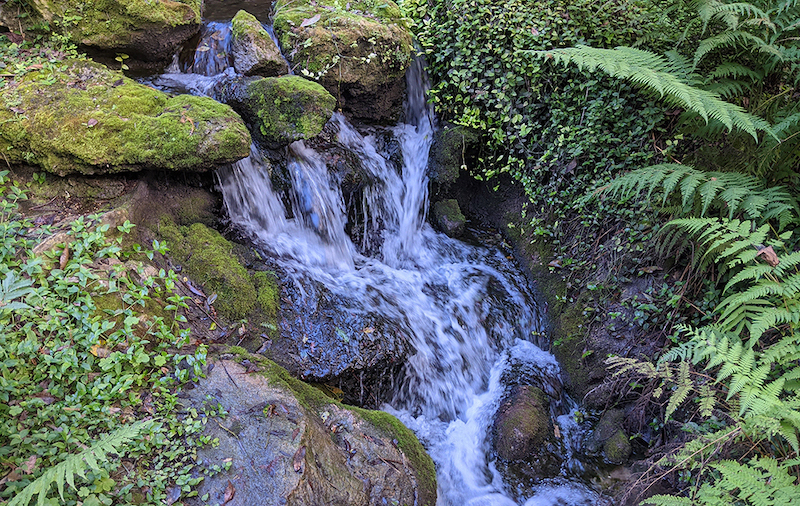 When you're looking for outdoor fun in Florida, remember that there's more than the beaches. From zip lining over canyons to riding horses through the forest to chasing waterfalls alongside springs, there's a lot to discover in Ocala. Don't miss it on your next Florida road trip.
About the Author
Cheryl Rodewig is storyteller, marketer, and award-winning feature writer specializing in travel. Her Venn diagram includes minimalism, waterfalls, French, and the em dash. Find her at cherylrodewig.com or on Twitter at @cherylrodewig.