A popular attraction in Northeast Iowa, Spook Cave & Campground is the site of Iowa's longest guided boat cave tour. The cave turnoff is located on US 18; on the outskirts of McGregor, a quaint river town just across the Mississippi river from Prairie du Chien, Wisconsin.
Getting to Spook Cave involves a beautiful journey through rolling hills, coulees, and majestic bluffs. I have driven by Spook Cave many times, but as it is open seasonally (May – October) I took the advantage of a hot summer day to experience the constant 47 degree cave temperatures.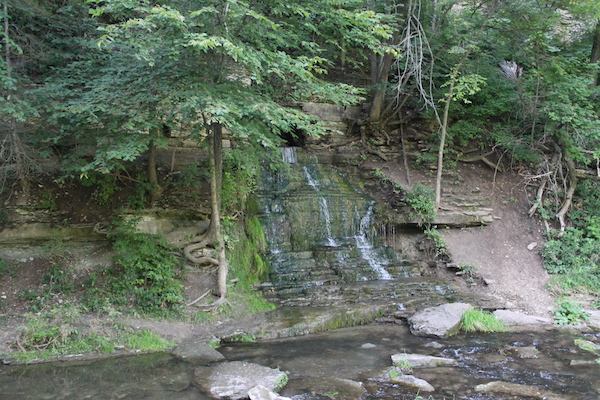 Where to Stay
Find family-friendly accommodations in McGregor, Northeast Iowa from traditional hotels to private vacation rentals through Stay22.com:
A campground as well as a cave tour, sites are clean and orderly with indoor restrooms, a laundry facility, and playground. There's also a picturesque waterfall on the banks of Bloody Run creek, a popular trout fishing stream and fun place for kids to wade and explore.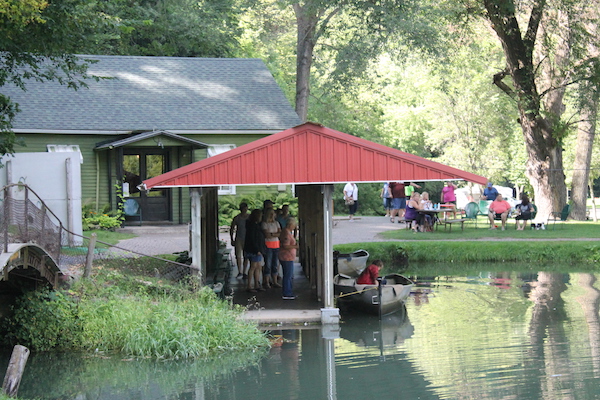 Celebrating 61 years this fall, I boarded one of six aluminum row boats floating in a small manmade pond just outside the cave entrance. Flooded to support the boats, water depth inside the cave averages between 14-inches and 2-feet deep.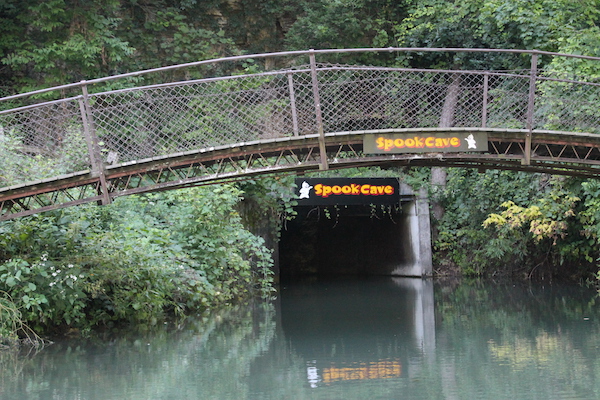 Several tours were running at the same time, leave 35-45 minutes to make the half mile out-and-back journey into the depths of the narrow passageway. Tours are guided and offer a historical narrative of how the cave was formed, discovered, and converted into a tourist attraction (expect a bit of lore and spooky ghost stories).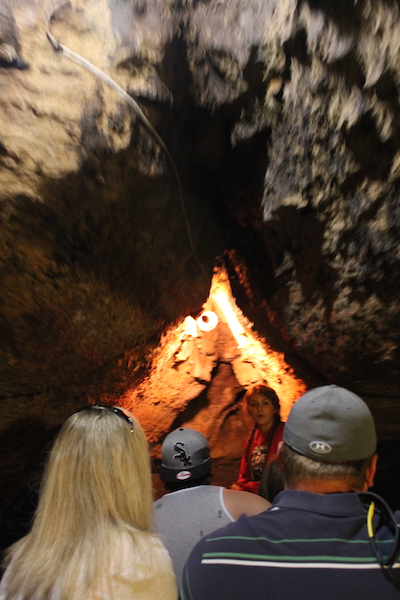 A word of caution: a good portion of the tour involves ducking under low-ceilings and pin-balling off cave walls. I found myself tucking my head between my knees and thankful the man next to me didn't mind too much as I leaned on him.
If you are claustrophobic or have limited motion, this is not the tour for you. Our tour guide did announce she would be glad to turn around if anyone felt they needed to leave, but this information might be useful to have before purchasing a $12 adult admission. Young children might also be scared by the fake alligators and set of caretaker bones staged along the cave walls; have them sit in the middle of the boat if you can.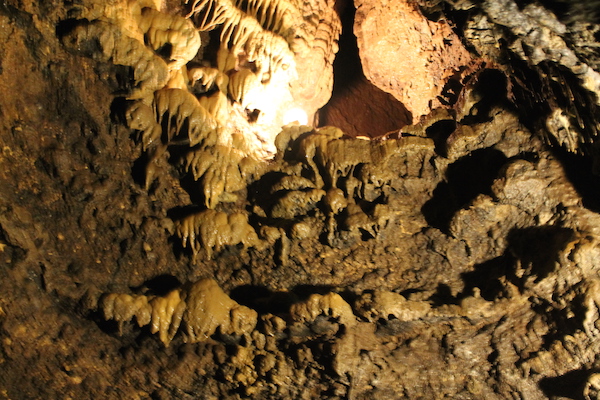 The cave in itself is an interesting thing to behold. You'll see the standard stalagmites, stalactites, cave bacon, soda straws, and prehistoric fossils. Beyond the occasional bat, snake, or spider, you won't see much cave life; the river level is lowered in the off-season and doesn't support fish.
Overall, I'm glad I finally stopped and visited Iowa's Spook Cave. If you're passing through the area, it's something to cross off your bucket list.
Happy trails! 
Pin for Later: