Florida is the ideal place for sun worshippers. Home to approximately 1,197 miles of beautiful coastline, a visit to the Sunshine State offers big city beaches and remote island hideaways ideal for family holidays.
Miami Beach
The Miami Beach is sandwiched between Biscayne Bay and the Atlantic Ocean. The area is known mostly for the wealth of celebrities who visit all year round, but also for the beautiful art deco buildings which surround it. One thing you can always count on is a game of beach volleyball, which seem to take place at all times of the day. Miami Beach Central is perfect for soaking up some sun and admiring the stunning turquoise waters.
Smathers Beach
Key West is a bustling island city, about 90 miles off the coast of Cuba and it enjoys a very hot climate as a result of its location. Located just south of Roosevelt Boulevard, Smathers Beach is around half a mile long. It's a great spot for cycling enthusiasts and general exploring as it has various trails on and around the beach.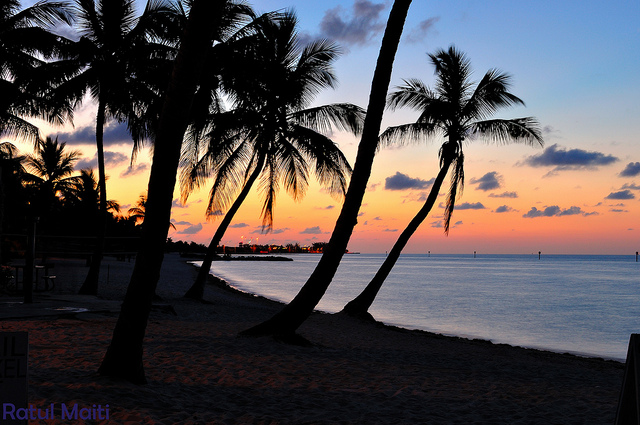 Bonita Springs
The beaches of Naples are the number one attraction for those visiting the region each year. Bonita Springs, which runs all the way from the Gulf of Mexico, is packed full of facilities for those who love water sports. Head to Bonita Jet Ski and Parasail if you are looking for somewhere to rent equipment from. Activities range from sunning and swimming to fishing, jet-skiing, sailing, and kayaking.
Clear Water Beach
Clear Water Beach is well known for dolphin sighting. In fact, many families come to the region hoping to see Winter the dolphin, the star of Dolphin Tale the movie. If you prefer to stay on land, Clear Water is also known for Sunsets at Pier 60, an outdoor cinema right on the beach.
Destin Beach
Destin Beach is located on the Emerald coast and it doesn't take long to see why it has earned this title. Destin is world famous for fishing. You don't need a license to fish from the pier or the beach and you can rent fishing lines and bait from cabins situated along the beach.
Before you book your Florida holidays, it is worth taking a look at some of the attractions online first. Many facilities offer family tickets which can only be purchased in advance.
Images by Ratul Maiti and Pietro & Silvia used under Creative Commons license.