Each November, Pensacola invites visitors to vacation differently by vacationing artfully.
Distributed across Escambia County in the heart of Florida's Pan Handle, Foo Foo Festival celebrates the arts, culture, history, fitness, food, and entertainment in an event that lasts  twelve consecutive days.
A lovely time of year to visit the Gulf Coast region, temperatures in November are pleasant, with warm days and cool evenings. An added bonus for a fall road trip is a collective drop in lodging rates (peak tourism picks back up in time for Mardi Gras).
Scheduled around three established "anchor" events—the Great Gulfcoast Arts Festival, the Frank Brown International Songwriters Festival, and the Blue Angels Homecoming Air Show—festival staff seeks to entice visitors to stay in the region for a few extra days with ideas for bulking up their vacation itineraries.
On the 2016 schedule of events were the Nashville Songriters' Hall of Fame Show, Forbidden Love (and Sax) presented by the Pensacola Civic Band, Glory Denied presented by the Pensacola Opera, Day of the Dead Celebration presented by First City Art Center and Art Beyond Walls, Writing off the Wall presented by the West Florida Literary Federation, Controversial Lines: Late Prints by Salvador Dali presented by the Pensacola Museum of Art.
Family-friendly options included "Science on the Street" exhibits which were made available 24/7 for the duration of the festival. Located primarily within the downtown cultural district and designed by Pensacola M.E.S.S. (Math, Engineering, Science, and Stuff) Hall, each exhibit is designed to challenge people of all ages to solve problems in unique ways.
A "must visit" destination for kids and history buffs is the Pensacola Naval Air Station and the Naval Aviation Museum, IMAX, and Cafe. Admission to the museum is free and is a nice place to watch Blue Angels Homecoming Show.
However, for an unobstructed view of the flight line, purchase tickets to the Homecoming Show proper and plan to leave a few extra minutes to find parking. Three of our recommended "Top 10 Places to Visit in Pensacola" are located within walking distance of the Naval Aviation Museum.
Running the last weekend of Foo Foo Festival, this year's Pensacola Big Green Egg Fest drew thousands of patrons to Bayfront Stadium, home turf for Pensacola's minor league baseball team, the Blue Wahoo's.
During the event, 32 teams of amateur and professional chefs used Big Green Egg kamado-style ceramic charcoal barbecue cookers to serve up bottomless BBQ and appetizers to a hungry crowd. Run entirely by volunteers, teams donate their time and food to help raise money for three different charities that support children and teens.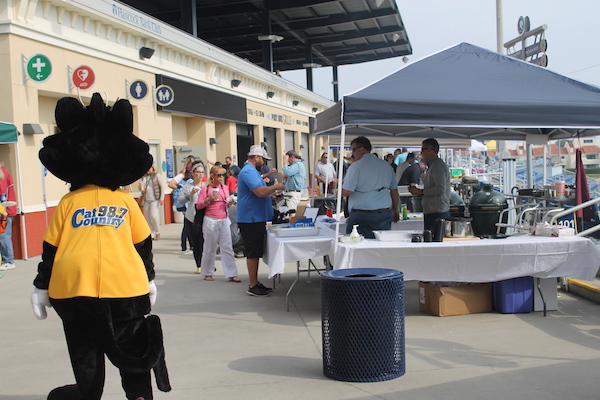 The Foo Foo Festival is made possible in great part by the local non-profit Art, Culture and Entertainment (ACE), Inc. ACE disseminates over $300,000 in grant money to Foo Foo Festival recipients. In 2016, over forty applications were received, with twenty-two recipients ranging from Ballet Pensacola to the African American Heritage Society, Clean Energy Fest, and the Pensacola Waterfront Mission.
2017 will mark the fourth-annual Foo Foo Festival, which will run between November 2 – 13, 2017.