2020 has been a year like no other. Our holiday traditions that we often took for granted have surely changed. In some cases, the change isn't bad, it's just different. One of the traditions that had to change this year is the Lights at The Village Green annual Christmas light display, Santa's workshop, and European-style Christmas market.
The event is still happening this year at the Village Green hotel in Cottage Grove, Oregon, but it's scaled back a bit this year. Our family went on November 27 and enjoyed it, so if you're in the Western Oregon area already or are planning to travel here (safely!) between now and December 31, add this stop to your holiday agenda.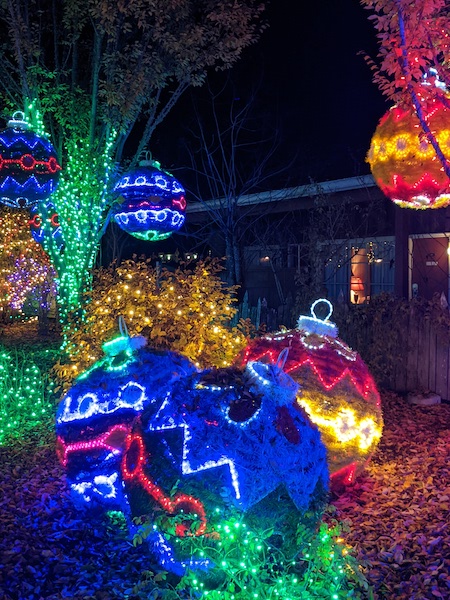 A bit about the hotel . . .  we enjoy going there not just because it's a quaint older hotel that hasn't been updated much (which is sometimes just what you want), and because it's pet friendly (we have two dogs!), and also because it's on the site of a gorgeous garden that is free to walk through all year-round. During the spring, summer, and fall when the garden is going, we either get a drink or a meal at the lounge and then take a nice walk. The garden is 14 acres and is packed with unique specimens and meandering paths that make it seem like a destination to itself.
We have enjoyed the holiday festivities here for the past few years (here's a 2017 article and a 2019 article). This year marks the seventh year of the event.Over the past couple of years they had added more lights and expanded the Christmas market area. The lights are always stunning. this year, due to covid, they postponed the Christmas market until 2021 and gave Santa the month off and sent their food vendors home, but the lights went up and they are as stunning as ever. You could still buy hot chocolate, coffee, and the warm, spiced German-style gluhwein. While it can be chilly walking around outdoors, they have strategically placed firepits so you can stay warm.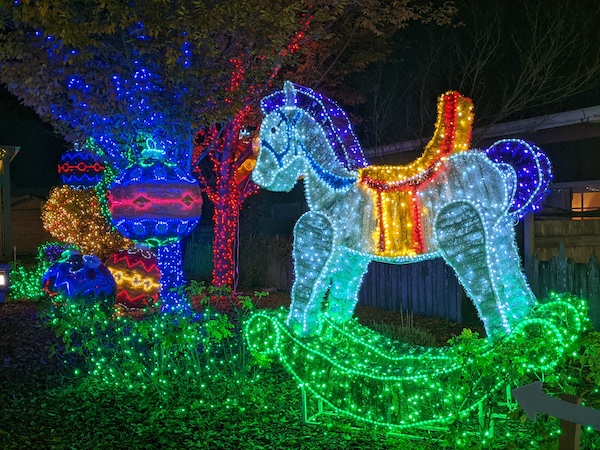 Because of covid, restrictions on people gathering, the hotel has had to limit admission to the light show only to people who are guests at the hotel. They offer a nice Christmas package that includes breakfast (safely made in the restaurant and available for pickup), and take-out food and drinks from the lounge.
While this holiday tradition has changed, the lights are still magical and I highly recommend visiting the Village Green. While you're here, check out some other attractions in Cottage Grove, which is known as the "Covered Bridge Capital of The West" with six covered bridges near the city. The city is also home to 21 murals located throughout downtown that reflect the history of the community.