New York City is a magical place during the holiday season. The whole city lights up and puts on displays in an attempt to outdo all other displays. That means you get the pleasure of viewing all of the stores and destinations that are vying for your attention and never run out of things to see. But if time is tight, you want to see the very best that NYC has to offer and that means going to Times Square and Rockefeller Center. While you can't go wrong with those, following are some of the off-the-beaten-path holiday sites that are well worth making the effort to see.
Window Displays at the Famous Retailers
Many make an annual pilgrimage to see the Christmas displays at famous retailers that include Macy's, Lord & Taylor, Saks Fifth Avenue, Tiffany's, and more. There's a lot of imagination that goes into the creation of these displays and the retailers go all out to make them happen. These displays highlight the wonderful items that are being sold in the store for the holiday season, but they also tell stories that take you from window to window to see how they unfold.
Staten Island Ferry to See the City From the Water
The Staten Island Ferry is an inexpensive way to see the skyline of New York City all lit up at night for the holidays. The ferry ride itself is free. All you need to do is bring some snacks with you to make the trip more enjoyable. It takes about 30 minutes to get to Staten Island and you might have to disembark to change ferries. And make sure to go during a non-rush hour time since the ferry is used heavily by commuters which can make for a crowded trip and less of an opportunity to sit where you can view the city.
Christmas in Chinatown and Little Italy
Chinatown lights up during Christmastime and does a great job of blending the two cultures together. You'll see Christmas displays with a distinctly Chinese flavor mixed in among the loud and garish storefronts that haven't changed much over the last 70 years. If you happen to be in Chinatown on Christmas Day, you'll find that the restaurants are open for business as usual.
Little Italy and Chinatown are located right next to one another, but you might find you'll do a lot of walking to go from one to the next. It's worth making the effort because Little Italy goes all out for the holiday season with decorations and displays from the small businesses that have been in their location for generations. The neighborhood is made up of vintage tenement buildings that are packed closely together which helps give the area an old-world feeling.
Dyker Heights
Dyker Heights is a suburban-like enclave of Victorian-era homes located in Brooklyn, and it goes all-out for Christmas. Homeowners do their best to outdo one another every holiday season by putting up the most outlandish Christmas displays possible. You'll see everything from vintage blow molds to inflatables with loudspeakers pumping out Christmas music for passers-by to enjoy. You can reach the neighborhood by subway, but you'll want to go a couple of weeks before Christmas to get the full experience. Make sure to wear your walking shoes because there are a lot of homes to view and they go on for blocks.
Sky Rink at Chelsea Piers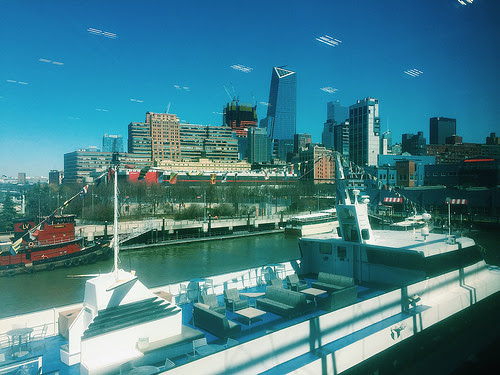 Chelsea Piers are the iconic piers seen in countless images of the Manhattan skyline. Once the place where cruise ships docked after voyages on the Atlantic, it's now a multi-use complex that is home to the Sky Rink, a year-round ice skating rink. The Sky Rink has glass walls from floor to ceiling that offers unobstructed views of New York City. It's a great place to strap on some skates and enjoy the experience of looking at the Holiday lights of the city. As an added bonus, the piers are decorated for the holiday season with lights and displays for your viewing pleasure.
Winter Village at Bryant Park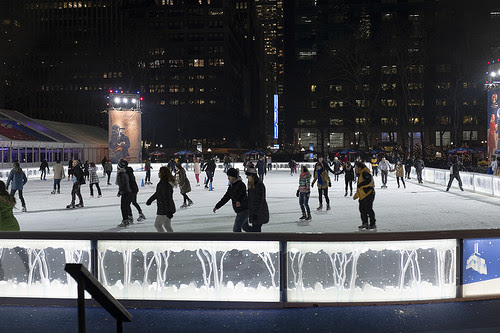 The Winter Village at Bryant Park combines holiday shopping, eating, holiday activities and ice skating in the park while surrounded by skyscrapers. It's a unique urban experience that offers the opportunity to find interesting gifts that aren't sold elsewhere. After shopping, step out onto the ice skating rink, no admission fee necessary, and glide around for a few laps, then head over to the Lodge for a meal. If you don't feel like eating, you can warm up in the observation deck and watch the skaters glide around the rink against the backdrop that is New York City.
Rockefeller Center
Rockefeller Center is one of the most iconic places in New York City and has shown up in movies and photographs countless times. But if you've never been to Rockefeller Center, much less NYC, you need to make this a destination. Rockefeller Center is one of the most beautiful urban spaces in NYC and features beautiful Christmas displays throughout the plaza. Take the time to explore the displays and pay attention to the amount of detail the designers put into them. You'll constantly find new things to look at beyond the ice skating rink and Christmas tree.
The holiday season in New York City is an experience like no other. Take yourself out of Midtown and explore the neighborhoods, parks, and districts to see how the world celebrates Christmas in one large city.