I recently traveled to Nashville, Tennessee, for a work conference. Luckily for me, the conference was taking place at the Gaylord Opryland Resort and Convention Center. The hotel was incredible, and while I didn't get to take my children on this trip, I definitely will plan to return to Nashville with them to take advantage of everything the Gaylord and Nashville has to offer.
The Gaylord Opryland
The Gaylord is a Marriott property. I knew that my convention was taking place there, but I didn't book the room, so I barely looked at the hotel website before arriving. I knew it was a "resort" hotel, which to me meant there were probably nice grounds and gardens, and a few dining options and a pool. But the Gaylord is so much more than that. When I walked in, I could not believe my eyes.
First of all, it's huge. It's decorated inside in a manner similar to the themed hotels on the Las Vegas strip. Each section of the hotel has its own theme, and all are connected through walkways, bridges and sidewalks planted with palm trees and exotic plants. It's natural lighting inside because it's under a huge glass atrium veiling, so it's light during the day but dark at night, so you really feel like you're outside. The featured image on this post shows just some of the beauty along the river corridor.
That's 9 indoor acres of indoor gardens, ponds, polls, waterfalls, fountains and an indoor river where you can take a cruise around the hotel.
I didn't get to take advantage of the full-service spa, although it looked really nice. I did enjoy the many dining and drinking options including sushi, a steakhouse, Mexican, Italian, pizza and burgers. There's a shop for anything you might need or want, from a bottle of wine in your room to a bag of chips for a snack or an extra tube of toothpaste if you forgot yours. While the place is huge, it's actually pretty easy to find things once you walk around a little bit, and there are employees stationed in central areas who can help you find whatever you're looking for.
There are indoor water fountain displays nightly on the hour that rival the displays at Bellagio in Las Vegas. During the holiday season (November 9 through January 1), the hotel comes to life with tasteful Christmas decorations and lights everywhere. In the Holiday Halls, skate on an indoor ice rink, go down a sledding hill made of ice, see a Cirque holiday show, and marvel at hundreds of ice sculptures. Outside, they light up trees with more than 3 million lights.
What I know my son would love the most is SoundWaves, an upscale water experience featuring 4 acres of combined indoor and outdoor water attractions, that is scheduled to open right on site in December 2018. This oasis looks amazing,with three levels of water attractions, gardens, pools, and dining. It's only available to hotel guests, so I'll have to go back just for that.
Location-wise, the Gaylord is a 5-minute safe walk from the hotel to the Opryland Mills mall. And of course, it's right next to the Grand Ole Opry and Ryman Auditorium. I didn't realize this at the time, but there are other Gaylord resorts around the country. There's one in Washington, DC, one in Orlando, Florida, one in Dallas, Texas, and Gaylord Rockies opens December 18 in Aurora, Colorado (that one's closest to me, so I'm super excited!)
Nashville destinations
The Music

While I could write this entire post just about the great things the Gaylord had to offer, the rest of Nashville is pretty cool too. There's Music Row, where you can walk or drive past big names in the entertainment industry such as ASCAP and the historic RCA Studio B where Elvis recorded. There's a hop-on-hop-off trolley that you can pick up from downtown that will take you right to the area.
The great thing about a city like Nashville is that there really is music everywhere. Bars and restaurants along the downtown streets keep their doors open, so you can "window shop" what music sounds good to you. Right across from the Gaylord is the Nashville Palace, which has great food and has a rich history of some great bands playing there.
Jack White, of the White Stripes fame, opened a record store. Nashville and the other location in Detroit is the only place to get his Third Man Records-produced music, which spans the gamut from country to heavy metal. If you're lucky enough to be there when there's a show planned, you can see a concert in the Third Man warehouse space.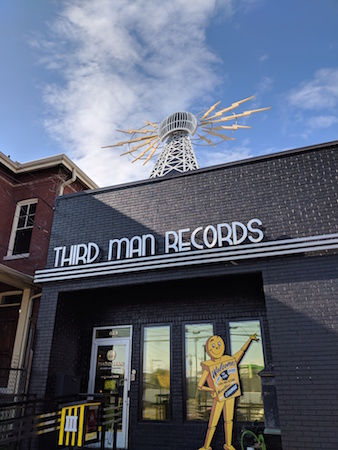 The Parthenon
Nashville has an art museum inside a full-size replica of the Parthenon! And inside that, is a replica of the 42-foot statue of Athena that graces the Parthenon here just as in ancient Greece. The art museum is a combination of 19th and 20th century artwork with additional gallery space for curated temporary shows and exhibits. The Parthenon was a building built to celebrate Nashville's Centennial in 1897. The Parthenon is closed Mondays. Admission is only $4.50 for kids and $6.50 for adults.
The Parthenon is located in Centennial Park, which is 132 acres with a one-mile walking trail, ducks and geese on Lake Watauga, historical monuments like this one honoring women's suffrage, a beautiful sunken garden, a dog park, and more. Hop on to the trolley from the Parthenon and take it downtown or to Music Row.
The Food
Nashville may be known as Music City, but for a foodie like me, it's also known as Food Heaven. Nashville is home to the largest population of Kurdish people outside of the Middle East. For people who are fans of Middle Eastern food, this means kabob shops galore, well-stocked Middle Eastern markets, and upscale, modern takes on Middle Eastern traditional cuisine at a new restaurant called Lyra. I brought home Turkish delight and baklava for everyone in the household, and exotic spices for me.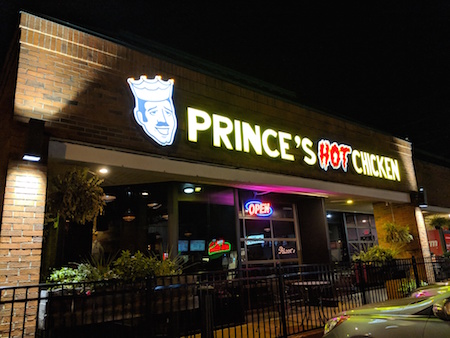 Nashville is know for its hot chicken and "meat and three" lunch counters, of which there are numerous examples of each. Prince's is the original hot chicken. I like spicy food, and I was warned that even the mild was enough to blow my face off. As a result, I ordered the mild, which for me was actually quite mild. I could easily have handled the medium, and I think the hot would have been fine too. For others, there's plain.
If you like soul food, the Silver Sands Cafe can't be beat. As someone who grew up in the South, I grew up eating fried okra, fried catfish, greens, mashed potatoes, ham, fried chicken, field peas, and cornbread. At this counter, choose your meat and your three sides, and don't forget the sweet tea. On the day that I went there, they offered absolutely amazing banana cream pie that rivaled what my grandmother made when I was growing up.
Overall, I explored only a small bit of what Nashville has to offer, but it was so much fun I can't wait to go back.
Want to take a road trip? Read our past article giving an itinerary for a 5-hour or so road trip from Asheville to Nashville.
Want to start planning your own trip? Book at the Gaylord Opryland Resort and Convention Center and see how cool it is for yourself.
Vanessa Salvia is a long-time freelance writer and editor. Read her journalistic work at vanessasalvia.com and learn more about her editing and content creation services at sagemediaandmarketing.com.