Mix one part sun with equal amounts of white sand, fresh air, and salt-water and  Gulf Shores, Alabama will whet your appetite in a New York Minute. With ample dining venues and endless opportunity for fresh, regional sea food, we ate our way down the coast with kid-friendly dining on the stomach (er, brain).
Backing up to prime-time ocean-front property, The Hangout is a popular "hang loose" casual dining establishment (where 59 ends and the fun begins). With generous indoor seating and spacious patio space, kids can enjoy dancing to live music, playing in the sand hill, and a trip through the foam machine (this You Tube video gives you an idea of what to expect and what to wear). Adult-focused after the sun sets, The Hangout features hamburgers, chicken strips, fried shrimp, grilled chicken, and grilled mahi on the Kids Menu (10 and under, served with fruit cup, spuds, or mac and cheese for $6.50). A seasonal family-style breakfast is available during peak travel months (kids eat for $4.50).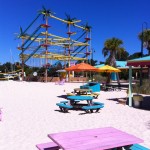 LuLu's at Homeport Marina
Situated on the inter-coastal waterway that meanders out to the Gulf of Mexico, LuLu's at Homeport Marina is the creation of none other than Lucy Buffett. Adding her personal touch to the menu, the venue, and the atmosphere, LuLu's will add some color to your family vacation. Designed to keep patrons of all ages entertained before, during, and after their meals, kids can play in LuLu's fountain for youth, listen to live music, shop in the retail store, climb the Mountain of Youth (a three-story climbing apparatus), or just watch the boats motoring by.
Featuring an allergy menu organized to avoid gluten, eggs, seafood, shellfish, dairy, and soy, parents can order according to dietary needs or choose from the traditional Kids Menu. For kids 14 and under, choices include a grass-fed beef cheeseburger or quesidilla ($4.95) or  fried shrimp or grilled or fried fish ($5.95). For a regional treat, try the L.A. (Lower Alabama) caviar (black-eyed peas in balsamic vinaigrette for $4.95) or  fried crab claws (fresh and local) for $18.95 (plenty to share, if you can).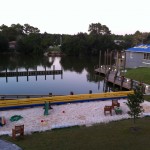 Tacky Jacks
Down and across the inter-coastal waterway from LuLu's at Homeport is another brightly-themed Gulf Shores dining venue. Spacious and airy, Tacky Jacks is ever-so-slightly scaled down from its neighbor to the North. Featuring a sandy beach with toys and a gift shop, Tacky Jacks appeals to a slightly older, karaoke and sports-loving crowd. Catering to kids with a Little Vittles (12 and under) menu, choices are Lil' Chickies, Small Fry Shrimp, Tots Grilled Cheese, and Lil' Fishies ($5.99). Adventurous (and famished) families can attempt a Mexican Garbage appetizer or share 1/2 pound of Royal Red Shrimp.  A popular Tacky Jacks beverage is the Bushwacker, a frozen "adults only" milkshake.