If you think about it, grandparents and grand children have a lot in common, especially when it comes to travel and family vacation. To begin, both groups need regular food, bathroom breaks, and depending on their ages a nap or two a day. Neither tolerate extreme heat and snacks, souvenirs, and ice cream makes everyone happy.
Looking for the perfect venue for a multi-generational family vacation, our first choice was Branson, Missouri. Accessible within a day's drive from our home in Wisconsin, we  considered the natural beauty of the overall trip as much as convenience and options for four-season fun. Never having been to the Show Me State or the Ozark Mountains, we hopped on Route 66 for an itinerary customized with grandparents and grand kids in mind.
Where to Stay
Find family-friendly accommodations in Branson, Missouri from traditional hotels to private vacation rentals through Stay22.com:
Here are our favorite picks:
Dolly Parton's Dixie Stampede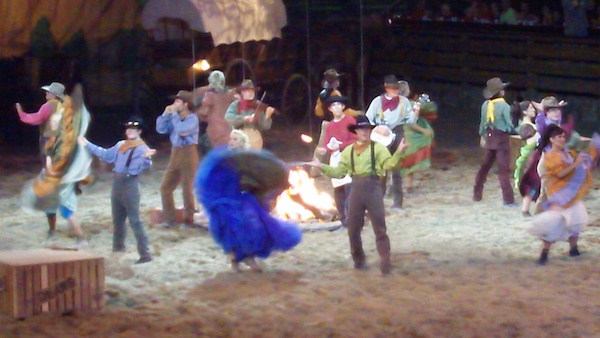 Give your kids a chance to eat with their fingers in a place with live animals, music, choreographed performances, audience-encouraged bantering, period costumes, and eye-rolling jokes and they'll remember the experience each time the souvenir "boot mug"is used back home. Dolly Parton's Dixie Stampede exceeded our expectations; you should arrive early for the Carriage Room pre-show entertainment or meet the horses and friendly performers on the way in from the parking area. Other Dixie Stampede locations are in Pigeon Forge, TN and Myrtle Beach, SC.

Silver Dollar City
What began as a tour of Marvel Cave (still available today, by the way), has evolved into a "city-like" attraction employing over 1,300 of Branson's finest artisans, entertainers, and hospitality specialists. Silver Dollar City has an abundance of trees and natural shade in the Main Street, Midtown, and Hugo's Hill Street areas, Half Dollar Holler, a  million-dollar play area just for younger kids.
Showboat Branson Belle
With the sun setting over the Ozarks and across Table Rock Lake, we boarded the historic Showboat Branson Belle for three full hours of dining and entertainment. In the 700-seat theater and formal dining room, comedian and magician Chris Pendleton held the attention of the audience while we dined. With plenty of time to stroll the upper and lower decks, cool breezes from the water held us only until The ShowMen, and all-male vocal group and Janice Martin, a world-class violinist, pianist, and vocalist drew us back inside. From feeding the fish on our way in to meeting the captain on our way out, tired little heads were nodding the entire way home.

Let's face it, summers in Branson aren't known for cool temperatures. Whether you're eight, eighteen, or eighty, you'll want an option for cooling off and splashing down. Especially thrilled to ride the Aloha River at Hula Hula Bay, an 800-foot lazy river with twists, turns, and various water fountains, one complete loop required a solid ten minutes of intense passive journalism. With shorter, younger, and less-confident swimmers, the kid-friendly Coconut Cove, Splashaway Cay, and Surf's Up Wave Pool kept us wet and wild. Thankful to share the shade and comforts of a Cool Cabana with two other families, we enjoyed a private locker, beach chairs, and a spot to re-group throughout the day.

Between the four-story tall steel and concrete go-kart track, bumper boats, miniature golf and the 100-foot tall sky coaster, if you try and sneak past The Track Family Fun Park, your kids will point it out to you. Adjacent to White Water, we enjoyed a brief visit to The Track in search of rides for people under the rite-of-passage 48-inches tall. Darting in and out of the air conditioned indoor arcade and lazer-tag zone, cool down on the bumper boats between the kiddie rides (including the go-kart track for drivers a good decade away from the open road).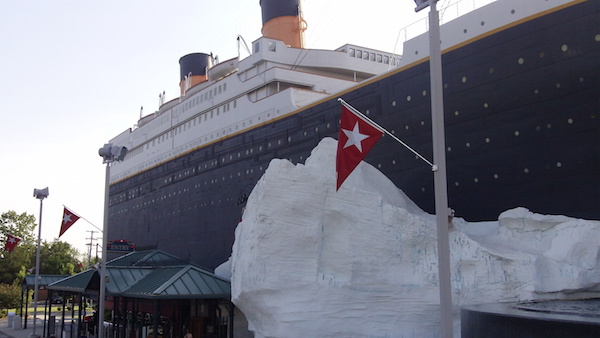 A combination museum and attraction, it's hard to miss the giant ice berg and 1/2 scale model of the unsinkable Titanic among the theaters, restaurants, and miniature golf courses on the main strip. Enter through the iceberg (what could go wrong?) and touch a giant sheet of ice on your way through the first-floor exhibit. A somber reminder of the tragic loss of human life 99 years ago in April, the museum tactfully incorporates photos, artifacts, and interactive educational displays for kids of all ages. Take the self-guided tour or use the hand-held audio wands . Highlights during our visit were finding the on-site geocache, meeting Molly and Carter the "live" dogs exhibit, and matching the passenger featured on our boarding pass with the memorial wall on the second floor (sadly, only one of our passengers survived with a story to tell). Like Dixie Stampede, The Titanic Museum has a second location in Pigeon Forge, TN. If you have kids old enough to read without help, The Titanic Museum is one more way to sneak some education into a summer vacation.