Boats, Lighthouses and Animals
Begin your Fairfield County adventure at Connecticut's only zoo, the Beardsley Zoo  located on 1875 Noble Ave. in Bridgeport. This accredited zoo houses some of the most endangered species on earth including amur leopards and Siberian tigers. The zoo has a lot of interactive exhibitions like the prairie dog exhibit where kids can pop up in plastic tubes and be part of the fun and the petting zoo exhibit. There is also a working carousel and many different animals that visit the zoo annually; Beardsley Zoo is the perfect size for kids and toddlers.
Another Bridgeport attraction is Captains Cove  is located on Bostwick Ave. This attractive marina offers shopping, dining on the water, weekend entertainment in the summer, and a playground for kids. Best of all Captains Cover offers a boat ride of historic Black Rock Harbor aboard the "Chief,"a 40-foot navy launch. The cruise includes stunning views of the restored Black Rock Lighthouse, Fayeweather Lighthouse, and Penfield Lighthouse (that is said to be haunted by the former lighthouse keeper).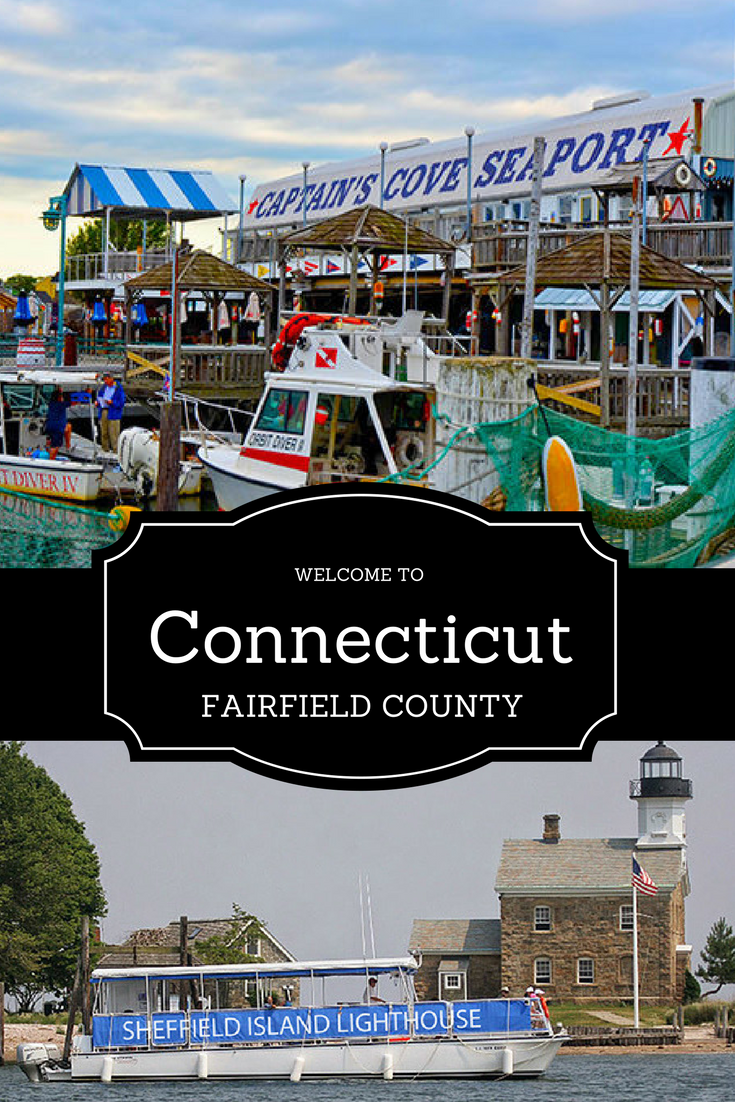 From Bridgeport, take I-95 to Norwalk to experience a cluster of fun attractions sure to keep your family entertained for a day or more.
If you are visiting between May and September, plan a boat ride out to Sheffield Island with the Norwalk Seaport Association.  The boat to Sheffield Island is located at the corner of North Water and Washington Streets in South Norwalk. Tip: There's ample parking at the Maritime IMAX parking lot and it's best to arrive at the Gazebo Dock 15 minutes before departure.
In 1804 a Revolutionary War veteran named Capt. Robert Sheffield purchased what became known as Sheffield Island and became the first keeper of the Sheffield Island Lighthouse. The first lighthouse was built in 1827 to mark the dangerous ledges at the entrance to the Norwalk's busy harbor. The stone mid-Victorian styled lighthouse that you can explore today was built in 1868. A highlight of exploring the lighthouse is the climb to the tower that has exceptional views in all four directions.
The Sheffield lighthouse was operational until 1902 when it was replaced by the newly erected Greens Ledge Light farther west. Legend has it that Greens Ledge was named after a pirate named Green, who sailed with the infamous Captain Kidd. When Green was captured by authorities of the day, he was reportedly executed and his body hung from the ledge in chains as a warning to others thinking of entering the buccaneering trade.
Sheffield Island also features exceptional views of the Manhattan Skyline, Greens Ledge Lighthouse, the necklace of islands that surrounds Norwalk, and the seaside town of Rowayton. Every Thursday night from mid-May through mid-September, there's clambake on the island as well as other special events hosted by the Norwalk Seaport Association.
A visit to Norwalk's nationally recognized Maritime Aquarium will put you nose-to-nose with sharks, within inches of seals, river otters, loggerhead sea turtles, jellyfish and over 10,000 other marine animals. Many of the favorite displays are interactive and include a stingray touch pool, touch tanks with crabs, sea stars and shells and a marine lab that shows how the Aquarium raises baby jellyfish and sea horses.
Many exhibits also tell the story of Long Island Sound's eco-system and how the Maritime Aquarium is working to study and preserve the officially designated Estuary of National Significance. A year-round Fairfield County highlight is the opportunity to sail the waters of Norwalk Harbor and Long Island Sound with the Aquarium's scientists on their new research vessel, Spirit of the Sound.
The Maritime Aquarium also has an IMAX THEATER that has a six story high screen and a 10,000- watt digital surround audio system that provides a total immersion experience for moviegoers.  Educational documentaries are the focus of the films shown here.  A recent decision to show Hollywood films at the IMAX is an added bonus for visitors.
Next, head to Mathews Park where you will find the Lockwood Mathews Mansion. Listed on the National Register of Historic Places, Lockwood Mathews Mansion is often described as one of the earliest and finest surviving Second Empire style country houses ever built in the United States. This 62- room mansion predates Newport's mansions by more than twenty years. Originally built in 1864 by LeGrand Lockwood (who made his fortune in banking and the railroad industry) and designed by European-trained, New York-based architect Detlef Lienau, the house was completed in just four years. Many American and immigrant artisans put the finishing interior design touches on this opulent house.
The property was sold to the Mathews in 1876 and the family resided in it until 1938. In 1941 the estate was sold to the City of Norwalk and designated a public park.  This beautiful property was almost demolished in the 1950's because it had fallen into disrepair but was saved by local preservationists. Today as you tour this Victorian gem with its exquisite details in exotic woods, grand rotunda, newly restored library, stylish dining room and the many sitting rooms replete with extraordinary paintings children will experience a sense of Victorian romanticism and sophistication that pervades this elegant property.
Also located in Mathews Park is the Stepping Stones Museum for Children. This engaging museum immerses kids in a myriad number of interactive learning experiences. Favorites include "Healthyville" that teaches children about the importance of nutrition, "Build It" is where children learn about construction and the "Rainforest Adventure" reviews the elements of tropical rainforests around the world and talks about the importance of conservation. The Toddler Terrain is designed for the youngest museum adventurers with many nooks and crannies for youngsters to explore; while Waterscape with its pools, cascades, stream, and fog machine introduces children to the dynamics of water and weather. The museum also boasts many national traveling exhibits.
To the right of the Stepping Stones Museum for Children is Devon's Place, a playground where children of all abilities can play together. Although it looks like an ordinary playground, it has wheelchair-height sandboxes, swings with high backs for support, braille signs, and musical stimulation for the visually impaired.
Leaving Norwalk, continue south on I-95 to Stamford. Here you will find the Stamford Nature Center and Museum and over 80 acres of nature trails for kids to explore in addition to the Bendel Mansion Museum Galleries that house natural history collections of New England, Native American art and culture, American history and culture, farm implements and special changing exhibits.
Also located on the museum's grounds are Heckscher Farm and Heckscher Wild, both featuring hands on educational exhibits. At Heckscher's farm kids will learn about life on a small New England farm and have the opportunity to learn about the dozens of farm animals that live here. A highlight of the visit is the observatory on the property that offers special astronomy viewing evenings in the summer.
If you have ever longed to sail the high seas you will have your chance in Stamford at Soundwaters, an environmental educational organization located in Cove Island Park in Stamford.  Soundwaters offers regular sails on a three-masted 80-foot wooden schooner that is a replica of a 19th century sharpie schooner. The boat set sails from Brewer Yacht Haven Marina in Stamford from mid-June through mid-September. The afternoon cruises are perfect for families; kids can help hoist the sails and raise the trawl to learn about the rich diversity of marine life living under Long Island Sound.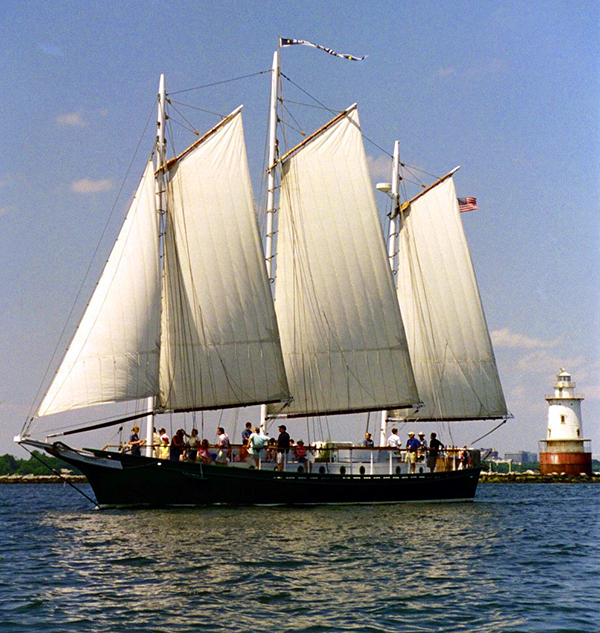 Thanks to Janet Serra for submitting this lovely guest post. Janet is the Executive Director of the Western Connecticut Convention and Visitor's Bureau. For more information on planning your own adventure in Fairfiels County, visit:  http://www.visitfairfieldcountyct.com/