Montreal is a beautiful, sprawling city within the Canadian province of Quebec. With a history rooted in old French settlement, you can be sure Montreal is rich in an overwhelming variety of sights, smells, and tastes. So many, in fact, that you may be at a loss for a starting point. 
If you're planning a vacation into this city, the vast amount of museums, restaurants, and tourist attractions are enough to make your head spin. Fortunately, there are a few destinations that most Montreal experts agree on as the top choices for any visitor: these four places are sure to give you the vacation of a lifetime in Montreal. 
Before we move on, you might want to know that these destinations aren't exactly in close proximity. If you have been thinking about ways to get around in Montreal, we would suggest learning about their public transportation system or renting a car.
1. Old Montreal
If you're planning on visiting Montreal, you have to see Old Montreal at least once. This historic section of the city sits right next to Old Port, once used as a major trading route, now used for recreational purposes. 
Old Montreal is rich in the history of early French settlement dating back to the 17th century. In this region, you can see beautiful French architecture, magnificent churches like the  Notre-Dame-de-Bon-Secours Chapel, and museums like the Montreal Archaeology and History complex. 
2. Underground City
If you or one of your traveling companions is a shopaholic, you can find one of the most varied shopping centers in the world at the Underground City in Montreal. The Underground City is located in the heart of Downtown Montreal and features over 2000 stores and more than 200 restaurants. 
If you have a taste for the finer things, try Cours Mont-Royal, which houses the Underground City's luxurious boutiques. If you want a gorgeous view of the city and a peek at some of Montreal's most ambitious art, head up to the Place Ville-Marie for an observatory and art expositions. 
In short, the Underground City is the perfect spot to hit for trinkets, souvenirs, clothing, dinner, and entertainment. Make sure to block off at least a day to explore this vast network under the heart of Montreal.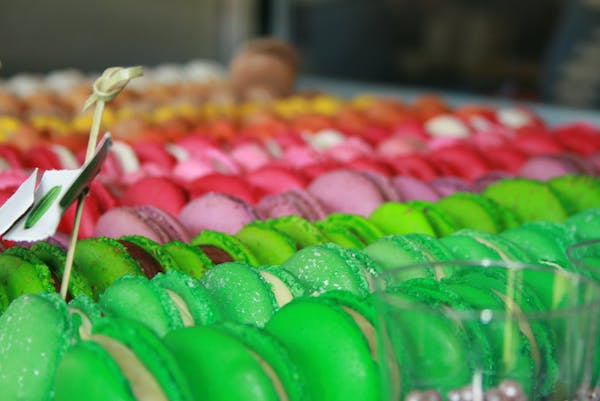 Jean-Talon Market is a must-visit
3. Jean-Talon Market
No trip is complete without great food. For the most varied food experience Montreal has to offer, visit the Jean-Talon Market. As one of the largest and oldest open-air markets in North America, there's something for every taste. 
Instead of picking a couple of restaurants to hit per day, you can knock out multiple restaurant vendors in one fell swoop. If you want to try the local fresh foods from small farmers and artisans, you'll find them at Jean-Talon. In addition, you can also sample a variety of old and new foods integral to Montreal's culture. 
At Jean-Talon, you'll find not only crepes, pasta, and pizza, but also sushi, barbeque, and artisan coffee. This market is a must-see, and taste, for every foodie in your group.
4. Mont-Saint Bruno
Finally, if you've had enough of the city and you want to branch out to Montreal's nature scene, try out Mont-Saint Bruno. This park is located only miles away from the metropolitan center of Montreal, yet it offers a multitude of lakes, skiing tracks, and hiking trails for nature lovers. Here, you'll find hundreds of species of trees and flowers native to Quebec, plus a variety of animals and birds to admire. 
Not only can you enjoy a relaxing walk after the hustle and bustle of the city, but you can also canoe, waterski, and take a fat-bike ride through the 25-kilometer span of Mont-Saint Bruno's beauty. Take a break after exploring the city to enjoy the natural side of Montreal.
With these spots in mind, you're sure to hit the best of the best in Montreal. This city has a little bit of something for everyone, you just need to know where to look.