In a previous article, I suggested traveling by ferry whenever possible on your family road trip to Nova Scotia, just because it is so much fun.  When you alight from the gigantic Princess of Acadia at Digby Nova Scotia, you can take advantage of a tourism office not far outside the parking ferry parking lot.
Ft. Anne
Digby is an interesting little town with a pretty waterfront and colorful fishing boats, but you may want to hit the road and head for Annapolis Royal. There you will find Ft. Anne, known as the birthplace of Canada.  The French and British struggled over Ft. Anne in the 1600's and 1700's, and both their flags can be seen at the fort.  What's left of the fort is mostly reconstruction–grassy mounds that were the protective earthworks, but now serve as a great place for climbing and rolling down hills.
Inside the small museum, kids are fascinated by the 18-foot long tapestry designed to show the history of the region, particularly when they learn that Queen Elizabeth herself added a few stitches to the depiction of her great-great-grandmother Victoria. Every room in the museum features activities for little ones, and the dress up costumes let them get totally in the mood.
Annapolis Royal Historic Gardens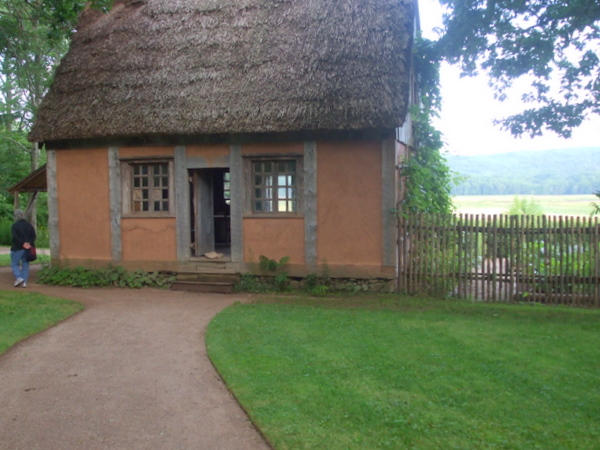 Although these gardens are on St. George Street, which is lined with centuries-old houses, the garden itself is fairly new.  The name Annapolis Royal Historic Gardens means that various areas of the gardens show the style of gardens in different periods of this historic town's past. The flowers of course are stunning, but my favorite thing was the little Cajun cottage.  If your family has visited Louisiana, this ties together the history of the Acadians (Cajuns) who were expelled from Canada and fled south.
Note: There's a beautiful B & B, Hillsdale House, almost next door. The expansive lawn is great for running off extra energy, and although I don't usually recommend antique-filled houses for family stays, this one is quite practical and the friendly owners welcome children. They serve an enormous delicious breakfast.
Kejimkujik
Head inland (southeast) for Kejimkujik which is every bit as much fun to visit as it is to say. This forested park around a lake is a National Historic Site of Canada because it was one of the main settlements of the M'ikmaq Indians. (And that is pronounced Mee-maw, in case you were wondering.) The park includes fishing, canoeing and kayaking and swimming in the lake and miles and miles of hiking trails. If you are there for only a short stop, there are some interesting things like birch bark canoes in the visitor's center, and a snack stand down the road with awesome hotdogs and fries to eat on picnic tables.
Plenty of campgrounds here, if you are traveling with your tents, or you can make it a day trip from Annapolis Royal.
Lunenburg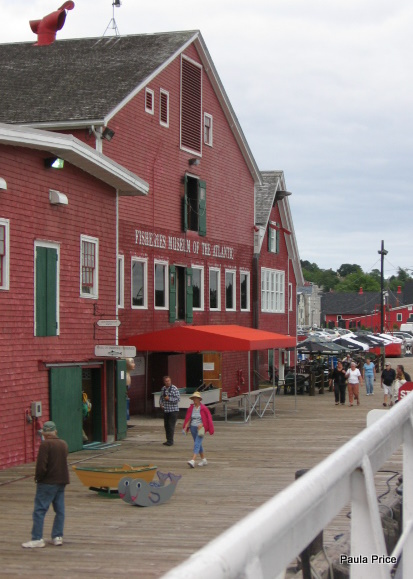 UNESCO has designated Lunenburg, the old fishing town on the East coast of Nova Scotia, as a World Heritage Site. Steep hills climb up from the docks and houses painted in bright pea green, royal blue, and cerise give the whole place a fairy-tale feel.  The main attraction for families here will be the Fisheries's Museum of the Atlantic. A sprawling gray-board building along the dock, the museum has both indoors exhibits and open air exhibits, and some boats to clamber through as well. Retired sailors, dubbed shore captains, help out as docents and love to answer questions about the work of whaling, lobster fishing, and all the other activities–including smuggling–that are covered in the museum.  Out on the dock a small shed holds touching tanks where an attendant encourages people to reach in the water-filled trough and fondle a starfish or try to get a clam to snap.
And who is to say a family road trip has to stay on land? Anyone interested in boats, particularly sailing boats, will want to visit the shipbuilding facilities where a famous tall ship, the sailing ship Bluenose, is being restored. There are non-stop festivals all summer long–music, art, and plain old street festivals will entertain you. And of course you can always take a boat ride –for fishing or whale watching or just sight-seeing.
Glooscap Heritage Center
Follow 102 along the coast toward Halifax, Nova Scotia's largest city, and then turn north on 102 toward Truro. Just a little before Truro , stop at the Glooscap Heritage Center for a great view of the ancient M'ikmaq culture. The tour of this small museum starts with a film narrated by Glooscap himself–a legendary hero of the M'ikmaq. He's a gentle giant and everyone will want to get their picture taken standing in his shadow. (I did.)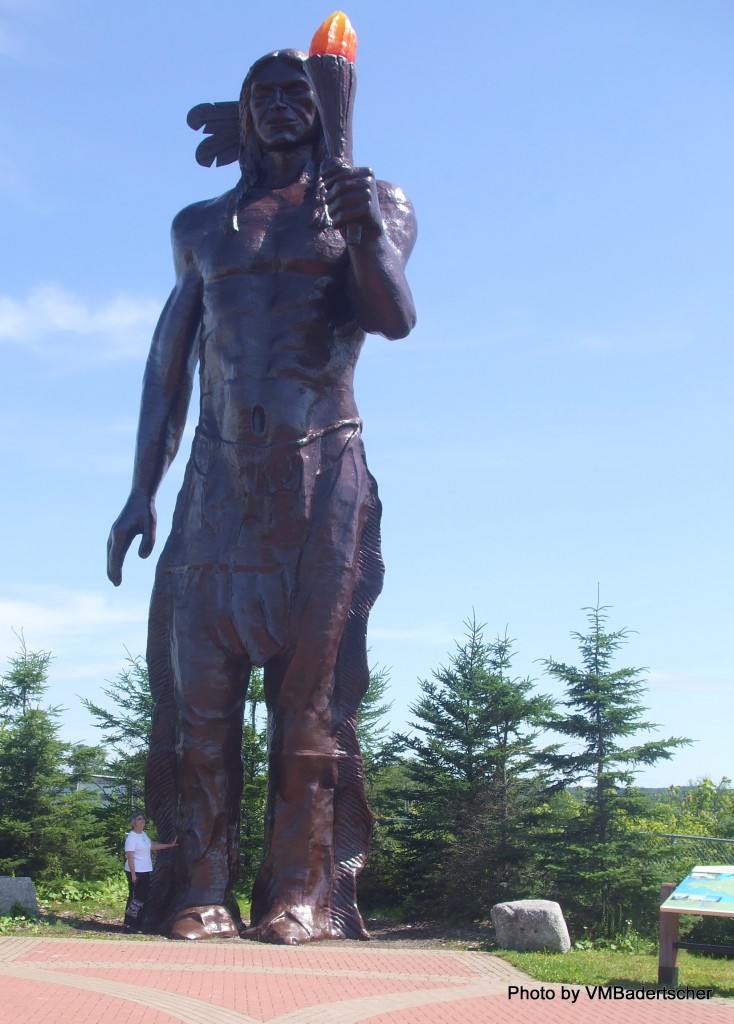 In the museum you'll see costumes, bead work, rock art, and have a chance to learn some of the M'ikmaq alphabet. When we visited we were fortunate to have a trained archaeologist who is 100 % M'ikmaq to explain things and answer our questions. But whoever you have as a guide, I guarantee your whole family will be happy you made this stop. (And there are a couple of convenient restaurants just down the road in this business loop off the highway.)

Alexander Graham Bell
Although there are plenty of distractions along the way, the next main kid-pleasing stop is in the town of Baddeck on Cape Breton Island–the northernmost extension of Nova Scotia. Baddeck sits on the enormous Bras d'Or Lake rather than on the ocean, and is the beginning of the Cabot Trail, a scenic route that climbs up and around the highest point (3000′) of Cape Breton if you want a day or two's worth of scenic drive.
The inventor Alexander Graham Bell left his native Scotland and settled near Baddeck, and that is where he carried out most of his exciting experiments. It may come as a surprise when you see how many pies this inventor stuck his finger into. Yes, telephones were the one that made him rich, but he kept right on inventing things throughout his life.
The Alexander Graham Bell Historic Site and museum has a lot of information about sound and about the deaf, since working with the deaf motivated Bell in much of his work. (His wife was deaf, as well as his grandfather.) One of the most interesting exhibits here has life-size panoramic photos and the actual hydroplane boat that he invented.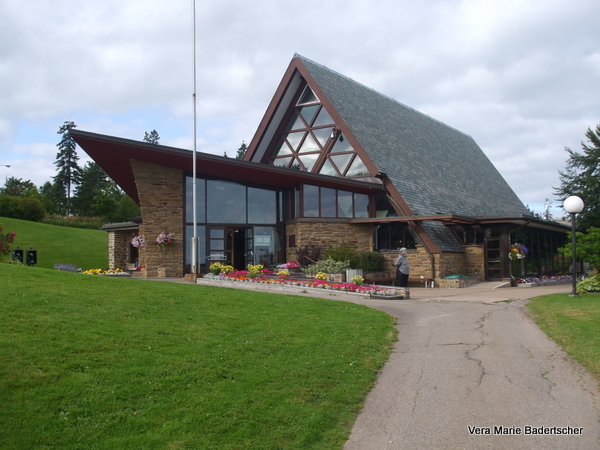 The museum sits up on a hill over the beautiful lake-side setting of Baddeck, and this is another opportunity to climb aboard a whale-watch boat, or take a ride to an island where you can see puffins and other sea birds.
Note: On the edge of town, you'll find the multiple buildings of the Inverary Inn scattered across wooded grounds.  The brown buildings and colorful boats pulled up along the shore makes it look a lot like summer camp, and it would seem to be perfect for families. Be sure, however, to check out your rooms in advance, as some have not been renovated in quite some time.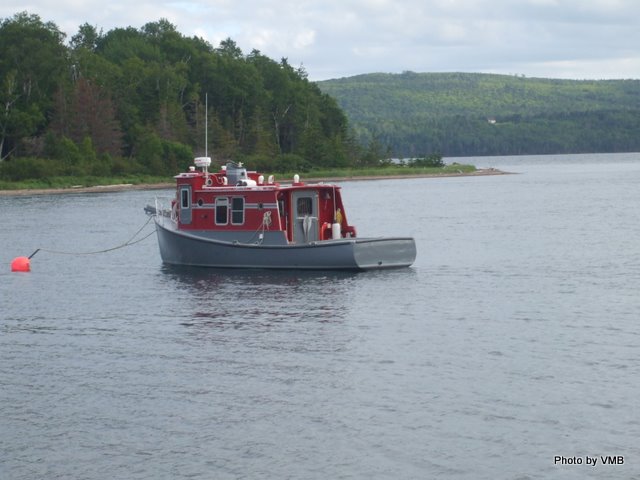 Louisbourg Fortress
Follow the highway north from Baddeck around the north end of the lake, and turn southeast at Sydney as you head for Louisbourg, the town that is farthest East in Nova Scotia. Now you are truly on the Atlantic Ocean and about to dip back into history.  The main attraction on this point of land is the restored Louisbourg Fortress. You drive out to the museum, and after you've soaked in some of the French and British history, a bus transports you back in time to 1744 where you meet French soldiers, pub keepers, servants and well-to-do merchants. The costumed reenactors are endlessly fascinating and you'll want to schedule a whole day at this incredibly detailed recreation that goes on for blocks and blocks.  You can eat a colonial lunch at the on-site restaurant, or take a picnic lunch which can be supplemented with bread from the on-site bakery.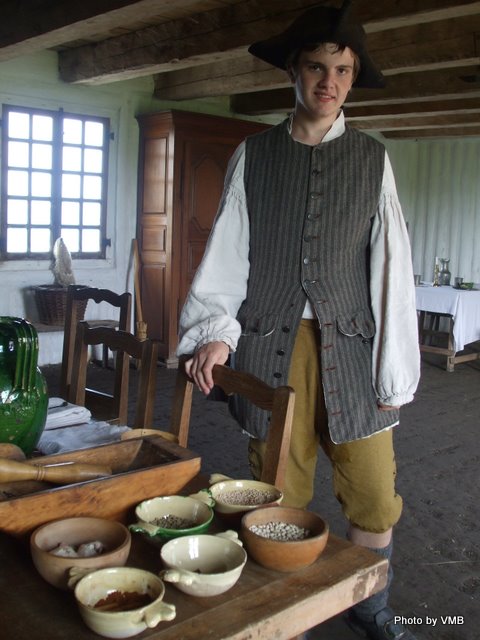 Note: Complete your experience with the Beggar's Banquet at the Point of View Suites and RV Park.  Everyone who attends is given a period costume before they enter the tent for the 18th century banquet including musicians entertaining with music of the 1700's.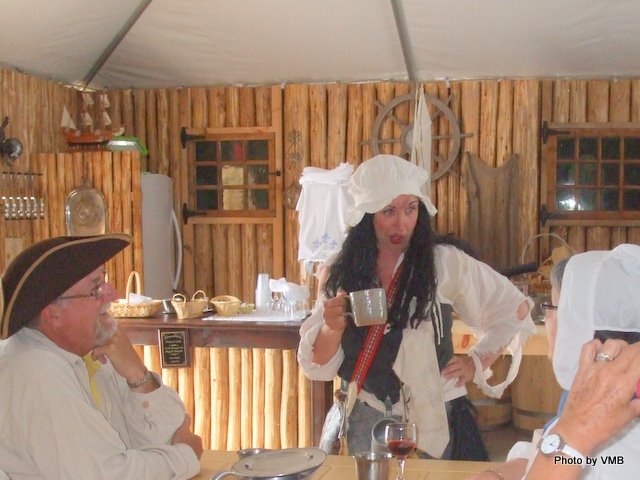 Pictou and The Ship Hector
Your family road trip continues on Route 4 down the east side of the Bras d'Or Lake, through St. Peter's and Port Hawkesbury back to the mainland. Stay on 104 to New Glasgow and then take the road north to Pictou. This whole day's drive is through Scottish countryside. Towns and roads have Scottish names and you can buy authentic tartans and other Scotch souvenirs.  In Pictou, you'll learn where all those Scotch people came from when you visit the Hector, known as the Scottish Mayflower. The Hector, sailing in 1773, was the first of many ships to bring settlers from Scotland to this rocky land that reminded them of home.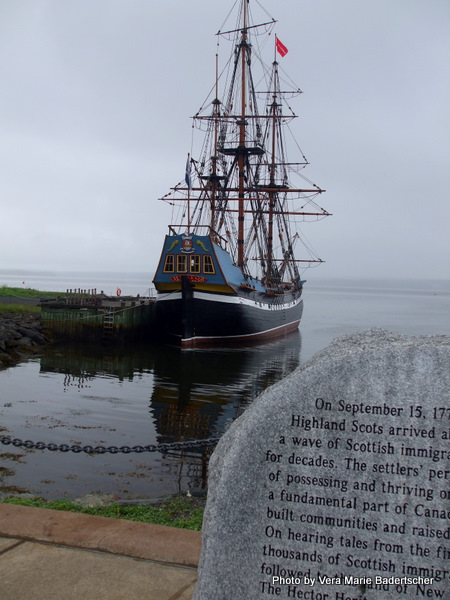 The pride of this town, where practically everybody pitched in to build her, the story of the Hector is told in a museum beside the ship (one ticket for both). After you get an orientation to the way such ships were built, you are invited to board the Hector and see how small was the space that dozens of families crowded into for the sail from Scotland to the United States.
By now it is perfectly obvious how much is packed into this relatively small province of Canada. Nova Scotia covers about double the area of Massachusetts. As you drive back onto the mainland of Canada, you will probably be planning your next family road trip to Nova Scotia.
Vera Marie Badertscher blogs about books and movies that inspire travel at A Traveler's Library. She wrote about her trip with her sister to Nova Scotia both there and at Your Life Is a Trip.