After a recent trip to Nova Scotia, Vera Marie Badertscher, editor of A Traveler's Library, and the biography of Navajo artist Quincy Tahoma, shares with us her best family road trip tips for the area. This article has up-to-date info on all the ferries in the area — what's better than combining a road trip with a ferry ride? Lots of ferry rides!
Since Nova Scotia is surrounded by water, one of the really neat things about a road trip is that it includes lots of ferry boat rides.  That's partly why I recommend starting this trip in New Brunswick, at an International Park that isn't Nova Scotia, but is on the way from the United States.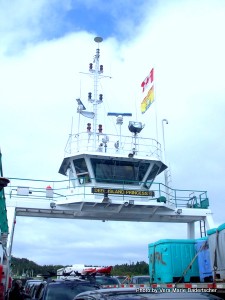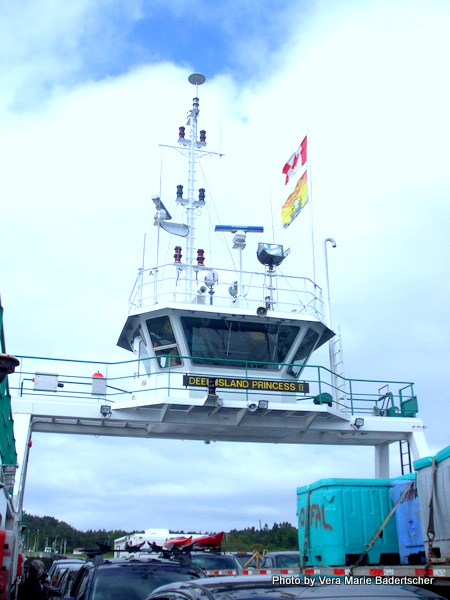 Unfortunately, we learned early in our trip planning that the ferry that is mentioned on many websites from Maine to Nova Scotia no longer operates. Instead, you must drive in to New Brunswick. But what a great excuse to visit an important American presidential site.
The Roosevelt Campobello International Park on Campobello Island, can be reached about half way up the coast of Maine. (Approximately 9 1/2 hours drive from Boston). Crossing the border here is a piece of cake–a brief pause and drive over a bridge and there you are in Canada.
Back in the early 1880's through the 1930's,  Campobello served wealthy Easterners looking for a summer respite from the heat of cities. One of those families was the Roosevelt family, who built their "cottage" there when the future President was just a baby. These summer homes, which the wealthy people called cottages, are bigger than most of the homes we live in today.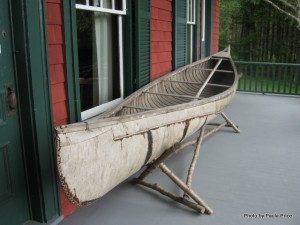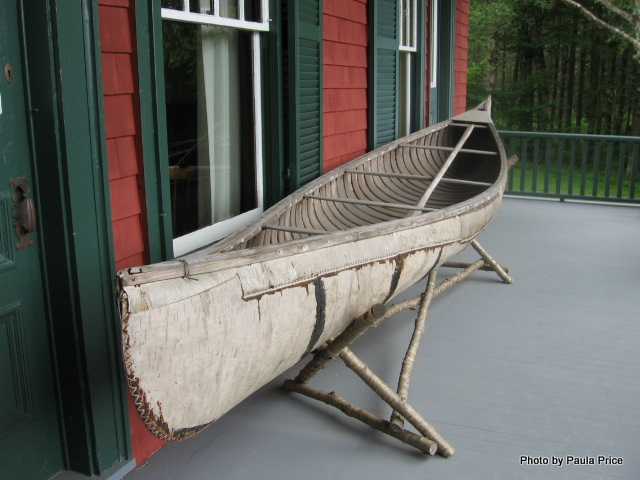 Franklin Roosevelt's childhood home doesn't survive, but the 34-room "cottage", that Mama Roosevelt built for Franklin and Eleanor when they got married, served as a summer base for their family (eventually including five children). The treats of visiting this free park include a beautiful birchbark canoe on the back porch, vintage bicycles, rooms restored to the way they would have looked in the 1920's, and trails down by the ocean. Younger kids can even play on playground equipment in the big green lawn surrounding the house.
The Three-Ferry trip to Nova Scotia
You might want to start your trip plan by checking the schedule of the Saint John-Digby Princess of Acadia ferry. Then check the Deer Island Ferry for departure times, allowing yourself three hours from Campobello to Saint John, where you'll get aboard your third ferry of the day. On Deer Island, you'll take a short drive and board the L'etete ferry to Saint John. From Saint John, it takes four hours to cross the Bay of Fundy to Nova Scotia on the Princess of Acadia. So the whole trip takes about seven relaxing hours.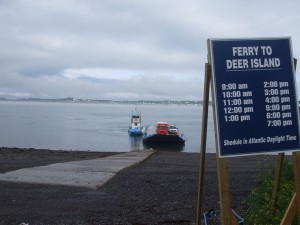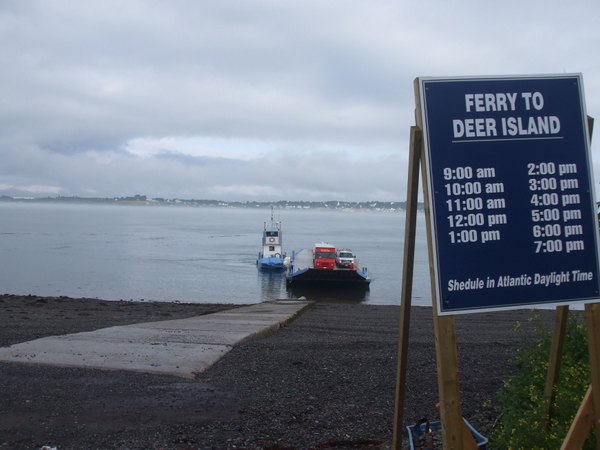 1.On Campobello, check the Deer Island Ferry for departure times, allowing yourself three hours from Campobello to Saint John, where you'll get aboard your third ferry of the day.  Drive to the little strip of beach where the Deer Island Ferry lands, and here you will drive your car aboard the first, and tiniest ferry for a half-hour ride past other islands.
2. Once you get to Deer Island, follow the signs to the L'etete ferry landing, and don't dawdle, because the ferries are timed so that you have enough time to drive across this pretty island to get on the next ferry, which will take you to Saint John, New Brunswick on the mainland. The government runs this ferry so it is free, just like driving on roads or bridges. Unlike the tiny Deer Island ferry, it is possible to get out of the car (if you are on one of the outside lanes) and take a look at the working part of the ferry.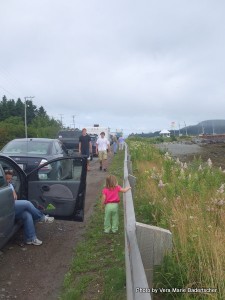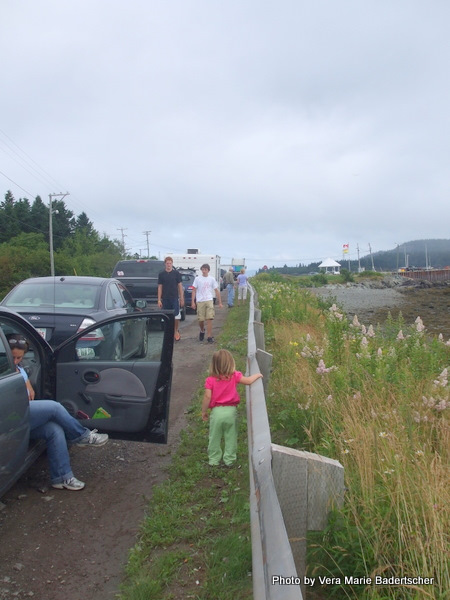 3. When your car rolls off this ferry at Saint John, you have another drive (About 1 1/2 hours) that will take you to the Saint John-Digby ferry. This one is big. Like a small cruise ship, it has comfortable lounges, movies, restaurants, arcade games, a playroom for little kids and WIFI.  Perhaps most unique, as ferries go, the 3 1/2 hour trip is supplemented by some short talks about the environment.  Since you're crossing the Bay of Fundy, which has the highest tides in the world, whales swimming through, and cliffs of ancient fossils, there is plenty for the experts to talk to you about. And you can try your luck at seeing a whale.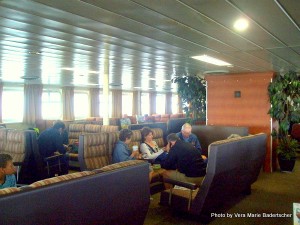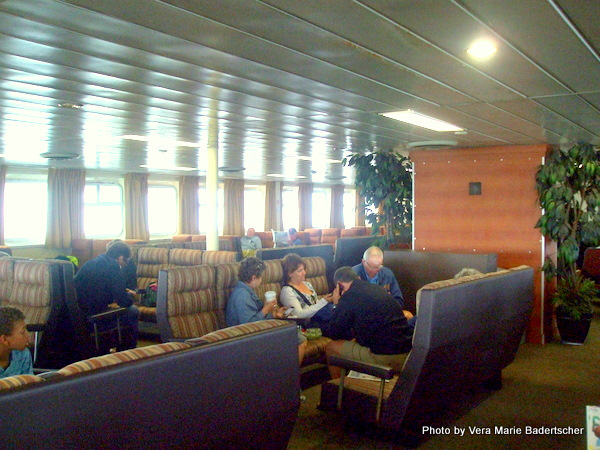 The Department of Tourism has a big desk in the ferry lounge with brochures and maps and a friendly helper who can assist you in planning your stay in Nova Scotia.  Whether you want to doze in the lounge, get out your laptop and take advantage of the WIFI reception, or get some exercise on the deck, you can have fun while you travel to Nova Scotia on the Princess Acadia.
Ferry Prices Include:
Campobello to Deer Island: $16 for car and driver, $3 for each additional adult and no charge for children under 12.
Deer Island-Saint John: Free
Princess of Acadia, Saint John to Digby Nova Scotia: Roughly $150 for a car, 2 adults and 2 children , but there are all sorts of discounts and a $20 surcharge for fuel, so be sure to check the web site for current prices.
Vera Marie Badertscher blogs about books and movies that inspire travel at A Traveler's Library. She wrote about a book that relates Eleanor Roosevelt's experiences at Campobello in an article about letters between Roosevelt and her closest friend.