The city of Frankenmuth welcomes visitors to Michigan with Bavarian hospitality and an array of options for enjoyable family-friendly activities. Situated on the winding Cass River, this friendly little town boasts German heritage in its culture, cuisine, and architecture. It's an easy 90 minute drive from Detroit, Lansing, or Port Huron.
Michigan's Little Bavaria
Kids tend to get restless near the end of a long winter. Our family has found this to be the ideal time to take a weekend road trip to "Little Bavaria". With year-round activities, there is always something to do in Frankenmuth, but we especially enjoy visiting during the month of March to unwind and recharge.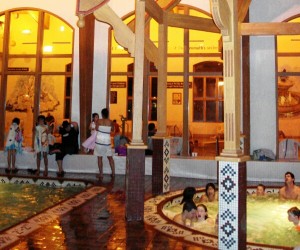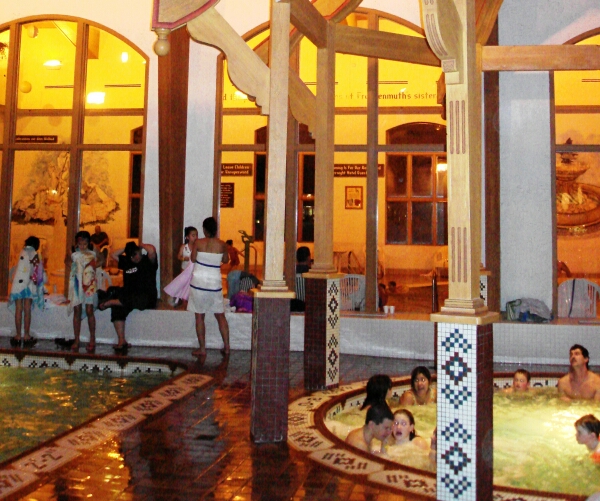 Stay at one of the two hotels offering indoor water parks and kids can shed their winter gear in exchange for a swimsuit and enjoy the warmth.  Zehnder's Splash Village Hotel and Indoor Waterpark features water slides, a lazy river, and 30,000 square feet of aquatic fun. The Bavarian Inn of Frankenmuth offers five indoor pools, three whirlpools, a 15-foot waterfall, and a motion pool. Families can also enjoy the largest indoor hotel arcade in the Midwest and miniature golf. The rooms are comfortable and feature framed news clippings and photos that celebrate local culture and history.
Where to Stay
Find family-friendly accommodations in Frankenmuth, Michigan from traditional hotels to private vacation rentals through Stay22.com: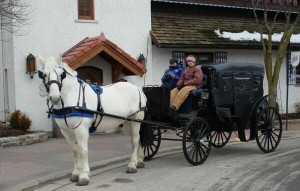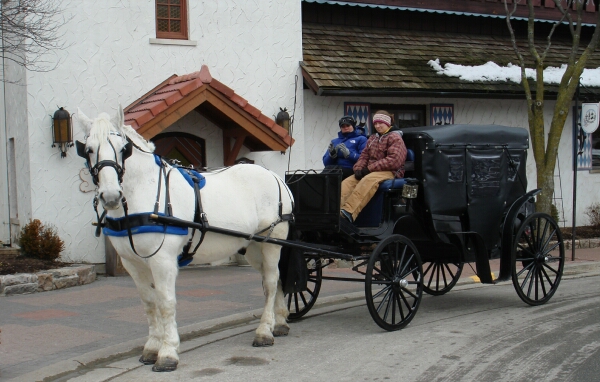 Once you've warmed up, don your coat and head to the outside entrance of The Bavarian Inn for a ride through town with the Frankenmuth Carriage Company. Kids love seeing the draft horses; these gentle giants clip-clop over an authentic wooden bridge and meander through town, providing guests with a relaxing escape in an enclosed carriage.
For lunch, be sure to visit the Frankenmuth Kaffee Haus on Main Street. They have delectable sandwiches, Panini, soups, and salads. Adults love the Hurricane Reuben that's stacked high with smoked turkey, sauerkraut, and melted Swiss cheese. Kids have lots of options which include PB & J sandwiches, Grilled Cheese, and a Turkey Ranch Rollup. Be sure to try one of their many specialty drinks which include hot cocoa, specialty coffees, cider, teas, and smoothies. Our favorite is the Almond Joy – a delicious coffee drink with coconut, chocolate, and almond flavors topped with whipped cream.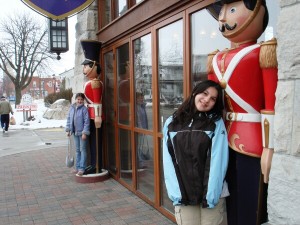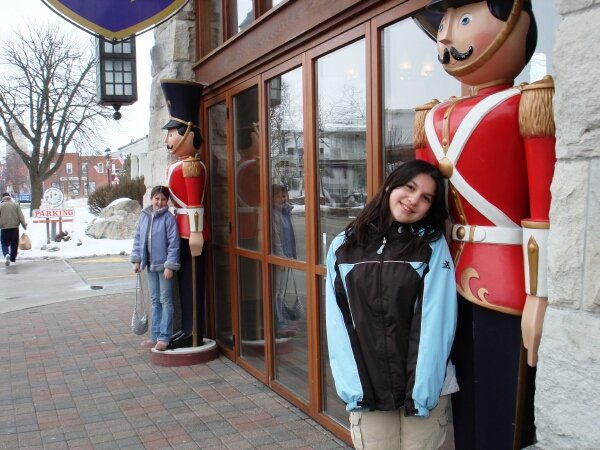 You can stroll down Main Street and enjoy the various shops along the way. You can indulge in a variety of goods including fudge, baked goods, sausage, clocks, home decor, clothing, quilts, custom made soaps, and toys. Another option for shopping is the Bavarian Inn River Place which is a complex of stores situated along the Cass River, and make sure to visit the Mirror Maze which is fun for kids and adults alike!
Frankenmuth is also home to Bronners Christmas Wonderland, which bills itself as the world's largest Christmas store. Here you will find a vast collection of ornaments, lights, trees, gifts, and collectibles. It's a great place to find presents; the enormous assortment of ornaments represents just about every possible interest imaginable.
For additional shopping, the Birch Run Premium Outlets is only 15 minutes from town, just off the Interstate (I-75), and offers 145 stores representing numerous brand names. Drive 20 minutes to the east of Frankenmuth to visit the nearby town of Millington where visitors can peruse antiques and collectibles at Antiques in the Village, North Star Antiques, and Enduring Reflections. Our 14-year-old girl loves finding treasures and trinkets in these stores.
Frankenmuth is also home to the Michigan's Own Military & Space Museum, a museum that honors Michigan soldiers, sailors, aviators, astronauts, governors, cross recipients and 28 individual Medal of Honor recipients. With over 400 exhibits, the museum offers a fascinating look at the personal histories of individuals who were a part of the American military over the last century.
Other attractions within Frankenmuth include Grandpa Tiny's Farm, a working historical farm, where you will be greeted by Leroy, a miniature horse. Guests can pet animals and meet springtime chicks, bunnies, and lambs. Tours emphasize the agricultural history of the area and include a horse-drawn wagon ride. There is also a turn-of-the-century farmhouse and a historic one-room schoolhouse. Seasonal demonstrations are also offered. Call ahead during March to make arrangements, otherwise the hours are from 10:00 AM to 5:00 PM daily April through October.
Famous chicken dinners are a part of what Frankenmuth has long been known for. Both the Bavarian Inn and Zehnder's serve up large traditional family-style dinners that include side dishes such as salads, soup, coleslaw, bread, vegetables, mashed potatoes with gravy, and dressing. They also offer authentic German dishes such as Schnitzel and Sauerbraten in addition to a large variety of menu offerings.
Another place for good eats is the Frankenmuth Brewery where the menu includes selections for kids and brews for adults. The beer is brewed in the tradition of the "German Beer Purity Law", or the Reinheitsgebot, which dates back to the 15th century and requires the Brewmaster to use only barley, hops, water, and yeast. Also be sure to check out Sullivan's Black Forest Brew Haus & Grill where you can enjoy handcrafted beers. Our favorite menu items include the Texas Barbecue Platter and the Michigan Lake Perch.
Kids can also tour the Frankenmuth Historical Museum, visit a cuckoo clock shop, roll their own Bavarian pretzel, tour an antique woolen mill, and watch the glockenspiel chime. There are geocaches in the Frankenmuth area, such as The Gnome's Treasure. Events are held throughout the year and include the Zehnder's Snowfest, the Bavarian Easter Celebration, the World Expo of Beer, the Frankenmuth Bavarian Festival, the Farm Fest, and Oktoberfest – to name a few. Visit www.frankenmuth.org for more information, discounts, and links to area attractions. And now, let the adventure begin! … or, as our German friends would say, Das Abenteuer kann beginnen!
Bio: Sonya Julie is a freelance writer based in southeast Michigan who enjoys writing about travel, equestrian activities, sports, and adventure. She has degrees in business and equestrian management and enjoys riding horses, skiing, dance, travel, volunteering, and reading. Follow her on Twitter at www.twitter.com/SJenterprises and read her articles in MISportsEdge Magazine.