Located on the west coast of Florida, Tampa Bay includes the City of Tampa, St. Petersburg, Clearwater, and several smaller beach communities. Expert family traveler, Traci L. Suppa of Go BIG or Go Home gives us her suggestions on the top spots to visit with your family.
While you may feel compelled to add it to your itinerary after a week in Orlando, there's no need. Tampa Bay is a fun-filled family travel destination on its own, with theme parks, aquariums, museums, and outdoor recreation on land and water. If that's not enough, there's also shopping, theater, and professional sports.
Of course, there are also the award-winning beaches, with soft white sand and the sparkling, calm blue waters of the Gulf of Mexico. My family has frequently visited and enjoyed many of the area's attractions. While our top picks do include these beautiful beaches, there are several other can't-miss sites. Including the world's largest bowling pin!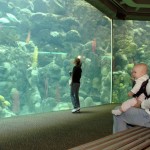 The Florida Aquarium is home to over 20,000 aquatic plants and animals from around the world. You will get hours of "edutainment" here in the form of indoor activities and exhibits, as well as a two-acre outdoor water park, Explore A Shore, that's included in the general admission fee. Save this for last so your kids can get thoroughly soaked on the two-story pirate ship with water canons, bubbling fountains and misters.
Tampa's Lowry Park Zoo was rated the country's top kid-friendly zoo, and it's easy to see why.  The animal habitat viewing areas were designed to make it easy for kids to get a good view, including the Lorikeet Landing, Wallaroo Petting Zoo, and Stingray Bay.  There are just enough rides spaced between the animal exhibits, like the "Gator Falls" flume and "Tasmanian Tiger" coaster, Treetop Skyfari, Jungle Carousel and the Safari Ride tram.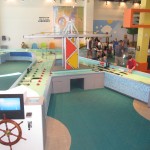 The new Glazer Children's Museum and the Museum of Science and Industry (MOSI) both offer scores of completely hands-on, interactive exhibits. We spend most of our time at Glazer on the first floor, playing in KidsPort. This expansive, waist-high water table lets kids manipulate shipping channels and work with tides to move boats, among other fun activities. The second floor offers diverse experiences based mainly on themes of technology and engineering. At MOSI, the focus is on science, with a planetarium, IMAX theater, and exhibits covering weather, space, and health.
Busch Gardens Africa is a major attraction, and necessitates a full day to cover the park's eight different sections. With five world-class coasters, it's a goldmine for thrill-seeking "tweens" and teens. The extensive wild animal habitats, including the Edge of Africa, Myombi Reserve, the Serengeti Plain, Bird Gardens and Clydesdale Hamlet, also make this park stand out. Its "sister" park, Adventure Island is the perfect water park for a hot day.  If you plan to visit both Adventure Island and Busch Gardens, save money by purchasing multi-park discount tickets online.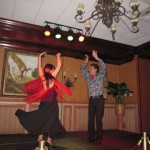 "World's largest" attractions are always on our "to-see" list, and Tampa Bay doesn't disappoint! The world's largest bowling pin sits outside the Splitsville Luxury Lanes and Dinner Lounge, a fun place to share a game of bowling. The largest Spanish restaurant, The Columbia, is the main attraction of Ybor City, Tampa's historically Cuban community. Take the kids for dinner and a flamenco show for a unique cultural experience. In Clearwater, take a 75-minute ride on the Sea Screamer, the world's largest speed boat, for alternating spells of exhilarating high speeds and dolphin-watching.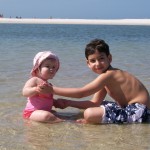 So, what about those beaches? Our favorite is Fort De Soto Park Beach, which was rated #1 on "Dr. Beach's" 2005 list of Top 10 U.S. beaches because of its cleanliness, shady patches and clear blue waters.  The North Beach section is ideal for small children, since a sandbar separates the beach from deep water, leaving a shallow pool perfect for wading. There's no admission fee, only road tolls of less than a dollar. Fort De Soto was originally an outpost during the Spanish-American War, and you can still visit the old fort to see huge cannons.
About Traci Suppa:
Traci Suppa has a strange compulsion for roadside attractions. She drags her small-town family to see a quirky array of the "world's largest" things, and blogs about it at Go BIG or Go Home. Some of her favorite discoveries, like the world's largest bowling pin, were found in Tampa Bay. Follow her on Twitter at @GoBIG_GoHome.