As the mother of a four-year-old son and an eleven-year-old daughter, I find it challenging to determine a perfect destination for our family. My son loves the outdoors, while my daughter is an AC kind of girl who loves antiquing and museums. The one thing they can agree on? Food.
Then, a few years ago, I found the perfect destination for our family. There's something for everyone: beach bum, history buff, outdoorsman, and shopper, in St. Augustine, Florida.
Where to Stay in St. Augustine
Pier Point South condominiums are right on the beach, overlooking pristine sands and ocean. There is a family friendly swimming pool, grassy area for playing, and grilling area. We walk to restaurants, the pier and park next door where, in the summertime, the Wednesday market and weekly outdoor concerts add to the already lively atmosphere.
What to Do:
Located inside Anastasia State Park (a hidden gem of a beach), Anastasia Watersports offers kayaking, canoeing,and paddle boarding. Even my outdoor-adverse daughter loves to take a kayak out in the morning, when you are likely to paddle past dolphins and manatees.
Bouvier Maps and Prints (11 Aviles St. D, 904-825-0920) is a popular destination for everyone in our family. Located on historic Aviles Street, this little shop houses antique maps, illuminated manuscript pages, rare books, and various historical novelties.
One might think that a gilded age museum isn't the most kid-friendly, but that's not the case at Lightner Museum. Kids are presented with a scavenger hunt that leads them through the museum, from an authentic mummy to Tiffany stained glass. And what kid wouldn't think it was the coolest that the museum's restaurant is located in the former hotel's indoor swimming pool?
The best way to tour the historic district, and a welcome respite on a hot day, Old Town Trolley is our family's pick for the best trolley tour in St. Augustine. You can hop on and off all day, so leave your car parked (for free!) at their main station and let the knowledgeable tour guides take you around the historic district. Your ticket also includes a shuttle that will drop you off at the Alligator Farm, Lighthouse, or beach.
A classic tourist attraction on Anastasia Island, the St. Augustine Alligator Farm Zoological Park never disappoints. My son loves the shows where he can pet snakes and other critters, and nothing excites him more than purchasing alligator food and watching the gators swarm the waters below him.
I defy anyone to visit the St. Augustine Pirate and Treasure Museum and not be impressed. My son was captivated by our "pirate" tour guide, and my daughter was overcome seeing Jack Sparrow's actual sword. As for my husband and I, we loved the local history, and our eyes grew large at the sight of a real pirate treasure chest and an original Jolly Roger.
Where to Eat
I love Cuban food, and La Herencia Cafe is the real deal. While you can certainly enjoy the classic cuban sandwich or Ropa Vieja, I recommend the Elena Ruth (turkey, cream cheese, and guava jelly on pressed cuban bread). The kids menu is particularly friendly and includes PB&J.
There's a thriving food truck scene in St. Augustine, but Nalu's Tropical Take-out is our favorite. Offering poke bowls, sashimi, burritos, tacos, and other Hawaiian dishes, Nalu's never fails to please. Their fish is wild caught, and, for me, there is nothing better in St. Augustine than their Baja Fish Tacos.
I look forward to going to O'Steen's all year long. As our vacation approaches, I crave the fried shrimp with homemade shrimp sauce, squash casserole, and coconut cream pie. A restaurant with the atmosphere of grandma's house, O'Steen's offers fresh seafood and a spectacular steak for the landlubbers. They not only supply a great children's menu, but their intercom is piped into Anastasia Antique Center next door, so your kids can dig through treasures as you wait. Come early because there are always people lined up outside–a good sign! (Cash only)
Vacation isn't complete without donuts, and Swillerbee's gets my vote for its fresh, unique selection. Sure, you'll find your favorites such as cinnamon sugar, but I recommend the French Toast, dulce de leche, and peanut butter cup. My kids love Pop Tart and Fruity Pebbles. There's even a donut with crushed potato chips on top. Go early for the best selection.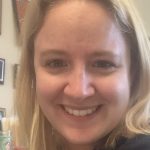 Megan Prewitt Koon is a freelance writer, novelist, and high school English teacher in Greenville, South Carolina. In addition to traveling with her husband and two children, she enjoys reading, hiking, and exploring new food scenes. You can read more of her work at meganprewittkoon.blogspot.com or on Instagram @meganprewittkoon.