Gentlemen in white suits and straw hats are strolling the streets, pulsating music with a traditional Latin or Afro-Cuban beat is pouring out of storefronts, and the aroma of Cuban coffee, fried pork and roast chicken is in the air. This could only be "Little Havana," an enclave of Miami, Florida, where entire walls are painted with colorful murals, and on every corner, human-sized rooster statues delight children.
On a break from the beach culture of Miami, our family was attracted by the sights, sounds, and smells of Little Havana's cafes, boutiques and a restored Art Deco theater. Longer-term residents have created an oasis of full-blown Cuban culture in their adopted home, creating great appeal to visitors entering this energetic Spanish-speaking district.
Cuban Cafes
Most tempting are the Cuban cafes. Jose Santana's El Cristo Restaurant on Calle Ocho ["Eighth Street"] is considered the best of these, with an unassuming, openly welcoming atmosphere.
"Latino people like value for money," Santana said. "Our grilled sandwich Cubano, for example, was originally designed to feed hungry laborers, so it's filled high with ham, cheese, pickles, and mustard. Other dishes were borrowed from similar Hispanic cultures, such as Colombian crispy fried chicharrón pork rinds, or Argentine marinated skirt steak served with green chimichurri sauce made from chopped parsley, oregano, and garlic."
After such meals, visitors who find these selections a bit spicy will often walk a couple of blocks further on Calle Ocho to the
Azucar ice cream shop
, where Caribbean fruit flavors like coconut, guava, or mango prevail. Kids especially love their multi-flavor giant ice cream cones.
Viernes Culturales
Sometimes food, art, and music all combine. In fact, this occurs on the last Friday evening of every month, when the family-friendly "Viernes Culturales," or
Cultural Fridays
, occurs around Domino Plaza.
Pati Vargas, director of Little Havana's popular art and culture festival, explained, "Both local and visiting families enjoy our outdoor music and dancing, or browse among works by neighborhood artists and artisans. In Domino Plaza, elderly men enjoy playing dominoes and discussing politics. So this is truly an all-ages monthly celebration."
Vargas points out a sidewalk that doubles as Little Havana's Walkway of the Stars, honoring Latin American celebrities such as pop singer Gloria Estefan, who is Cuban. However, Vargas told me, "Little Havana is now a very diverse neighborhood with residents from across Latin America, although still around 45 percent came from Cuba originally."
Cuban Food
If there are less Cubans in Little Havana, it's partly because they have spread out across Miami. Thousands of people from other Latin nations have flocked here as well, resulting in exciting cultural and food options all across the city. Fish "ceviche," for example, is raw fish cured in lemon or lime juice, flavored with cilantro leaves and chili peppers. Japanese-Peruvian Chef Diego Oka excels at ceviche, along with dozens of other Latin-influenced dishes he serves at La Mar waterfront restaurant in the
Mandarin Oriental Miami
.
From the Mandarin Oriental's private beach at night, Miami's dazzling city lights are reflected in Biscayne Bay (that gorgeous header image at the top of the post). The hotel's second restaurant, Azul, features Pacific-influenced American cuisine in a setting of dramatic floor-to-ceiling windows and an outdoor terrace overlooking the bay.
A bit further north at Miami Beach, Argentine chef Francis Mallmann serves rump steak with a sauce of cilantro, beets, potatoes, avocado, chili peppers, and tomatoes at his
Los Fuegos restaurant
in the Faena Hotel. He told me, "I balance Latin tastes with typically Floridian treats like pink grapefruit and avocado salad."
Faena Hotel
is on the main north-south boulevard of Miami Beach called Collins Avenue. Just a few blocks north is the legendary
Fontainebleau Miami Beach hotel
, a palatial 22-acre oceanfront set of buildings in the heart of Millionaire's Row. The  Fontainebleau is a well-located base to visit other family attractions, both near and far.
Miami Children's Museum
Closest is the
Miami Children's Museum
, a 56,500-square-foot state-of-the-art facility located on Watson Island near Downtown Miami. Children thrill to exhibits like the Castle of Dreams, a two-story luminous sand structure embedded with pieces of colored glass, or Ocean Odyssey, a unique 900-gallon living marine tank, and "Construction Zone" where kids can use a crane, bulldozer, or wheel barrels.
Butterfly World
Further afield is
Butterfly World
in Coconut Creek. It's the world's largest butterfly park, home to hundreds of exotic birds, a Bug Zoo, and more than 20,000 live butterflies from every corner of the world.
Billie Swamp Safari
Beyond Miami, but worth the trip is
Billie Swamp Safari
on the Seminole Tribe's Big Cypress Reservation in the Florida Everglades. This 2,200 acre preserve offers airboat rides and swamp buggy tours to see big snakes and help feed alligators.
On our final night, from a tower balcony of the Fontainebleau, we gazed down on brilliant gardens beside wide swimming pools, and the palm-fringed beach just beyond. The sound of waves and live music from below carried us through a last Florida sunset, leaving us content with memories bred from the many overlapping cultures that thrive within this spectacular landscape.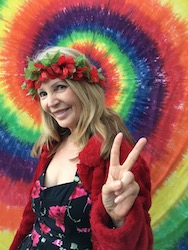 Terra Muzick lives in San Francisco's Bay Area and travels frequently to "the funnest places," in the USA, Europe, Asia, Middle East & Australia. Contact her at
BayDreamer333@zoho.com
Eugene-based Joseph Lieberman has spent the past 20 plus years visiting 58 countries on 6 continents. Contact him at gone2oregon@yahoo.com