Key West is America's ultimate road trip destination. As you drive down, you'll pass other vacation hotspots — Miami and the Everglades to name two — plus the rest of the Florida Keys, but Key West is the end of the line, a slice of the Caribbean right in the continental U.S.
Despite overwhelming popularity, Key West retains its laid-back charm. And though it's known for parties and bar crawls, it's just as rich in history, nature and outdoor adventure, everything you need for your family vacation.
Where to Stay: The Capitana
My top tip for Key West is to choose your accommodations wisely. The walking, sunshine and adventuring around town are great, but coming back to a comfortable place to stay makes your entire experience that much better.
That's what we discovered at The Capitana. In nearly 15 years of travel writing, this was the best hotel we've stayed at. It perfectly balances casual comfort and luxury. Here's what we liked best:
Unlimited bottled water on every floor to keep you hydrated
A resort-style pool with a tiki bar, lawn games and a hot tub
The view of the gulf from the pool with a sandy area for lounging
Breakfast and parking included
Spacious, carpet-free rooms with beautiful decor and balconies
The in-room kitchenette for snacks and impromptu meals
The hotel just opened this year so everything is sparkling new. The location is also convenient for road-trippers. You can stock up on groceries at Publix a half-mile up the road, and you're less than 2 miles from Duval Street.
Where to Eat in Key West: Family-Friendly Restaurants
Key West is famous for its food, and most restaurants welcome families. What I suggest is picking somewhere with a great location. That way, you're discovering a new area of Key West as you dine.
Half Shell Raw Bar at the Key West Historic Seaport
This was our favorite meal in Key West. It didn't need the sunset view over the water to make it memorable (see the feature photo above), but that didn't hurt.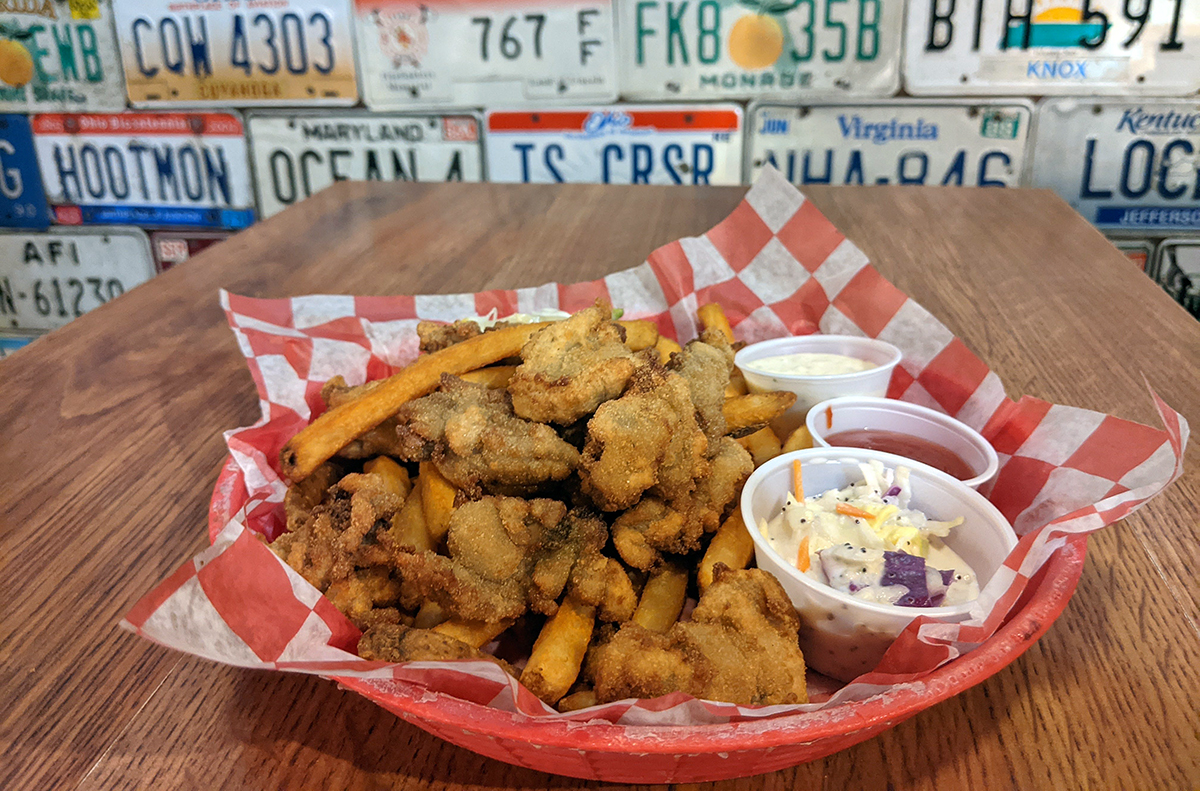 A local favorite since the '70s and featured on the Travel Channel, the Half Shell Raw Bar serves fresh seafood dockside. And I do mean fresh. They have their own fish market, and you'll sometimes see fishermen unloading their latest catch.
Slide into a picnic table and admire the boats in the harbor before getting down to business.
What to order:
Seafood is a must. From crab cakes and po boys to scallops and stuffed snapper, you'll find something for any palate.
Kids will like the burger and the baskets, which come with fries. Be sure to steal a bite if they'll share. They're tasty.
If you feel like trying the raw bar, there's a sampler platter with oysters, clams and shrimp.
Other specialties include pink shrimp, stone crab and conch. For a smaller taste of conch meat, get it as an app: conch fritters, conch ceviche or (our pick) red conch chowder, lightly spicy and satisfying.
Please get the key lime pie! I've never had key lime pie this creamy and delicately sweet. It's perfect and unforgettable.
Cayo Hueso Café at Fort Zachary Taylor Historic State Park
Run by a father-daughter team that's lived in Key West since 1986, Cayo Hueso Café has one of the best locations on the island — a few barefoot steps from the city's top beach. The cafe is the only restaurant at Fort Zachary Taylor Historic State Park, a must-visit attraction when you're in Key West. You'll want to spend an afternoon here.
What to order:
Their Cuban is what they're known for: pork, ham, salami, Swiss, pickles, mustard and mayo on fresh bread.
Salads and wraps are also good if you want something lighter.
The usual suspects (burger, hot dog, pizza, etc.) are here, too, so the kids will be happy.
They also have a water fountain around the corner where you can fill up and plenty of shady tables nearby for picnicking.
Fisherman's Cafe on Lazy Way
At the other end of the historic seaport, not far from the Half Shell Raw Bar, is Fisherman's Cafe. If you're strolling along Lazy Way enjoying the shops, kitschy art and scenery, this is a great place to grab a bite.
You take it to go and enjoy your meal al fresco, in true Key West fashion.
What to order:
I got the Island Bowl for a lighter lunch, but I've heard good things about their lobster tacos.
You must, must, must order the sesame guava toast. It's a steal at less than $3 and is decadently delicious.
If your hotel doesn't serve breakfast, stop by for an egg sandwich and cafe con leche to brighten your morning.

When visiting Key West, you need to get out on the water, but there are so many boat tours, it's hard to know which to choose. Here are a few to consider.
Sebago Watersports: Their eco tours take you into the mangrove islands to get up-close with nature.
Classic Harbor Line: The draw for adults is often the unlimited drinks. At sunset, cruise right on by the crowds at Mallory Square as the sun dips into the horizon.
Danger Charters: For a splurge, do their half-day tour that includes sailing, snorkeling, kayaking, drinks and snacks.
Fury Water Adventures: Beyond sailing, choose from snorkeling, parasailing, jet skiing and an all-inclusive adventure that boasts a water park in the ocean.
When and If: Sail away on a beautifully restored 1939 vessel originally built for General Patton.
Family-Friendly Key West Attractions
The historic downtown isn't huge, but there's a lot to do here, so if you just have a couple days, you'll need to prioritize. Besides the snorkeling, sailing and other water activities — and the state park and seaport mentioned above — here's some more family-friendly Key West fun.
What to see with kids in Key West:
Oh, and there's a shipwreck museum, an aquarium, a lighthouse — and more.
Tips for Your Key West Trip
You'll love Key West. There's just nothing like living on island time for a few days. These tips will help you get the most out of your trip.
Build in some down time. This is part of the reason I recommend a great hotel. It's nice to come back to the pool during the heat of the day. Either way, leave time between attractions so you can sightsee along the way or spend longer at a place that captivates you.
Plan for parking. If you're driving (and what road-tripping family isn't?), plan to pay for parking in Key West. There are city lots and garages near the seaport for $4 per hour, but you can find cheaper street parking downtown. There's even free parking at Higgs Beach, and your parking at Fort Zachary Taylor is included with admission.
Save money with the free Duval Loop bus. Better yet, ditch the car and take this free Key West bus with 18 stops around town.
Consider skipping the southernmost point. This concrete buoy marking the southern end (sort of) of the continental U.S. is beloved by tourists. But there's often a line to take a photo. If you want this family pic, please go! But we saw it from the trolley tour and were just as happy.
Take Old Town Trolley Tours if you have younger kids. Little feet get tired, bless them. This hop-on, hop-off trolley tour loops around Key West, hitting all the main sights with narration along the way. The Conch Tour Train is another option for easy transportation.
Go in September when kids are free. The Key West Attractions Association — which also offers the Key West Vacation Pass, worth over $850 in savings —  celebrates families every September when kids get free admission to several sights when you buy an adult ticket.
For more travel-planning, check out fla-keys.com. They have loads of videos on their family travel page to give you ideas for what to see and do.
My last tip? Plan to go back! You can't see everything in one trip, so you might as well make it a tradition. We hope to.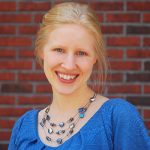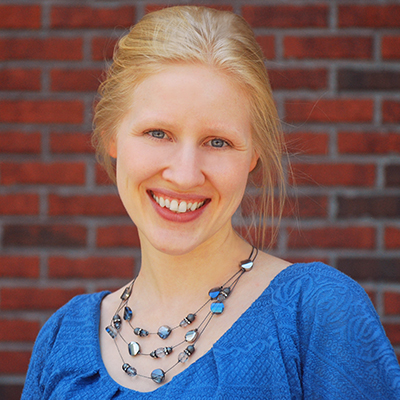 About the Author
Cheryl Rodewig is storyteller, marketer, and award-winning feature writer specializing in travel. Her Venn diagram includes minimalism, waterfalls, French, and the em dash. Find her at cherylrodewig.com or on Twitter at @cherylrodewig.