North Dakota has all sorts of hidden treasures, perfect for a family vacation. Whether you're looking for a city experience, a peaceful resort getaway where fishing is king or a western adventure, North Dakota has it all.
Fun in Fargo
The Fargo metro area is a great destination with excellent, affordable lodging; more than 200 restaurants; shopping; unique attractions; and year-round festivals, concerts, theatre and sporting events. Fargo is fun!
The bright red barn at The Children's Museum at Yunker Farm is just one of the attractions at this learning museum for children in Fargo. The more than 50 hands-on exhibits are designed to engage, educate, stimulate creativity, and encourage interaction between children and the exhibits. From the puppet theater to the planetarium to the bee hive, children can explore their universe. Rated as one of the top 25 children's museums in the United States by Child magazine.
Where to Stay
Find family-friendly accommodations in North Dakota from traditional hotels to private vacation rentals through Stay22.com:
www.childrensmuseum-yunker.org or (701) 232-6102
Bonanzaville USA is a picturesque restored pioneer village consisting of 40 museums on 15 acres that show life in 1880s Dakota Territory. The area displays an original sod house, country school, country church and log home, and the 1881 home of David H. Houston, inventor of roll-type film used by Eastman-Kodak.
www.bonanzaville.com or (701) 282-2822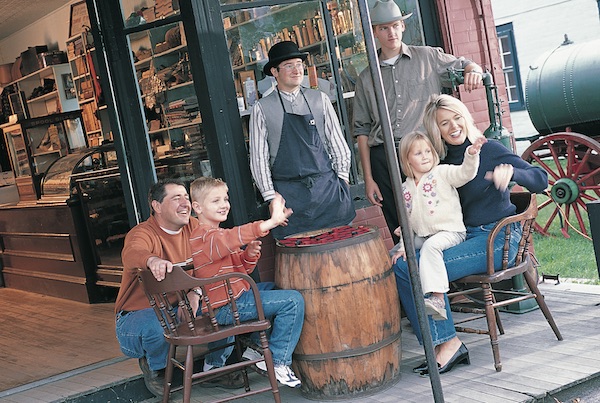 Fargo's Red River Zoo is located on thirty-three acres of land and includes some of the original farm buildings that once occupied this site. The area has since been transformed into a zoo with beautifully landscaped exhibits, rolling hills and a series of five ponds connected by flowing streams. It's an illusion of the wilderness within the cityscape of Fargo! The zoo features an outstanding living collection, including several endangered species that live and breed in natural exhibits at the zoo. It also features exotic and native animals and plants from areas around the world with climates similar to the Red River Valley. Each month, there are "zooventures," amazing hands-on animal adventures, educating kids and families about different critters and their habitats.
www.redriverzoo.org or (701) 277-9240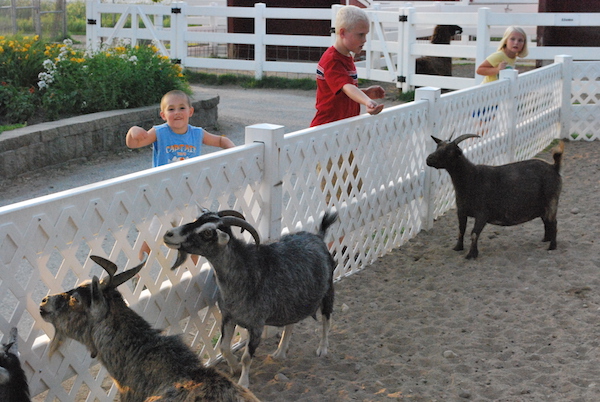 Fish Devils Lake
Located on the shores of Devils Lake, which is ranked among the best fishing lakes in North America for walleye, northern pike, white bass and perch, Woodland Resort is a full-service resort including modern lodging, excellent dining, reliable well-maintained boat rentals, and good advice on where the fish are biting. They have all the amenities for year-round activities, from ice fishing to fishing outings in the summer. The resort offers a variety of lodging and fishing packages for a fun-filled getaway.
www.woodlandresort.com or (701) 662-5996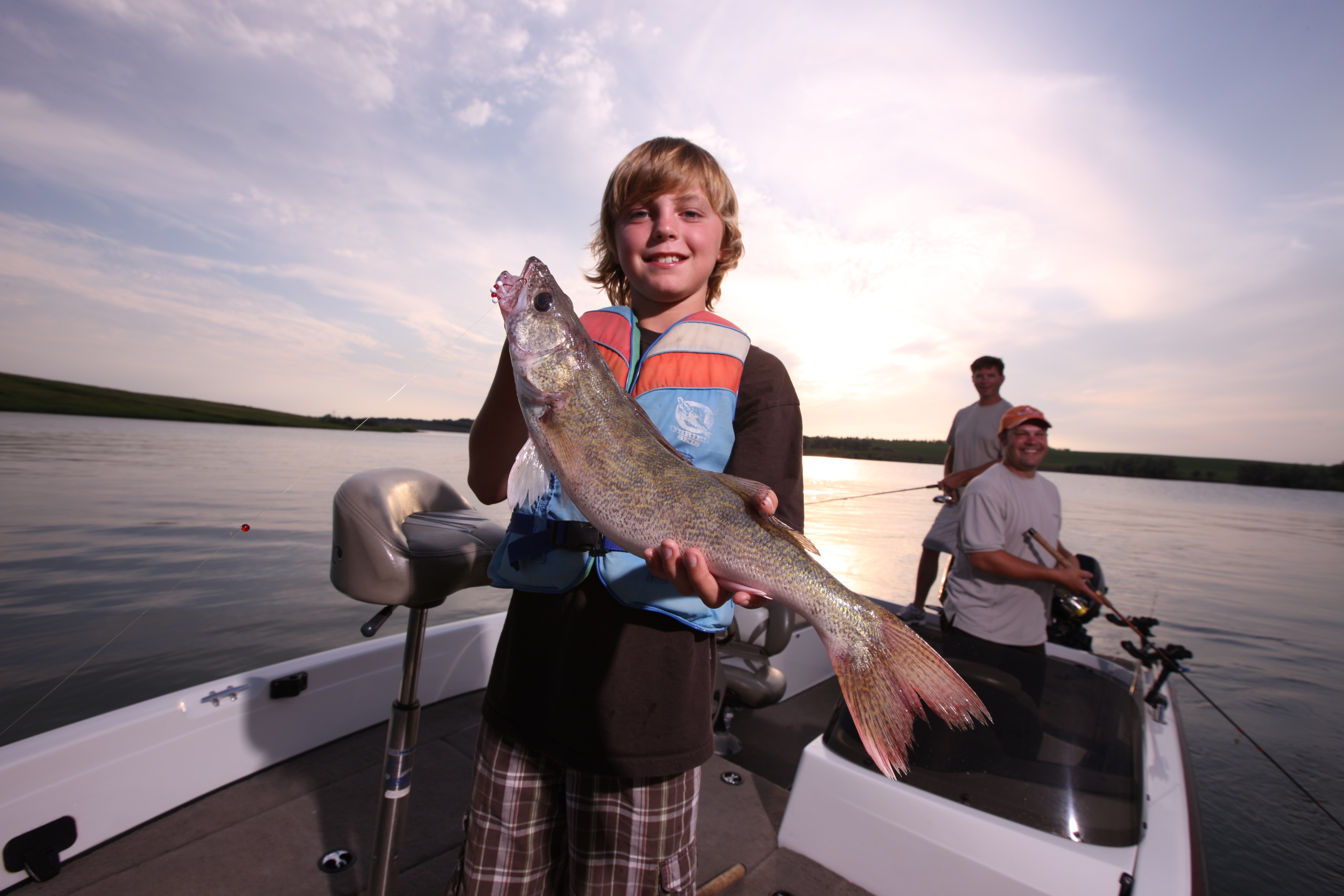 Western Adventures
For families who enjoy a more rugged adventure, where you can get your hands dirty, experience cowboy life and see things larger than life, the western part of North Dakota is where it's at.
The Dickinson Museum Center features 11 full-scale dinosaurs including a real skeleton of a Triceratops. Visitors can also view a complete Triceratops skull in the museum's model lab, and many of the real specimens have been collected from the Dickinson area. The museum features an outstanding collection of minerals from around the world. Other exhibits include fluorescent minerals, invertebrate and vertebrate fossils, mammals including a bison and a rhinoceros bone-bed, and modern seashells and sealife. Kids will enjoy the museum scavenger hunts and tours.
http://dickinsonmuseumcenter.com/ or (701) 456-6225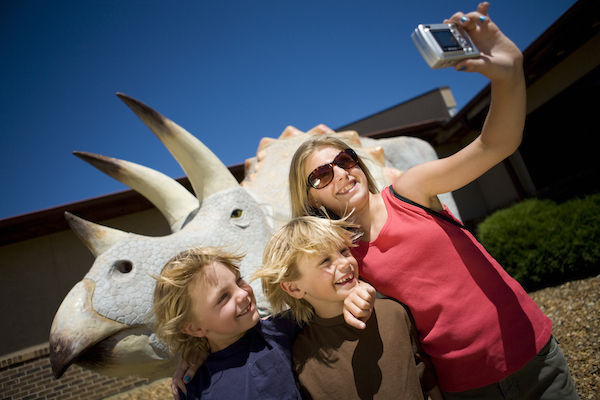 The Enchanted Highway (Exit 74 from Interstate 94, east of Dickinson and south of Gladstone) is populated with amazingly large metal sculptures of a family, grasshoppers, pheasants and more. The "folk art" figures are spaced along a stretch of highway from the I-94 south to Regent, which also is home to the Enchanted Highway gift shop featuring miniatures of each statue. Watch for the sculpture of giant geese flying over a setting sun on I-94 at the Gladstone exit.
http://www.ndtourism.com/regent/attractions/enchanted-highway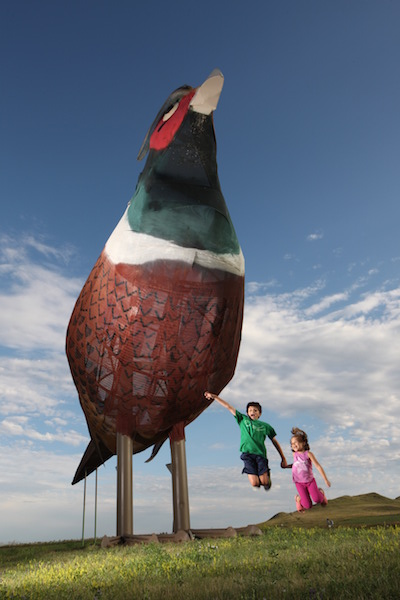 The North Dakota Badlands provide a spectacular backdrop for the frontier town of Medora. The wild history of the West lives on in historic Medora, located adjacent to the south unit of the national park. Founded by a French aristocrat, Medora boasts a 26-room chateau overlooking a walkable town of shops, cafes, museums and an outdoor amphitheater with evening performances of the Medora Musical. The musical is staged in the modern Burning Hills Amphitheater. Set into a canyon, the amphitheater offers a spectacular view of the Badlands. Drawing over 100,000 people, the musical is North Dakota's biggest summer event.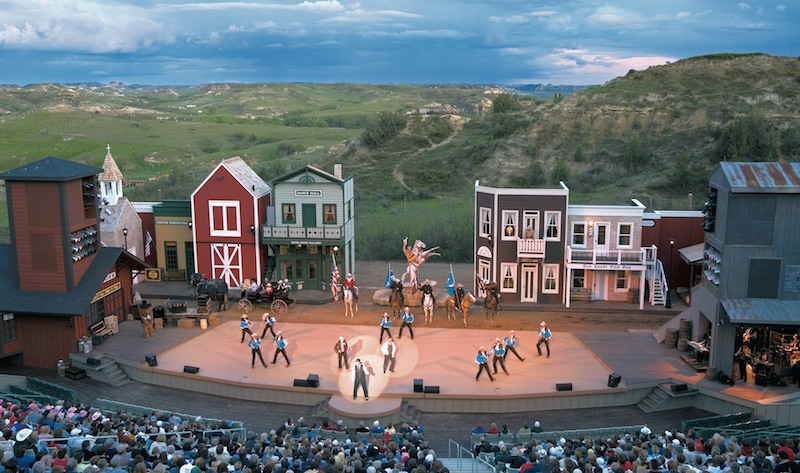 Theodore Roosevelt National Park, adjacent to Medora, has great opportunities for take-your-breath-away horseback riding, hiking, biking and scenic viewing. The 70,000-acre park and its rugged topography honor Theodore Roosevelt, who ranched in the Badlands and later established the national park system. The park offers outstanding wildlife viewing: bison, deer, antelope, coyote, prairie dogs, wild horses and bald eagles are a few of the many species that make this park home.
Whether you are interested in a horseback trail ride, a good old-fashioned cattle branding, or hearing the coyotes howl while you sit in a hot tub, North Dakota offers ranch vacations that fit the bill. North Dakota working ranch vacations offer panoramic scenery and real-life ranch experiences. Stay in a hand-built log cabin nestled in a ponderosa pine forest on top of Badlands buttes or in upscale western lodges. Join a cattle drive or roundup and finish the day with a chuck wagon dinner around the campfire. The western part of the state offers an assortment of working ranch vacations where you can work as much, or as little, as you like.
http://www.ndtourism.com/listings/ranches-lodging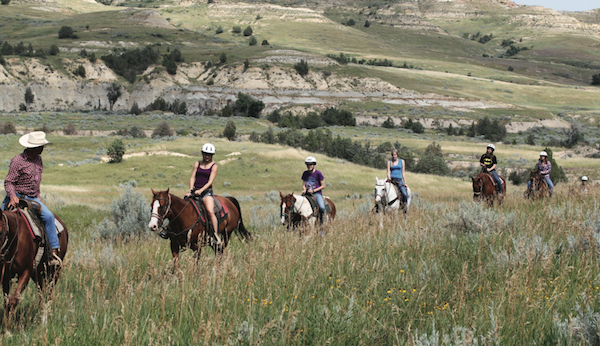 This post submitted by Kim Schmidt, Public and Media Relations Director with North Dakota Tourism. For more ideas on planning your own North Dakota Road trip visit http://www.ndtourism.com/
Happy Trails!