Normally we road trip for spring break, but this year we headed across the Atlantic Ocean for a solid week exploring the port city of Hamburg, Germany. Connected to the North Sea by the Elbe River, a complex of rivers and man made canals finger into the heart of the historic downtown. An industrial city with Old World charm, Hamburg has a lot to offer families on vacation. Beyond exploring the various neighborhoods and stuffing ourselves with German chocolate, we found several family-friendly destinations:
Tierpark Hagenbeck
Website: http://www.hagenbeck.de/en/tierpark/start.html
A short train ride north of downtown, Tierpark Hagenbeck is Hamburg's nearly 50-acre zoo and aquarium. Admission options include just the zoo, just the aquarium, or both (we opted for the zoo only). Unlike zoos in America, at Tierpark Hagenbeck enclosures are less cage-like and random animals (chickens, anyone) wander freely through the grounds. We purchased a bag of fresh vegetables to offer select animals designated stopping points and observed llamas love carrots and pickles. A zoo highlight was the massive playground area and the extensive indoor/outdoor polar exploration area with polar bears, walruses, king penguins, and seals.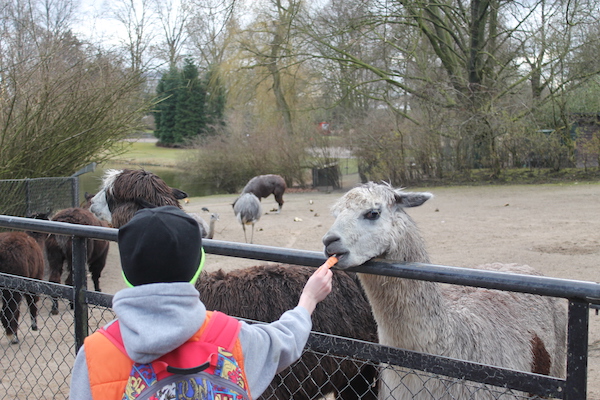 Planten un Blomen
Website: http://plantenunblomen.hamburg.de/ and http://www.hamburg-travel.com/attractions/green-hamburg/parks-green-spaces/planten-un-blomen/
Encompassing 116 acres, Planten un Blomen is a large urban park similar to Central Park in Manhattan. Encompassing the city's Old Botanical Garden, this delightful green space offers a mix of pedestrian trails, bike paths, whimsical playground spaces, an aquatic light show, public theatre, and even a mini golf course. I can imagine this park is flooded with people in warmer weather and summer months; even on a cool evening in early spring we managed to run around and play.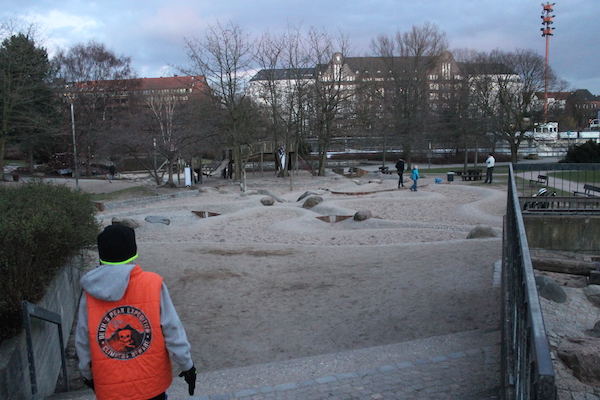 Hamburger Dom
Website: http://english.hamburg.de/visitors/290760/hamburg-hamburgs-dom-english/
Our visit to Hamburg coincided with the Hamburger Dom, or fair, which occurs three times each year: spring, summer, and winter. Hamburger Dom is the largest fair in northern Germany and is located at Heiligengeistfeld car park near Millerntor-Stadion, home to the St. Pauli football (soccer) club. Wednesday is family day at the fair, with discounts on rides and games for everyone. You'll need Euro's for most everything at the Hamberger Dom (including admission to the rest rooms); a few cash machines are scattered around the fairgrounds.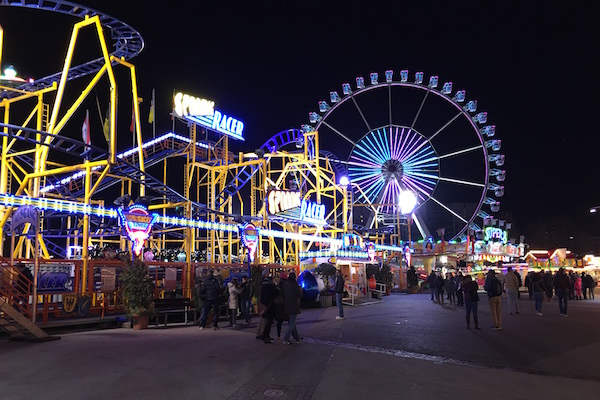 Miniatur Wunderland
Website: http://www.miniatur-wunderland.com/
Miniatur Wunderland is a great option for cold and rainy weather, but is a "must see" nonetheless. Located in Speicherstadt, Hamburg's historic red brick warehouse district, Miniatur Wunderland is indeed a miniature wonderland. Home to the world's largest model railway, over thirteen million people visit the attraction each year. If you go, strongly consider purchasing a ticket online to guarantee your entrance time (because the attraction is so popular, only so many people are allowed to enter the building at once). Within walking distance, the International Maritime Museum houses the world's largest collection of maritime artifacts over nine different levels and is a nice balance to crowds of people mesmerized a miniature recreation of the world we live in.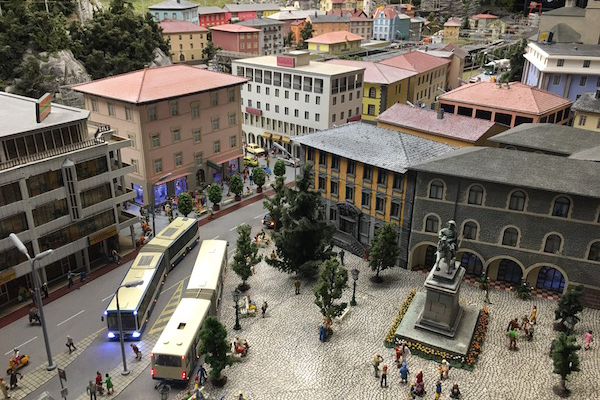 BallinStadt Emigration Museum
Website: http://www.ballinstadt.de/?lang=en
Recommended to me by a friend who travels extensively in Germany, we made a short train voyage south to the city of Vedel in search of the BallinStadt Emigration Museum. Housed in a collection of buildings that saw over five million people leave Europe, the museum is both educational and interactive. A popular field trip destination for elementary and older kids, many of the exhibits are in German and English (if not, ask for educational material at the admission desk). Note, each pass allows one entrance per person per building, so plan your route accordingly.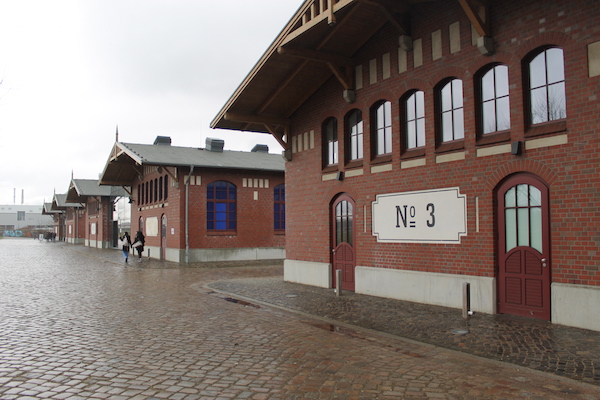 Pin for later: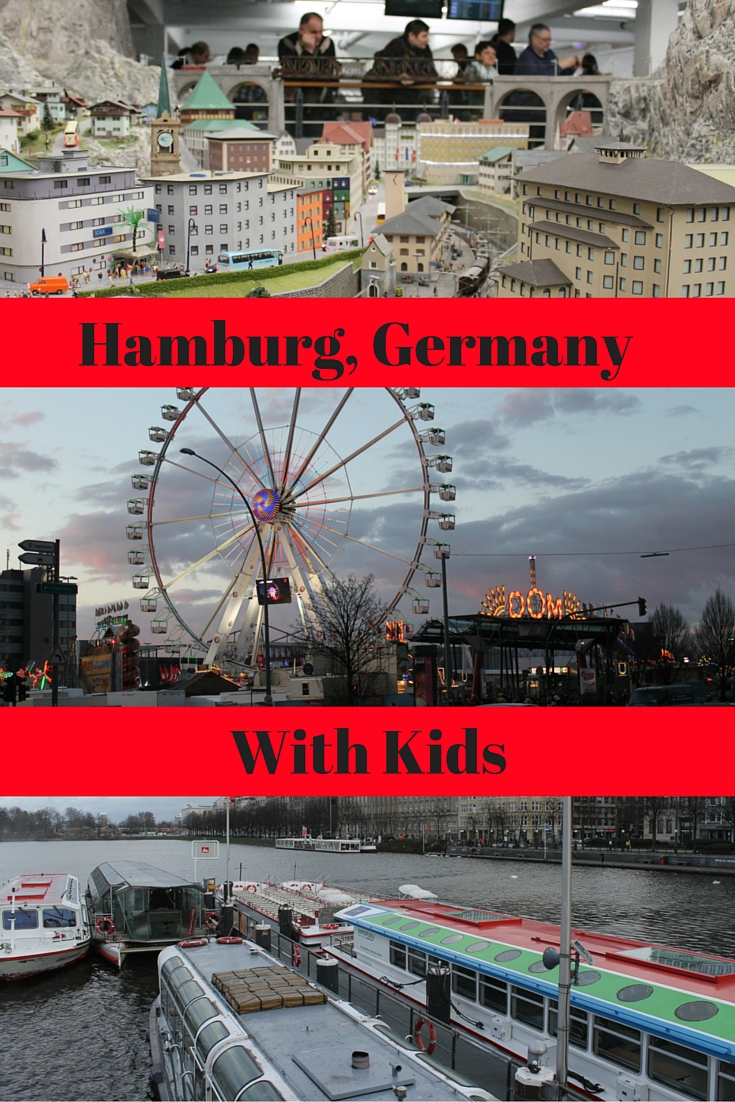 Happy trails!