Winter road trips require an extra level of planning. Unless you travel in the far reaches of out-of-the-way, there's no reason to regularly think about special precautions or tips. However, this year's extra-cold winter weather had us thinking about what tips road tripping families need, especially to really enjoy some of the scenery that such weather creates. It's also a lot more enjoyable to burn off some of that energy by hiking, and there are some spectacular winter hikes right now.
So, to help us make the most out of the hikes (big or small) that a family needs to burn energy and enjoy the scenery, we asked the experts at the Hocking Hills (Ohio) Tourism Association, famous for the winter hikes in their area, for some tips on winter hiking:
Choose the right footwear.
If your feet are cold your whole body will be cold.  If you anticipate long hikes, waterproof hiking boots designed for cold weather offer good traction in snow and ice and help little feet stay warmer.
Wear multiple pairs of socks.
As many pairs as you can comfortably fit with your boots on.  You can always take some off if you get too warm.  Carry extra dry socks in a waterproof bag in your backpack, just in case.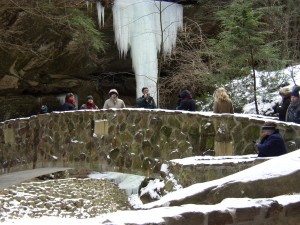 Stay small — try a test hike.
If you live in a warm weather climate, try a test hike before attempting something more serious. This will give you a better idea of what everyone will enjoy and what extra gear you might need to keep the kids comfortable and cheerful.
Stay hydrated.
Pack water in your backpack.  Energy bars are another good idea.
Cover your hands and face.
A ski mask covers your entire face, or can be rolled up to just cover  your head and ears.  Wear insulated gloves and carry an extra dry pair.
Layer your clothes.
While hiking you may become warm.  Multiple layers allow you to remove items as needed.  If possible, carry extra dry thermal underwear in your backpack.
Know the weather forecast and trails.
Carry a compass, map and cell phone with you.  Your cell phone may not work in all areas, but it's a good idea to have one.  A hand-held GPS unit is also a great idea. For serious hikes, consider metal cleats in case you encounter ice on the trail and use trekking poles or cross country skiing poles for extra stability.
Don't hike alone.
It's always more fun with friends.  If you must hike alone, be sure to tell someone where you are hiking and what time you expect to finish. A good resource is the tourism association or visitor's bureau where you wish to hike. They can refer you to the best trails for your family's ability and time frame, and possibly even connect you with local hikers who know the area.
Don't forget your camera.
Winter provides dramatic scenery, and those snow angels need to be documented!