Of course Santa Claus, Ind., is the perfect place to a letter to Santa, but it is also a great spot for a family vacation.
Christmas spirit fills Santa Claus, Indiana, year-round, but that joyous feeling is shared in the summer with screams from their world-famous water park.
When founded in 1852, residents didn't know the new whimsical name a child chose would make the town known around the world. Their post office opened in 1856, but the town was just a small locale, tucked into the rolling hills of southern Indiana until 1914 when Santa Claus' postmaster, James Martin, started answering letters to Santa from children.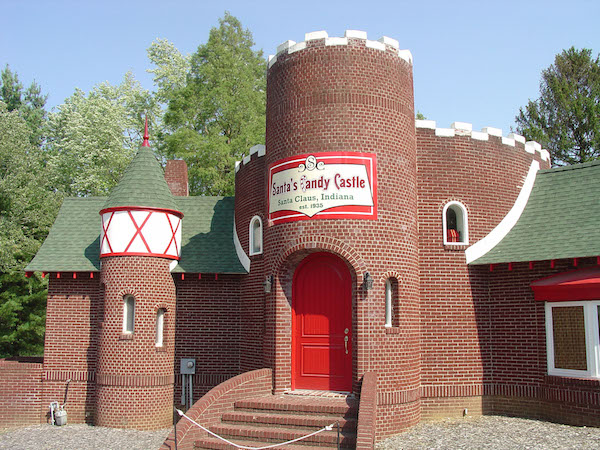 In the years that followed, so many people came to get Santa Claus' special postmark that the U.S. Post Office suggested they change the name of the town.
Where to Stay
Find family-friendly accommodations in Santa Claus, Indiana from traditional hotels to private vacation rentals through Stay22.com:
"We're very glad that didn't happen," Melissa Brockman, director of the Spencer County Visitors Bureau, said. "The town's name is huge during the holidays. We get holiday mail to postmark, letters to Santa and have big Christmas events," she said.
Postmaster Martin answered children's letters for many years with the help of a friend. These days, the mail load is heavier. The town formed a non-profit organization, Santa's Elves, Inc., and along with the assistance of the Santa Claus Museum, they answer all the letters to Santa that somehow magically arrive during the holidays.
The post office in Santa Claus processes 400,000 pieces of mail a year, Brockman said. "The museum handles the letters to Santa and they handle about 12,000 of those a year."
Summer visitors go to Santa's Candy Castle, built around 1935. There's a huge assortment of gourmet treats including peanut butter fudge, toffee, caramels and a variety of hot chocolate choices inside the historic building. Families also love to log in to the North Pole Network, where they are directly connected with Santa's workshop and can live chat with one of the elves. Most families take "selfies" with the historic 22 foot-tall, 40 ton sculpture of Santa outside.
Summer guests to Santa Claus also come for Holiday World and Splashin Safari Water Park, an exciting recreation center. Started by a father of nine in 1945, the park opened decorated for the holidays. Alpine architecture greeted visitors to Santa's Headquarters, Toyland, a restaurant, gift shop, toy museum and a chat on Santa's lap.
One of the founder's sons now runs the park and it maintains the same feel as it did in 1935. There are new rides, musicals, live shows and displays that make it a place to feel the joy of the holidays year-round.
Their water rides are spectacular. Their "water coaster," Mammoth, is seven stories high and covers three acres. There are breathtaking drops, and a unique technology that propels six-passenger boats up hills and through 12-foot-wide channels and into dark tunnels.
The newest ride to open at Holiday World is the Thunderbird. It is the nation's first launched wing coaster. At 165 feet tall, it launches "winged trains full of riders" from zero to 60 miles per hour in 3.5 seconds. For coaster lovers, this one has lots of "near misses" where riders zoom by chimneys, a windmill, other rides, trees and even a barn.
Summer visitors can expect perfect touring or water park weather, and winter visitors to all the holiday celebrations can expect "a nice Christmas cold," Brockman said, laughing.