If you read our latest post 10 Ways to Enjoy Washington's Long Beach Peninsula, you'll note we loved finding a corner of the country delightfully lacking in commercial and chain establishments. The same holds true for eateries up and down the 28-mile long stretch of land. Commonly cited as a destination for foodies, a plethora of independent and locally-owned restaurants open at the crack of dawn and stay open until long after the sun sinks into the ocean.
The general serenity of the Long Beach Peninsula has drawn award-winning chefs seeking for a high quality of life and steady stream of patrons with a discerning taste for both locally sourced and seasonal food. From steamer clams to saltwater taffy, you won't go hungry in Long Beach.
42nd Street Café & Bistro
Website: http://42ndstcafe.com/
You'll find an even mix of locals and tourists at 42nd Street Café & Bistro in Seaview. We arrived for breakfast and enjoyed a platter of fluffy pancakes decorated with wild blueberries and dollops of fresh whip cream. If you are a fan of the Big Easy, order a Cafe Au Lait and a plate of New Orleans Style Biegnets. Fellers may want to try a MANmosa, made with orange juice, Brut champagne, and house-made orangecello liqueur. Breakfast and lunch are served between 8am-2pm with a bit of a break before switching over to the dinner menu at 4:30pm (closed most Mondays and Tuesdays). If you go, look for the clever post card shown in the photo below. The restaurant will gladly postmark and mail a greeting out to any of your friends and family back home.

The Depot Restaurant
Website: http://depotrestaurantdining.com/
At the name implies, The Depot Restaurant in Seaview is nestled into what was once a bustling train depot. Passengers arrived by rail to vacation on the peninsula, but would avoid travel on days when clams were transported out of town. People still flock to The Depot and its usually the clams their looking for. Chef Michael Lalewicz has been opening his restaurant at 5:30pm for over a decade. With a litany of culinary accomplishments on his CV, Lalewicz knows exactly what his customers want to see on the menu. "I put the steak special on the menu thirteen years ago and never took it down. When guys come off a fishing boat after three days, all they want is meat." The rest of us want oysters, clams, prawns or the catch of the day.
I watched the evolution of my Clams Bucatini (Italian Bucatini pasta with chopped ocean Razor and whole fresh wild Willapa Bay steamer clams sautéed with white wine, lemon juice, garlic, and chili flakes) from the vantage point of the Chef's Table. Without pretense and within a reasonable price range, The Depot has received more awards than any other restaurant on the peninsula; take my advice and make a reservation now (if you use Open Table, The Depot is on the list).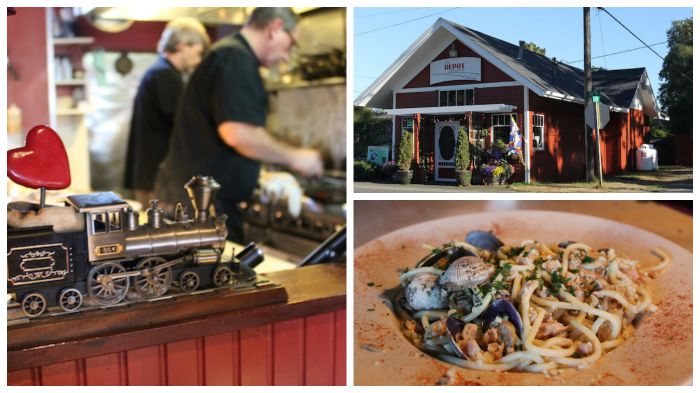 The Metro Espresso | Galletti's Spaghetti House
Located in the heart of Seaview, The Metro Espresso and Galletti's Spaghetti house share the same location—The Metro Espresso serves breakfast and lunch between the hours of 7am and 2pm and Galletti's Spaghetti House offers dinner Wednesday through Saturday from 4:30pm to 8:30pm. Both locations are closed on Tuesday. Owned and operated by longtime peninsula residents Sue Ann Woods and Ron Starheim, the couple rented the building to a local gun dealer for many years. After months of filing permits, construction, and menu preparation, Sue Ann and Ron unofficially opened the doors earlier this summer and are planning for an official grand opening the first week of September.
The only spaghetti house on the peninsula, Galletti's was named in honor of Ron's mother, who ran a similar restaurant in Seattle for many years. The Metro Espresso was named after The Metro Café in Wasilla, Alaska and honors the memory of Ron's brother.  Family legacy aside, we arrived at The Metro Espresso in time for breakfast and thoroughly enjoyed an egg sandwich with cheese (photographed below) and 1/2 order of biscuits and sausage gravy. On the subject of homemade biscuits, a fresh batch is made every morning (they have also rightly received much praise on both Yelp and TripAdvisor). If you're looking for a combination of strong caffeine and WiFi, settle in at the bar. Hot drinks are served in a yellow "smiley face" mug; a bright way to start the day off right.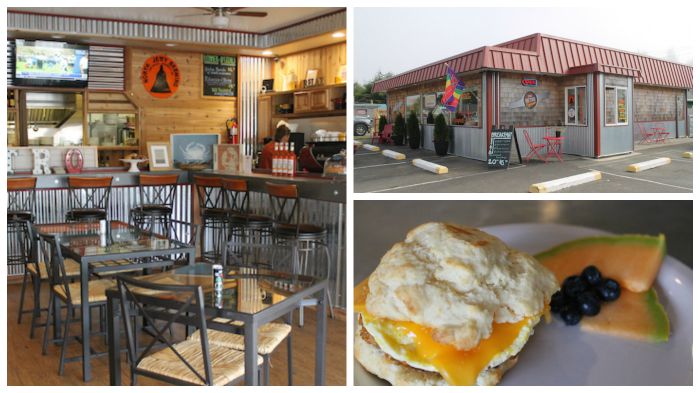 Pickled Fish
Website: http://www.pickledfishrestaurant.com/
Pickled Fish is located on the top floor of the Adrift Hotel* in Long Beach. Ensconced by wall-to-wall windows, patrons enjoy a birds-eye view of the dunes, beach, and ocean in the near distance. Pickled Fish is open seven days a week for brunch, provisions, and dinner and features live music every single night (see the website for a complete lineup). Starters include bone marrow and scotch eggs or more traditional options like steamer clams and chicken wings. I enjoyed the steak frites, but plan to try sea scallops served on a polenta griddle cake the next time we're in town. *If you self identify with the word "hipster" this hotel is for you.
Lost Roo
Website: http://lostroo.com/
Another couple-owned restaurant in Long Beach, the Lost Roo offers this back story for its name: Mark was born in Seattle and I [Helen] was born and raised in Montrose, Scotland. We met in Australia in 1983 (Brisbane youth hostel) and Mark nicknamed me ROO. After a long story we moved to Long Beach – and if there was ever a kangaroo in Long Beach it would definitely be lost, therefore "Lost Roo." A popular spot to watch the Seattle Seahawks dominate the NFL, the Lost Roo can accommodate 264 patrons in a combination of bar seating, a large indoor dining room, and enclosed and covered wrap-around porch. I tried the Dungeness crab melt, with regional crab served on grilled focaccia and covered with shallot cream cheese and a blanket of melted Tillamook cheddar. The Lost Roo is open seven days/week from 11:30am to close.
More Ideas
Truly, the above suggestions really only scratch the surface of places to eat on the Long Beach Peninsula. Want a shake or a malt? Try Scoopers in Long Beach. Want delicious and authentic Mexican tacos? You can't miss Streetside Taco, also in Long Beach. Want to just buy your own seafood and cook it up at your campsite or vacation condo? Hit up the Saturday Market in Ilwaco or just go to one of the local grocery stores.

If you enjoyed these recommendations, check out these additional stories:
What to do: 10 Ways to Enjoy Washington's Long Beach Peninsula
Where to stay: The Breakers, Family-Friendly Lodging in Long Beach, Washington
Happy Trails!