Assembled by President Thomas Jefferson in 1805, the Corps of Discovery set out to explore a newly acquired Louisiana Purchase. Led by Meriwether Lewis and William Clark, the Corps cross 4000 miles of previously uncharted wilderness over a span of four months. Words like arduous, rewarding, disheartening, and awestruck have been used to describe this journey. Two hundred and ten years have passed since the group followed the last few miles of the Columbia River Estuary on a cold and rainy day where fall and winter met head to head.
William Clark made a hasty entry in his journal, "Great joy in camp we are in View of the Ocian, this great Pacific Octean which we been So long anxious to See. and the roreing or noise made by the waves brakeing on the rockey Shores (as I Suppose) may be heard distictly." ~ November 7, 1805
Typos and all, this momentous occasion in U.S. history has been marked and preserved in what we now recognize as Washington's Long Beach Peninsula. And while you can come and appreciate the unspoiled territory beloved by Lewis, Clark, and Company, you can also visit the world's largest frying pan.
Frequenting the peninsula for the first time earlier this summer, I was surprised to learn the region welcomes around 1.5 million annual visitors. Significantly less commercial than other places we've visited on our wanderings around the country, one of the first things you may notice is the general lack of commercial lodging. As you might expect, you'll see souvenir shops brimming with fluorescent t-shirts and salt water taffy, but beyond a couple chain gas stations and one McDonald's, nothing was familiar. Hallelujah!
Hovering on the southern expanse of the peninsula, we stayed close to the towns of Ilwaco, Seaview, and Long Beach. With more than enough to keep us busy for a three-day weekend, we barely managed to relax—something you should move high on your "to do" list. In no particular order, here are ten (okay, eleven) ways to make the most of your visit to Washington's Long Beach Penninsula:
Feed the Giant Clam
This larger-than-life wooden razor clam squirts water on the hour from 9AM to 10PM. If you don't have the time or patience, deposit a mere 25 cents and make it rain. We recently went clamming on the Oregon coast (read the story here) and I can tell you this clam squirts much longer than in real life. This roadside attraction is adjacent to the giant frying pan and near the Columbia Pacific Farmer's Market (which runs on Friday between 4PM-7PM). If you are into people watching, stick around for a bit.

Walk the Long Beach Boardwalk
Cutting through the grass-covered sand dunes north from Sid Snyder Drive, the half-mile Long Beach Boardwalk is a pleasant place to stroll. From this vantage point, colorful kites dot the sky like sprinkles on ice cream. If you go, make sure and visit the wooden whales and whale skeleton interpretive display. If you need a bio-break, look for restrooms on either end of the boardwalk. The facility we frequented was cleverly camouflaged; we can now check "go to the bathroom inside a sand dune" off our bucket list.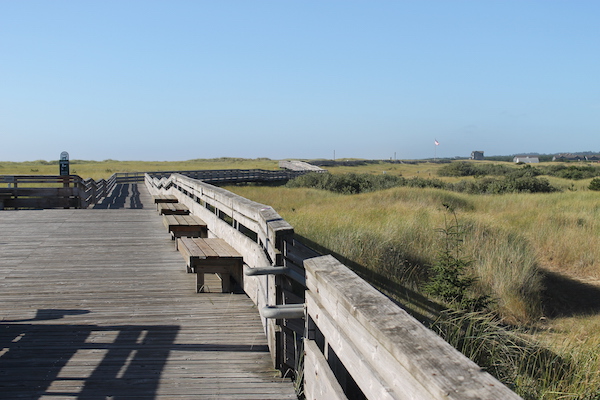 Ride a Horse Down the Beach
If you ever wanted to ride a horse on the beach and not spend more than $25, Back Country Wilderness Outfitters will hook you up. An hour long, out-and-back journey through the dunes and along the surf, Back Country has animals for visitors of all ages (including double riders if your child is a bit too young to go it alone). As you may notice in this photo, everyone is fairly bundled up for a mid-day ride at the end of July (a hooded sweatshirt is a great thing to toss in your suitcase).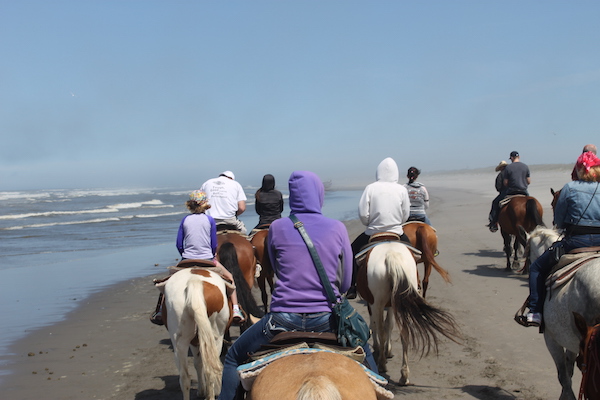 Picnic at Cape Disappointment State Park
A tragically ironic name for such a beautiful stretch of earth, Cape Disappointment State Park is anything but discouraging. This 1,182 acre park offers camping, hiking, two lighthouses, an interpretive center, and two miles of beachfront. Located near the Jetty Road entrance, Waikiki Beach is a perfect place for wading and making sand castles (when the wind is up, come and watch the surfers catch a wave). As you can see from this photo (by the way, taken from the parking lot), beach huts have been constructed out of driftwood. And if you look closely, you can see the Cape Disappointment Lighthouse up on the bluff. Truly. I can't imagine a more perfect spot for a picnic lunch.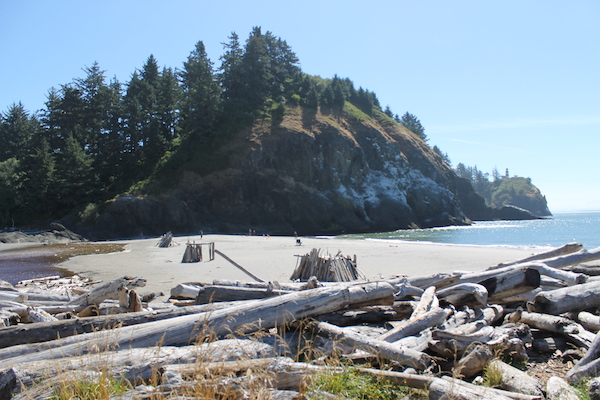 Bike Discovery Trail
Of all the unhurried memories we made on the Long Beach Peninsula, the most favorable happened on Discovery Trail, a paved multi-use path that spans nearly eight miles between The Breakers resort and the Port of Ilwaco. Riding borrowed cruiser bicycles, chunks of hair sprang free from our helmets as the wind helped to push us up and down the rolling terrain. Commemorating the 1805 Corps of Discovery expedition, look for interpretive displays including Clark's Tree and the whale skeleton located near the Long Beach Boardwalk. The trail is closed to motor vehicles, with the majority of the path running parallel to the ocean (runners and dog walkers will also love this experience).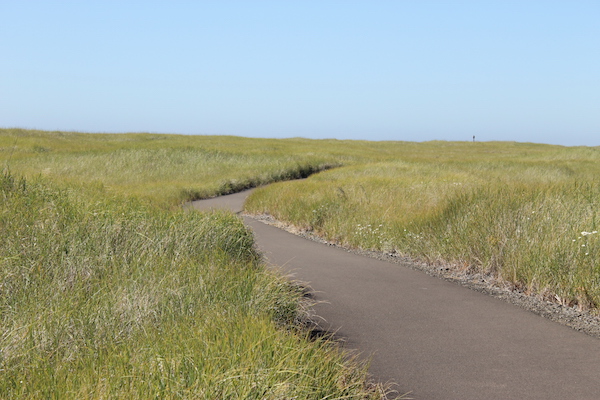 Find Jake the Alligator Man
Um, what? In this photo, you will see "Jake," a mummified half-human, half-alligator on display in a glass case at Marsh's Free Museum in downtown Long Beach. Jake's back story is mixed with a bit of folklore and strong elements of tall tale (he was discovered in a Florida swamp in the 60s and is rumored to have killed a man in Miami). "I Brake for Jake" bumper stickers pop up across the Pacific Northwest and Jake has a bit of a cult following. If you are curious, come to his 75th birthday party, happening this August 7-8 (visit Jake's website for more details). P.S. Elements of this event are PG-13.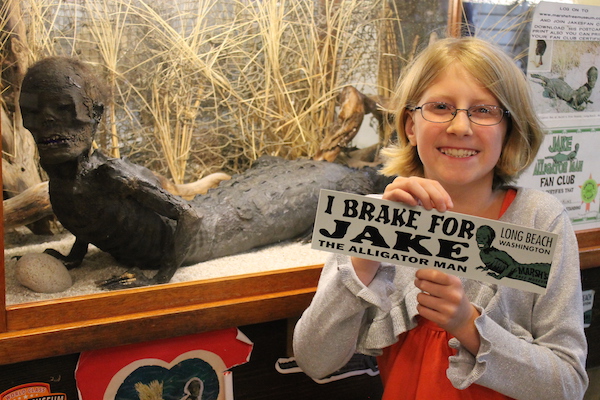 Fly a Kite
If there ever was a place to go fly a kite, Long Beach is it. For the past 35 years, Long Beach has reserved the third full week of August for its annual kite festival. The event draws some of the most talented kite flyers from around the word; tens of thousands of spectators are anticipated this year. Festival central, and otherwise open year-round is the World Kite Museum–as the name implies–the only museum in existence that is solely dedicated to the history of kites from around the world. Included with the price of museum admission is the opportunity for kids to build their own kite (or you can always pop into the gift shop and purchase one of your own).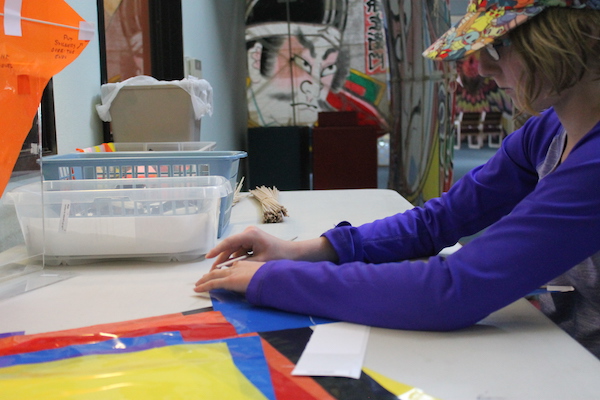 Surf at High Tide
With continuous surf and a sandy bottom, the Long Beach Peninsula is a surfer's paradise. If the urge to "hang loose" hits you like a long board on the side of your head, check out the peninsula's premiere surfing outfitter, Skookum Surf Co. Skookum has two locations, one up from the 38th Street beach approach in Seaview and the second in the first floor of the Salt Hotel on the Port of Ilwaco. The friendly folks at Skookum will gladly rent soft-top surfboards, skim boards, stand up paddle boards, and wetsuits to anyone needing equipment. Lacking experience and in need of encouragement, we opted for a two hour surfing lesson complete with dedicated instructor and all the gear. Within no time we were waist-high in high tide riding the waves like Sally Field in her prime. And if you are old enough to catch that reference, I'll add that "Surfing in Long Beach is the 'ultimate,' Moondoggie!" Rates vary based on the number in your group; advance reservations are strongly required (more information here).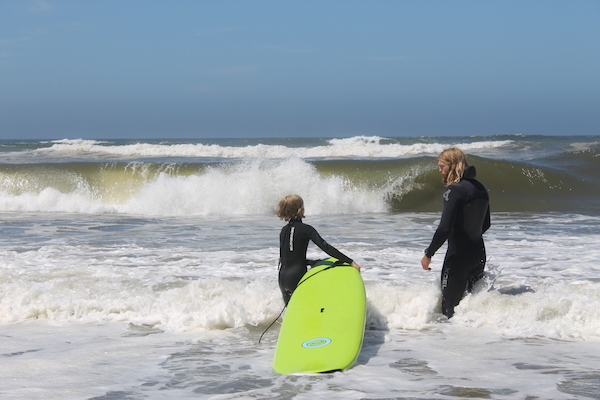 Climb the North Head Lighthouse
As illustrated by this photo, the Long Beach Peninsula clearly needs a lighthouse. Fortunately, it has two: North Head and Cape Disappointment. Despite modern-day navigation equipment and GPS technology, local fishermen rely on both lights to safely locate the mouth of the Columbia River. Open to the general public starting at 10AM, visitors can climb to the top of the North Head light (shown below, adults pay $2.50, kids are free). Both lights are located within Cape Disappointment State Park and are separated by a distance of two-miles (as the crow flies). If you go, leave time to hike through the old-growth Sitka spruce forest on trails that wind through both Beard's Hollow and Deadman's Cove.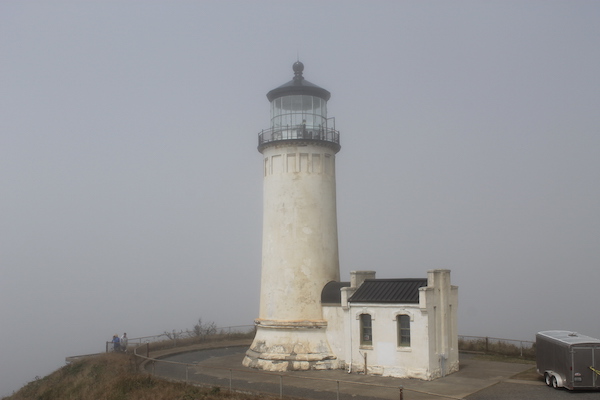 Watch the Sun Sink into the Pacific Ocean
In my estimation, there's nothing prettier than an Ocean sunrise, except for maybe an Ocean Sunset. Conveniently dropping into the ocean at 8:50 PM, no early-morning alarms were involved in the capturing of this photo. With 28-miles of contiguous beachfront, there's no shortage of places to catch your own sunset. Worth noting is that vehicles are allowed on the beach in designated areas. After watching a group of teenagers frantically dig a Honda Odyssey away from the encroaching tidewaters, I would like to remind drivers to both know the limits of their vehicles and personal driving abilities (we left our Ford Fiesta on the pavement and enjoyed the stroll to the water's edge).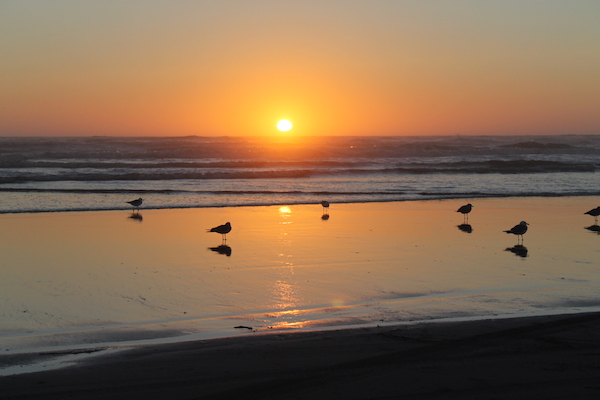 Learn About Lewis and Clark
Paying tribute to the aforementioned accomplishments of the Corps of Discovery, the Lewis and Clark Interpretive Center is a fantastic place to sneak in a bit of education on your family vacation. Built adjacent to Fort Canby within Cape Disappointment State Park, visitors to the center travel through a chronological, interpretive journey of the famous expedition. With many "hands on" exhibits, kids will enjoy this experience as much as adults. If you go, make sure and watch the short film presentation that runs every twenty minutes in the lower-level theater.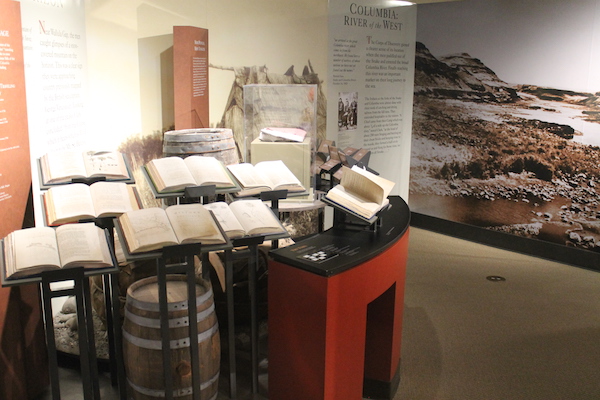 Need More Ideas?
Beyond my eleven points of interest are many other activities spanning the entire Long Beach Peninsula—blueberry picking, miniature golf, regular golf, clamming, crabbing, go-karts, etc, etc. Willing and able to point you in the right direction are the local tourism experts employed at the Long Beach Peninsula Visitors Bureau. In Seaview, look for this building near the intersection of 40th Street and Highway 101: