If you know me well, you will know Milwaukee, Wisconsin is my favorite "big city" in America. It's the city of neighborhoods, the city of festivals, and the city of beer. How can you go wrong? And while I love the Milwaukee County Zoo and Discovery World as much as the next person, I tend to grow weary of seeing the same travel suggestions. And I know you must too.
I'm here to give you some insider options with the Big City on the Lake.
First, you should know about Growing Power on W. Silver Springs Drive. This functional farm is in the heart of one of the most metropolitan areas of North Milwaukee. Growing Power gives me hope for mankind. You should make time to take a tour and bring your elementary and older kids.
Nothing against the Mitchell Park Domes, but Milwaukee has so many other options in the botanical spectrum. I think everyone should check out the Urban Ecology Center (multiple locations – all are awesome), Wehr Nature Center, Riveredge Nature Center, and Boerner Botanical Gardens. Or drive way up to the Schlitz Audubon Nature Center, where you can snowshoe down to see the massive Lake Michigan ice chunks in the heart of winter.
OR, why not take a stroll through the Lynden Sculpture Gardens (actually, this would be better on a trip to or from Growing Power, but it's a fun standalone too)?
Where to Stay in Milwaukee
Find family-friendly accommodations in Milwaukee, Wisconsin, from traditional hotels to private Air B&B homes through Stay22.com:

If man made nature is more your style, check out this neat waterfall at Lake Park (near the lighthouse, just follow the network of trails). If you are into photo bombs, this is a popular location for wedding and senior portraits. Ha!
On the subject of awkward photos, check out this this shot of the winter toboggan run at Lowell Park in Waukesha. Milwaukee has lots of fun stuff going on in the winter, like Candy Cane Lane and ice skating at Red Arrow Park.
If you are the type of person who loves a good garage sale, American Science and Surplus is waiting for you. (If you have ever visited Axman Surplus in Minneapolis, I swear this is the exact same merchandise).
You should also go to Art Smart's Dart Mart and Juggling Emporium on Brady Street and Winkie's in Whitefish Bay. In the kite flying season, you will want to drive down to Veteran's Park and check out Gift of Wings. You can also paddle boat around the Juneau Park Lagoon, like Central Park in Manhattan but way less romantic.
Milwaukee also has some super fun restaurants for families. My favorites are Evolution Gastro Pong (go early to beat the bar crowd), The Safe House spy bar (trust me), and Organ Piper Pizza.
SUPER FUN BONUS CONTENT: Organ Piper Pizza is listed as one of 10 Amazing Places in Wisconsin. You should also read that story. Click HERE.
What else? Downtown Milwaukee used to have an indoor water park, but now you need to drive out to Country Springs in Pewaukee. I like Country Springs and it's a heck of a lot closer than the Wisconsin Dells.
Does that help? If you liked this list or have a suggestion of your own, leave a comment below. If you Pin, here's an image you might want to bookmark for later.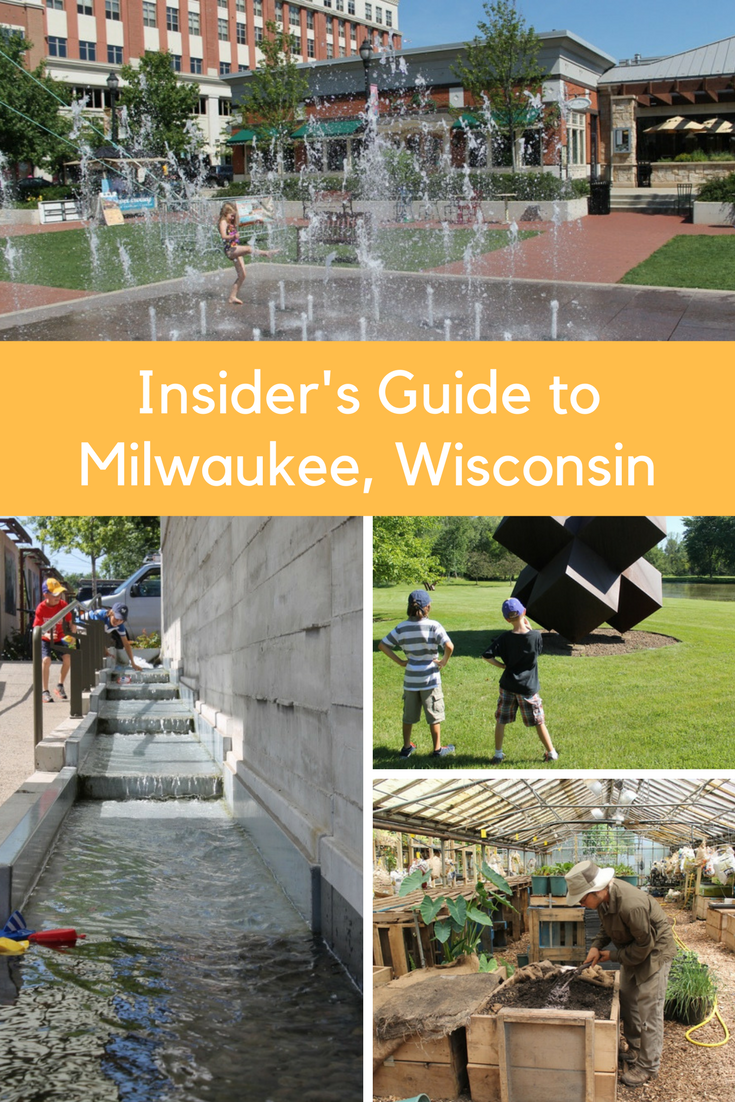 Happy Trails and Go Packers!