To beat the heat of the summer jump in your best ride and head north to a roller coaster ride filled with views of breathtaking rock formations and a kaleidoscope of wildlife and foliage along Highway 89A from Sedona to Flagstaff.
Slide Rock State Park
Rand-McNally named Highway 89's panoramic path through Oak Creek Canyon one of the most beautiful drives in America, designating it Arizona's first scenic route. Towering trees line the beds of Oak Creek, whose natural springs are said to have healing powers. The water winds through canyons framed by Sedona's famed red rock vistas. Attractions include hiking, biking and trout fishing. Be sure to stop at the Slide Rock State Park, where swimmers enjoy the 30-foot-long natural water slide.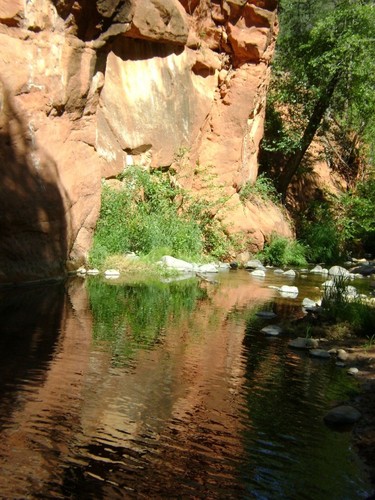 Route 89A winds its way through 23 miles of spectacular scenery not commonly associated with the usual image of Arizona where pine forests are more abundant than desert cacti. Considered the area's natural centerpiece, Oak Creek Canyon is noted for its narrow walls, dramatic rock formations, and the changing colors of its cliffs. The area offers an abundance of hiking options for all levels of hikers.
I've driven this route in the winter when my mom and I spent Christmas in Flagstaff and took the Grand Canyon Railway to the Grand Canyon (tip: read this story for our Grand Canyon National Park Itinerary). The jaunt took us along a series of switchbacks and hairpin turns that starts at an elevation of 4,500 feet in Sedona and climbs to 6,900 feet by the time you reach Flagstaff. With winter weather unpredictable and in some spots creating ice on the road, the drive was a bit of a challenge but no less exhilarating. For first time adventurers I recommend taking this amazing drive in warmer weather allowing you to have a more relaxed experience.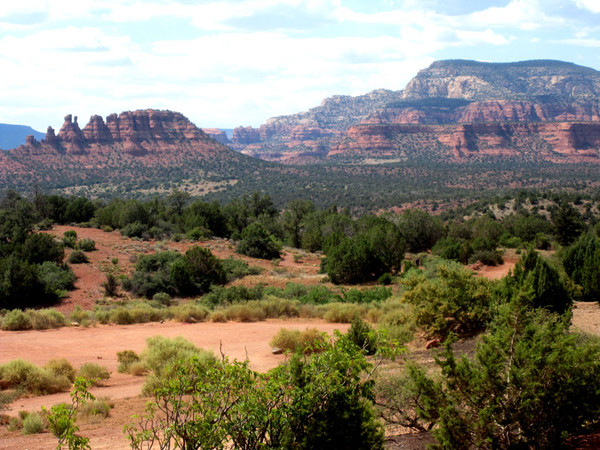 Oak Creek Canyon
As you begin on 89A departing the center of Sedona, you will start the gradual descent into Oak Creek Canyon. Truly magnificent, you might strain your neck trying to take in all the sights. There are moments as your driving that you think you can't wind and twist any more, then you turn a simple corner and WOW the road opens up and the views are overwhelming, expansive and unending. I don't think that I can do it justice with this simple description.
Book Your Stay
Midgley Bridge
On your drive there are plenty of overlooks, picnic areas and hiking trails, making it a great day trip. Make a pit stop at Midgely Bridge, a steel bridge that arches gracefully over the canyon. Cars pack the dirt lot at the bridge's north end. Many crowd along the fence separating the lot from the canyon below, snapping a few shots before heading on their way. Others walk down to the promontory below the bridge for a much better view.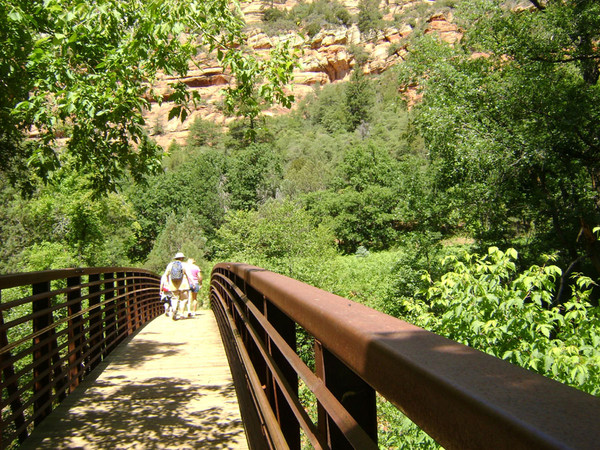 Feeling adventurous? Tackle the Huckaby Trail, a 2.6-mile path that descends into the canyon and follows Oak Creek.
Hike the Trails at West Fork
One of the most popular hiking trails is that of West Fork, a 3-mile long tail that begins in a meadow and follows the West Fork through rock formations and shady groves. There is a parking fee at West Fork (currently $8); West Fork is extremely popular during the summer months. West Fork is also popular with movie goers; it was the setting of the 1923 movie The Call of the Canyon, which was adapted from Zane Grey's novel of the same name.
The drive itself is on a paved road suitable for all types of vehicles, although RVs will find the going difficult through the switchbacks as the road rises out of the canyon heading north to Flagstaff. You can cover the 23 miles in about 45 minutes in a leisurely non-stop drive, but it can take a half-day or longer if you stop to enjoy the many sights along the way.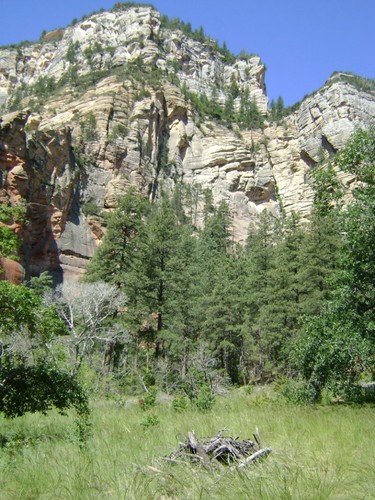 Oak Creek Canyon Vista
If you are lucky enough to make the drive after a rain, be sure to look for the appearance of azure cascades spilling over the cliff towers above. There are also various Native American vendors near Oak Creek Canyon vista at the canyon top who sell various Indian crafts and artisan designed jewelry. This stunning area is also home to many rustic cabins, cottages and bed and breakfast inns that add considerably to the charm of the creek. In all the beautiful scenic drives of Arizona, this is the one that no one should miss!
Guest Post: Bitten by the travel bug at an early age, Heather Schlichting loves to explore unique places and experience new adventures.  Whether it's checking out a new restaurant, taking a day trip or planning the vacation of a lifetime, we all need to get away.  Follow her blog and join on her journey.