While I live in the Pacific Northwest now, Wisconsin was my home for a solid decade. I've crawled around about every corner of the Dairy State, and picked ten of my favorite places to share with you all. In no particular order, here are 10 Amazing Places in Wisconsin.
1. Bay Beach Amusement Park, Green Bay
Website: http://greenbaywi.gov/baybeach/
Bay Beach Amusement Park in Green Bay is amazing for two reasons: it's dirt cheap and did I mention it's dirt cheap. Seriously, how does this place stay in business? Most rides cost one or two tickets, and this will set you back between 25 and 50 cents/ride/kid (a few of the "big kid" rides cost as much as one dollar). Concession food is also just as inexpensive. Bay Beach is a popular spot when the weather is nice, so you may have to stand in line for a bit.

2. Bookworm Gardens, Sheboygan
Website: http://www.bookwormgardens.org/
My opinion is this: Bookworm Gardens is probably the best place for toddlers and elementary-age kids in the entire state of Wisconsin. I cannot be alone in this sentiment. The visitor experience is centered around being "inside" some of the most popular and beloved children's books in print. I wrote a more comprehensive story about our visit in 2012; read it here.
3. Organ Piper Pizza, Greenfield
Website: http://www.organpiperpizza.com/
To sound completely cliche, Organ Piper Pizza is one of Milwaukee County's most hidden little gems. Delighting and entertaining patrons since 1976, the Organ Piper experience is as much about enjoying pizza is it is listening to the sounds of the Mighty Wurlitzer, one of a handful of vintage theatre pipe organs scattered around the country. The organ is connected to different interactive elements and blinking lights that frame the main dining room; seriously, you can't be in a bad mood here. Ever. (P.S. The Safe House 007 spy bar/restaurant in downtown Milwaukee is also pretty darn cool. Email me for the password. Wink!)
4. Kohler Design Center, Kohler
Website: http://www.us.kohler.com/us/About-the-KOHLER-Design-Center/content/CNT400052.htm
Do you ever go into IKEA and pretend you live in one of the little design showrooms? (Or maybe it's just me and now you think I'm weird.) The Kohler Design Center is like this, but only bathrooms. I always wish we could afford one of the swanky, eclectic, infinity tubs, or the giant freestanding jellybean tubs; so here you can "play pretend" for a little bit. If you are into toilet history (I'm sticking to toilet humor), check out the small museum on the lower level. A word of caution: your kids will probably get wet and also the buttons on the bidets are not disabled. You're welcome.
5. All of the Museums in Kenosha
Website: http://www.visitkenosha.com/
Do you only come to Kenosha for discounted underpants at the Jockey outlet store? Busted! The next time you are stocking up on boxer briefs, head into downtown and visit any of the city's museums (choices are: The Kenosha History Center, Kenosha Public Museum, Kenosha Public Museum History & Fine Art, Dinosaur Discovery Museum, and the Civil War Museum). Many (if not all) of the museums are affiliated with the Smithsonian Institute in Washington DC. Before you leave town, make sure and ride one of the streetcars on the Kenosha Electric Railway. You'll feel like you're in the opening credits of Mr. Rogers' Neighborhood!
6. Old World Wisconsin, Eagle
Website: http://oldworldwisconsin.wisconsinhistory.org/
I like to take my kids to places that are "totally boring," (i.e. destinations that offer a plethora of opportunities to lean about history, social studies, ecology, and the world we live in). An easy drive from both Madison and Milwaukee, Old World Wisconsin is a living history museum focused on Wisconsin's early farmsteaders, many of whom immigrated from Europe. Museum interpreters are dressed in period costumes, and you may see teams of horses hooked to plows, cows being milked, or various trades and activities (like spinning twine in the photo below).
7. Paper Discovery Center, Appleton
Website: http://www.paperdiscoverycenter.org/
Another "eye roll" super boring destination is the Paper Discovery Center in Appleton. A nice cold weather destination, the museum is both interactive and engaging and focuses on the impact of the paper industry throughout the Fox Valley and Northern Wisconsin. We enjoyed making our own paper samples in the paper lab and posing for souvenir photos in front of the giant sneezing nose in the Kimberly Clark health & hygiene exhibit. Wisconsin = cheese + toilet paper. Two things equally important for a happy existence.
8. Cascade Falls, Osceola
Website: http://www.co.polk.wi.us/tourism
In 2014, I spent a bunch of time visiting waterfalls across Northern Wisconsin and Michigan's Upper Peninsula. Probably the easiest (and safest) for kids is Cascade Falls in Osceola. First, the falls are basically right off the street that runs through the heart of the downtown district—but, you'll have to climb a TON of stairs, so don't leave your camera in the car like I did. Second, kids can scuttle around on the rocks at the base of the falls and also climb behind the water (maybe have them wear decent shoes or sandals, though). Nearby is the Osceola and St. Croux Valley Railway that would probably make for a pretty cool fall-color experience right about now.  Check it out.
9. Road America, Elkhart Lake
Website: http://www.roadamerica.com/
Who hasn't watched the movie Talladaga Nights and wished they could channel their inner Ricky Bobby? Located in arguably one of the most beautiful regions in Wisconsin, anyone venturing out to the Kettle Moraines should make a pit stop* at Road America. And while you can always attend one of the races, did you know you can also race on zip lines, drive all-terrain vehicles through the woods, and race a go-kart at speeds hovering around 40mph. Plus, who wouldn't like to get their own vehicle out onto the main racecourse (check out the sunset cruise here)? * Catch that pun?
10. 45 X 90, Poniatowski
Website: http://www.atlasobscura.com/places/45-x-90-geographical-marker
The exact location where the 90th Meridian of Longitude bisects the 45th Parallel of Latitude is basically in the middle of a corn field in Poniatowski, Wisconsin. Of the four 45 X 90 intersections on earth, only two are accessible by land (the other is in China). And while this isn't as exciting as riding a wooden roller coaster or watching Indy cars whip around a tight curve, at least you can tell someone how to find you if your car runs out of gas! You are looking for the wooden geographical marker in the photo below.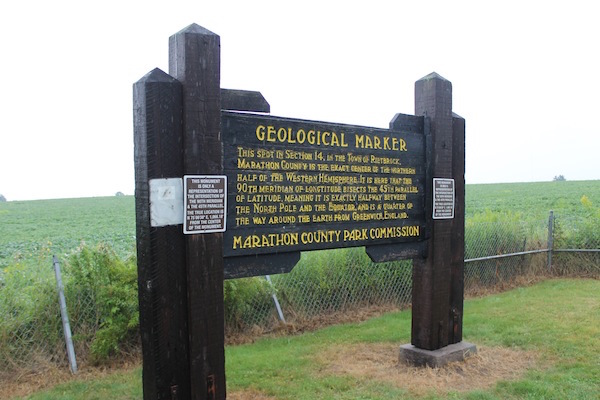 That's all folks! Leave a comment if you have a Wisconsin favorite of your own.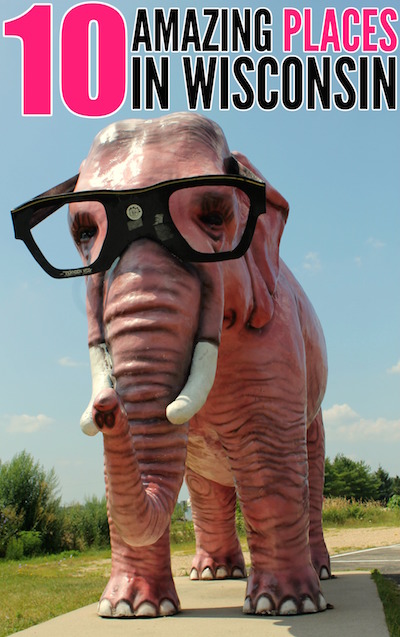 Happy Trails!