Located on the northern edge of Florence, Oregon, Sand Master Park is a 40-acre privately owned expanse of sand dunes spanning the distance between US Highway 101 and Harbor Vista County Park on the Oregon coast.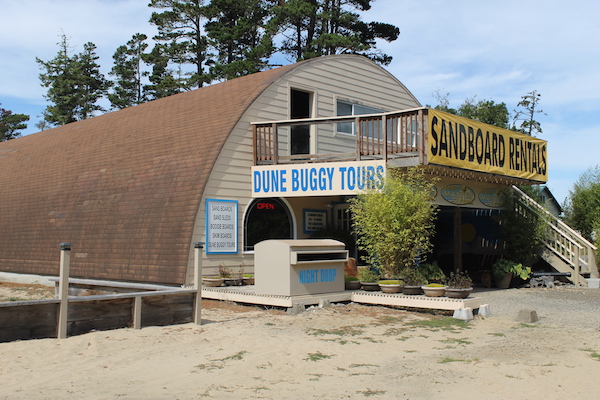 The first sandboarding park in the world, Sand Master opened its doors in 2000 and offers three key attractions: sandboarding and jumping, dune buggy rides, and free sand sculpture competitions that run throughout the summer.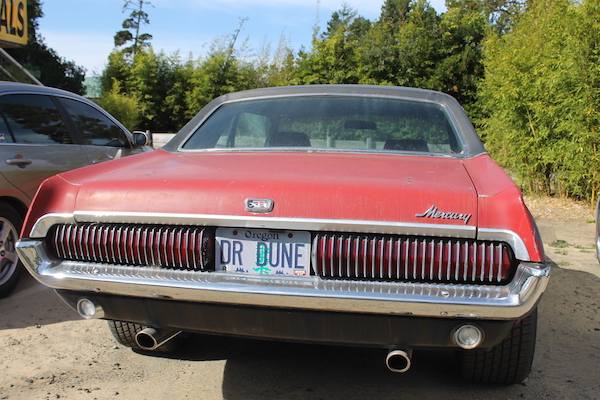 Florence resident Lon Beale runs the operation from what used to be the local fire station. When he moved in, the building was empty and needed a major gutting and remodel. Beale answers to both Lon and Dr. Dune.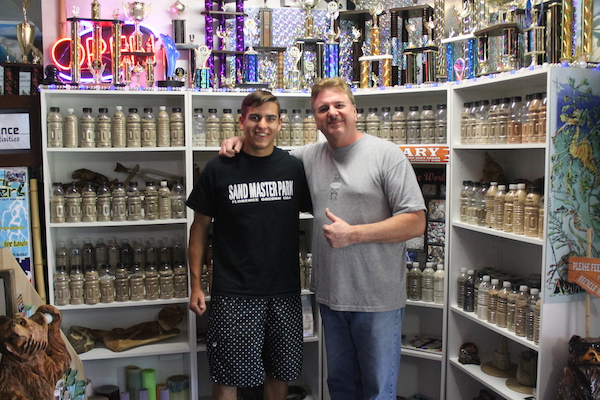 A certifiable expert on sand, Beale has traveled to sand dunes across the country and in exotic, far flung corners of the world. Plastic bottles filled with sand line the shelves on one wall of the shop; visitors are welcome to inspect and compare the specimens in his collection. You also can't help but notice the impressive volume of trophies and awards that occupy any available shelf space.
Adding to the accolades is Logan Livingston (left in the photo above), Sand Master Park employee and current Dune Riders International US Amateur Men's Champion. Livingson is entering his sophomore year at the University of Oregon and spends his summers competing and teaching other people to sandboard, including our family.
Travel Tip: Check out Sand Ranch Rock Shop & Souvenirs, the newest attraction at Sand Master Park: https://www.roadtripsforfamilies.com/2015/09/sand-ranch/
Otherwise, the front of the building is a small pro-shop with helmets, wax, stickers, t-shirts, and boards available for rent or purchase. Beale handcrafts his own boards; three different rental options are available $10, $16, and $20.
The more expensive boards have upgraded bindings and heel pads (offering more cushion for people who jump). The less expensive boards don't have raised edges, but offer individuals a great baseline with half the price. As you might expect, the $16 boards are a popular middle ground. Rentals run for 24 hours and can be returned in a night drop box if necessary; multiple-day rentals are less expensive (read the rates and tours page for prices and fine print).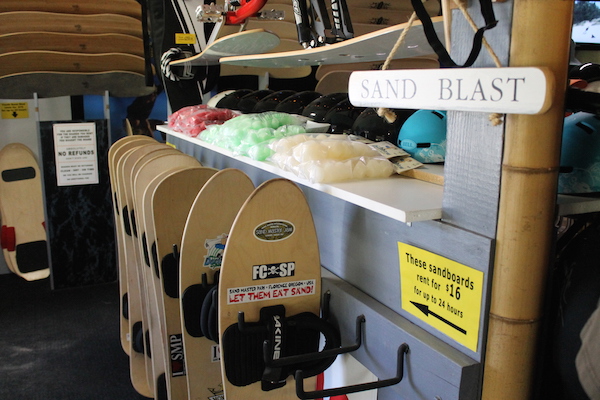 Instructor-led lessons are also available and the hourly rate become less expensive as the number of people in your group increases. We were lucky enough to accompany Logan Livingston to a beginner hill at Sand Master Park that was mostly protected from the wind. On the subject of wind…while it is a "necessity" for the formation of sand dunes, it's also a really annoying vehicle for blowing sand into your ears, nose, and eyes. If you have downhill ski goggles, my suggestion is to bring them along. (Also, if you wear contacts, bring a bottle of saline solution or plan to wear your glasses for the day.) I also highly recommend chapstick, sunscreen, and a CamelBak or other backpack style water pouch.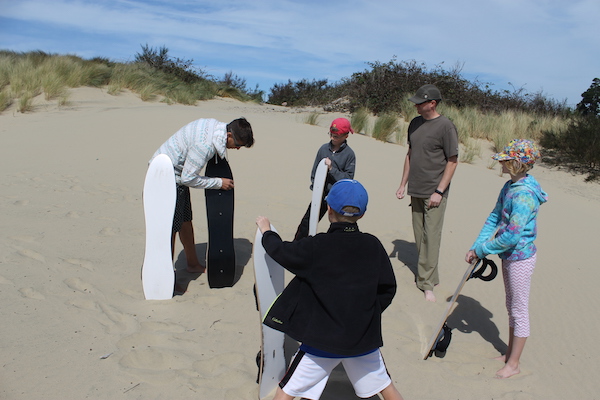 In this photo, Logan is demonstrating how to wax the boards before every run. Free wax comes with your equipment rental. Worth mentioning is our previous knowledge of snowboarding, a skill that is both similar and different from sandboarding. When sandboarding, you place your weight more on your back leg and turning is less about using your toes. In general, falling in the sand is soft and forgiving. Towards the end of the day, I found myself wishing I had worn wrist guards, but none of the kids complained or seemed to be sore or bothered when they fell.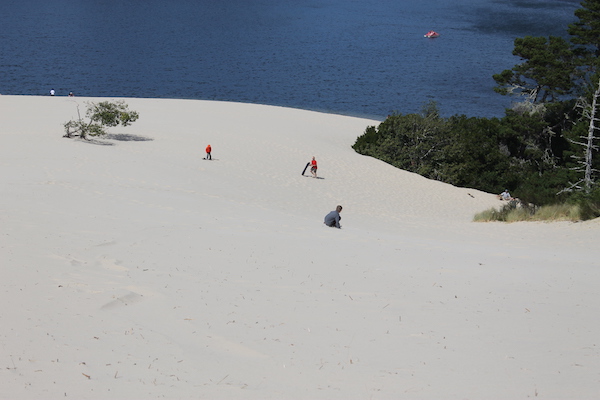 While guests are welcome to venture out onto any of the advanced and beginner dunes at Sand Master Park, they can also load up their equipment and venture out to ten different sandboarding locations within ten miles (pick up a map or ask for directions at the pro shop). We opted for Jessie M Honeyman Memorial State Park on the southern edge of town.
Travel Tip: Read about our adventure hiking the Oregon Dunes National Area in this story: https://www.roadtripsforfamilies.com/2015/06/hiking-the-oregon-dunes-national-recreation-area/
The dunes at Honeyman are both conveniently located near the parking area (and water and modern toilets) and somewhat sheltered from the wind—it's a great spot for families.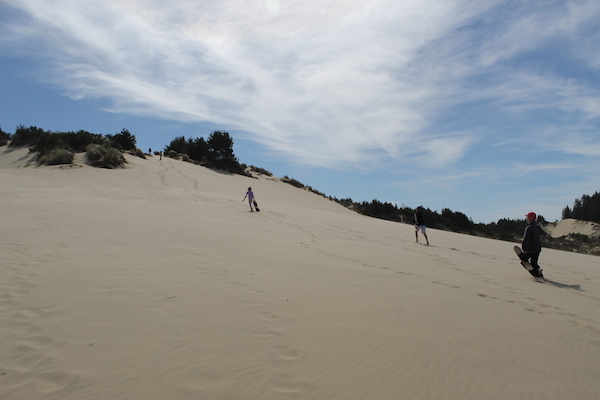 Plus, the views aren't too shabby!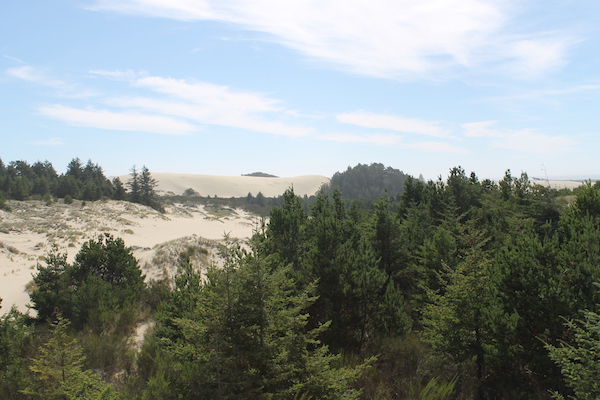 Different from snowboarding are the lack of chair lifts whisking you back to the top of the hill. After a few hours of climbing up and down the dunes, your calves will start talking to you!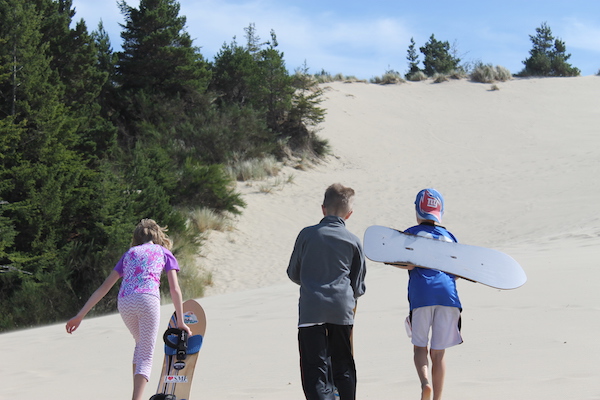 As it turned out, sandboarding was perfect for our elementary- and middle-school age kids. This photo demonstrates a rare moment of sibling harmony. And check out the hand drag from our surfer girl! I'm sure they will ask to sandboard the next time we are on the Oregon coast.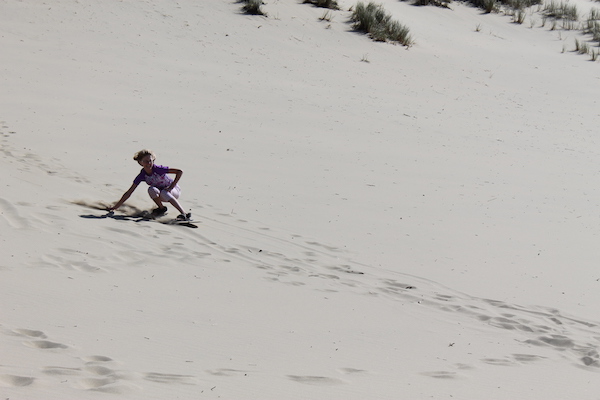 Upon returning your gear, note the dune buggy rides and other previously mentioned attractions at Sand Master Park. We visited in early September and the dune buggies were out for annual repair, but you can bet we're coming back to check out that action in 2016.
For more information, conditions, prices, and to plan your own sandboarding adventure, visit the Sand Master Park website at: http://www.sandmasterpark.com/ Tell the doctor we sent you!