Even before we moved to the Pacific Northwest, we started exploring the many hot springs across the region and Jackson WellSprings in Southern Oregon has been on my bucket list for some time. With warmish temperatures in mid-April, we piled into the Subaru on a Sunday afternoon and made the three-hour drive in time for our 4pm online pool reservation. Conveniently located a few minutes off the I-5 corridor, Jackson WellSprings is a fun and convenient stop for families driving through or coming to the area.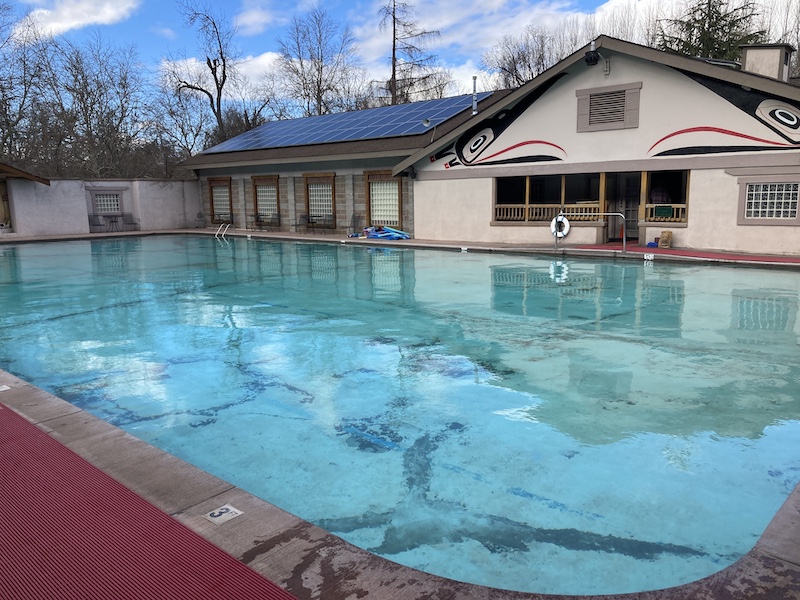 Located in Ashland (home of the Oregon Shakespeare Festival), Jackson WellSprings is a spa and events center best known for its Olympic-sized swimming pool that receives 80,000 gallons of naturally alkaline, mineral water every day. You can read more about the history of the land, the facility, and future plans for the education and healing center on the "about us" page of the WellSprings website.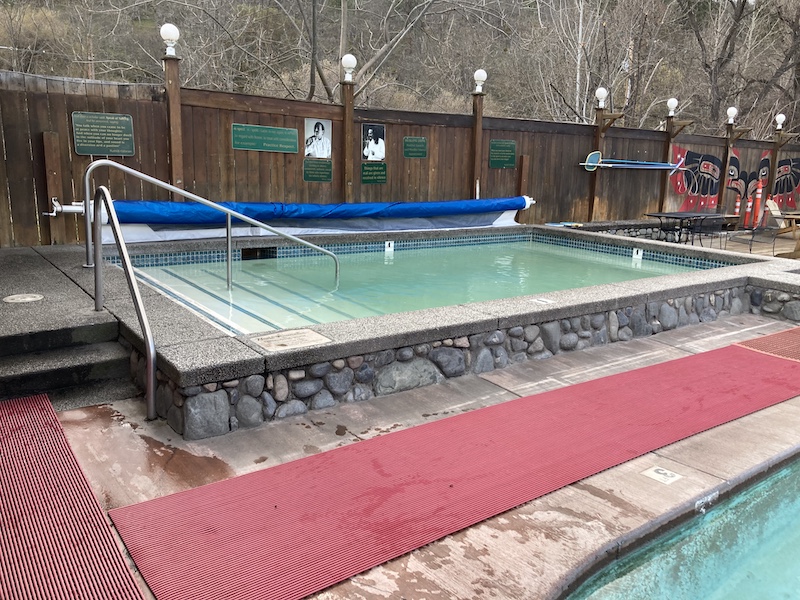 Worth noting for consideration before making a reservation or planning a trip is that the pool and spa (and steam room) are sometimes clothing optional and sometimes only open to women (Monday, but confirm). Also worth noting is that the pools are cleaned one day a week (Sunday, and also confirm). Lockers are available in the locker rooms (bring a lock) and towels are available for rent at the front desk.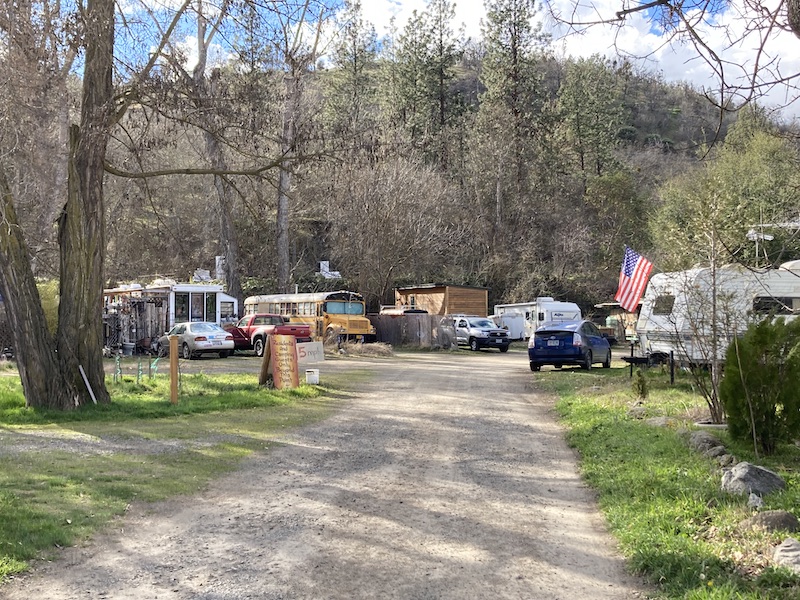 While the pool felt quite cold in 50-degree weather, we did plunge in after soaking in the spa. I wished I had remembered goggles and ear plugs for swimming laps, as we had the water mostly to ourselves. If you are passing through and looking for lodging, there are some sites in the adjacent campground, but most looked to be permanent or semi-permanent residents.
Other Hot Springs Worth Checking Out
* In Oregon, we've been to Terwilliger (aka Cougar), Belknap, Kah-Nee-Ta, and McMenamins in Bend (technically a Turkish bath, but still fabulous). In Wyoming,  Hot Springs State Park in Thermopolis is one of the coolest state parks in America. Not only is the region geographically and archeologically significant, there's a water park for kids and fun hotels right on the Bighorn River. Soaking in the pools at Sol Duc Hot Springs in the Olympic National Park's interior was the highlight of a recent road trip through Washington state. Boulder Hot Springs on the outskirts of Helena, Montana remains one of my favorite off-the-beaten path hot springs to date.
Happy Trails!