When we told people we were going to Montana on a family vacation, most everyone asked us if we were going to Glacier National Park or to Yellowstone National Park. Opting for the road less traveled, we chose Helena—the capital city located geographically between the two national treasures. Having lived in Colorado for several years, we have come to miss the mountains and wanted to have an "urban adventure" on our way out West.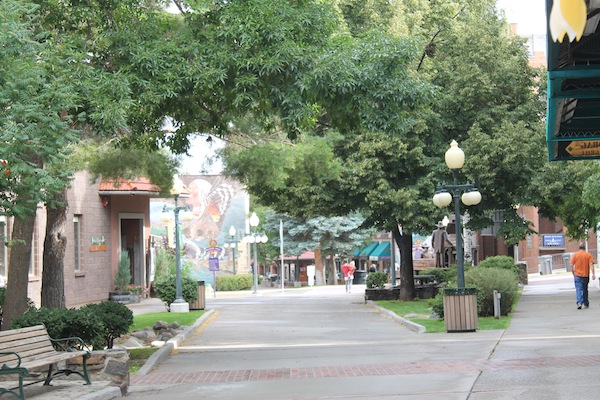 One of the most genuine, down-to-earth, friendly cities we've ever encountered, Helena is about as real as it gets. A place that clearly values community and a work-life balance, here are some suggestions for a family vacation in Helena, Montana:
Montana Wild Outdoor Education Center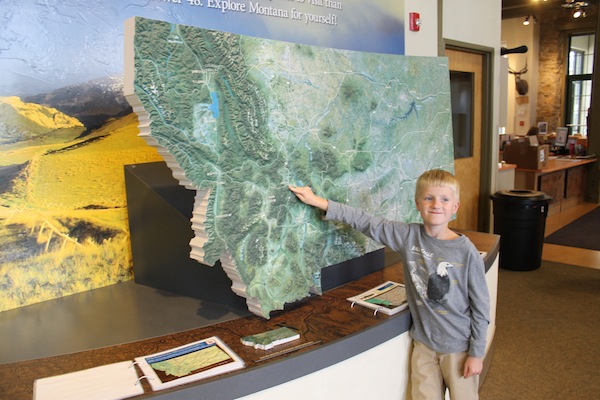 Open to the general public, the Montana Wild Outdoor Education Center is a great way for us "out-of-staters" to learn about the flora and fauna indigenous to the region. From huckleberries to paddlefish, many of the displays are hands-on with kids in mind. Taking the time to complete the indoor scavenger hunt (ask for a copy with the naturalist at the reception desk), each kid received a prize from the treasure box. When we were done counting scales on fish and points on antlers, we wandered out near the archery range and fishing pond for a hike on the nature trail.
Archie Bray Foundation for the Ceramic Arts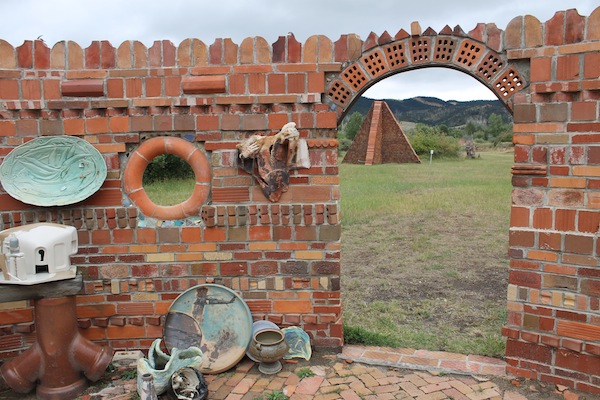 One of the highlights of our entire trip was happening upon the Archie Bray Foundation for the Ceramic Arts. A campus of sorts for people interested in advancing their careers in ceramic arts, the foundation is a non-profit educational institution founded by late Helena brickmaker Arhie Bray in 1951. Located on Country Club Avenue no the edge of town, visitors are invited to participate in a walking tour that highlights fifteen different points of interest (from the picnic area and gazebo to the Bray family home and the warehouse gallery). Not the most "stroller friendly" of destinations, our elementary-age kids enjoyed darting between the different shrines and sculptures.
Reeder's Alley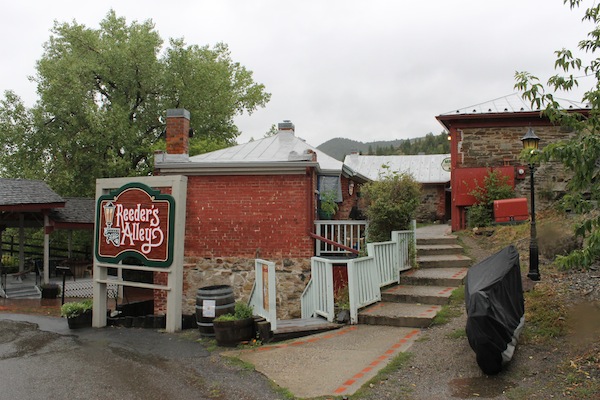 The "oldest intact piece of early Helena," Reeder's Alley will give you an appreciation for the settlement of the area by miners and fortune seekers in the 1860s. A bit like stepping back in time, Reeder's Alley is the perfect location for the Helena Tourism Alliance (stop in and say hello and pick up a few maps and pamphlets while you are in the neighborhood). And if your visit coincides with lunch or dinner, make sure and follow the signs to Karmadillos, a "local favorite" place to sit out on the patio and enjoy authentic Southwestern food and a cold beer.
Centennial and Memorial Parks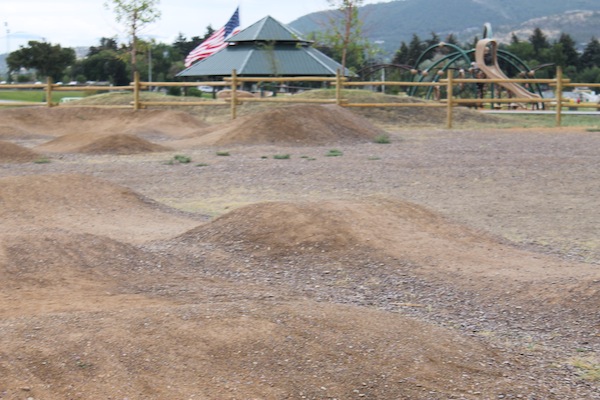 Located on opposite sides of North Main Street (between Interstate 15 and Highway 12) are two fabulous community parks: Centennial Park and Memorial Park. With a more "open" feel, Centennial Park is the larger of the two and features a modern playground, BMX pump bike track, climbing rock, enclosed dog park, and paved hiking/biking trail with exercise stations. Memorial Park is clearly the older of the two and is shaded by majestic old pine and leafy trees. It's here you'll find an amphitheater, community-built "dream" playground, and veterans memorial. The Last Chance Splash Waterpark & Pool and Kendrick Legion Field (home to The Helena Brewers, the short season-professional baseball affiliate for the Milwaukee Brewers in Milwaukee, Wisconsin)
Exploration Works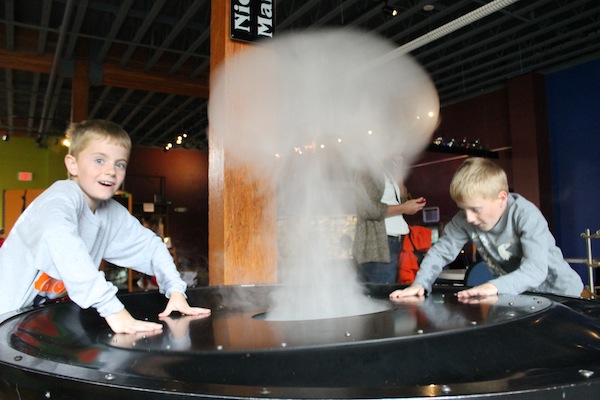 Helena's "hands on science museum," Exploration Works turned out to be a fabulous diversion on what was an other wise overcast and rainy day. Ideal for toddlers all the way up to pre-teen the two-story museum features a water table, outdoor music garden, and classrooms for groups and special events. Exploration Works participates in the Association of Science-Technology Centers passport program, so if you are a current member of any of over 300 museums and science centers on this list, your admission will be complimentary.
Where to Stay
Find family-friendly accommodations in Helena from traditional hotels to private Air B&B homes through Stay22.com (see below for our personal recommendations):
Helena State Capitol Building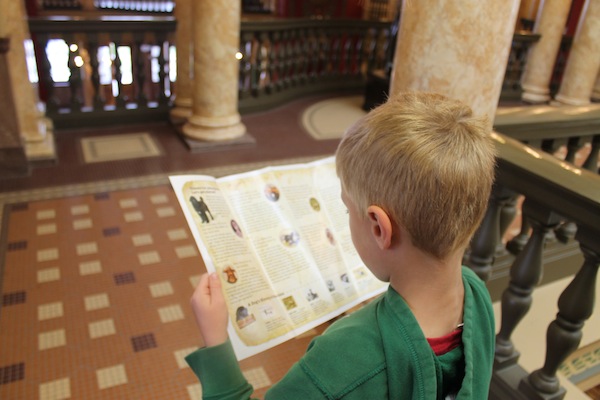 Some families frequent Hard Rock Cafes or Six Flag Amusement Parks. We like state capitol buildings. A free and excellent opportunity to sneak in a bit of social studies on vacation, the Helena State Capitol Building is on par with others we have visited. Unique to this location is a scavenger hunt designed to bring children around the complex while they look for "clues" in sculptures, photos, and paintings. This was an especially huge hit with our future third grader. If you're looking for a more structured experience that focuses on the history of the state and the inner-workings of the government, guided tours leave on the hour from the information desk on the main level.
Montana's Museum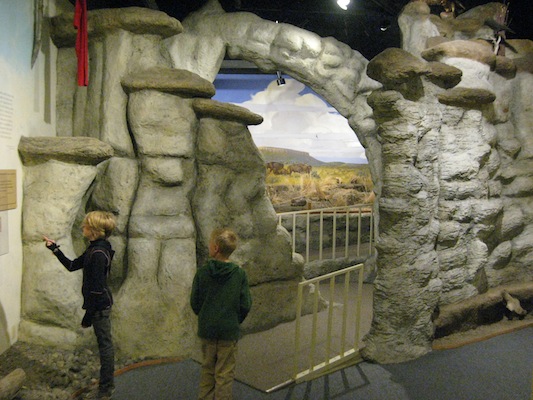 Across the street from the capitol building is Montana's Museum, the Montana Historical Society Museum. What you might expect based on the name, the museum "collects, preserves, and interprets fine art, historical, archaeological, and ethnological artifacts that pertain to Montana and its adjoining geographic region." Better for elementary-and-older kids, we enjoyed a visit to Montana's Museum as part of our rainy day adventure. Engaging in some of the more interactive displays and activities, plan to spend an hour or so at this location (admission is affordable at $5 for adults, $1 for kids, or $12 for the entire family).
The Painted Pony and Great Northern Carousel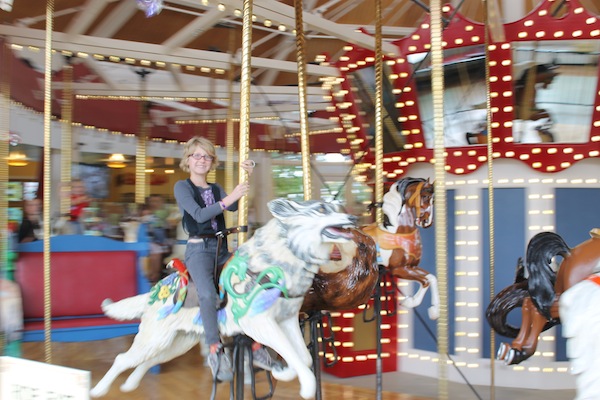 The most colorful destination on our family vacation in Helena was the Painted Pony Ice Cream Parlor & Gift Shop. An old-fashioned ice cream parlor complete with carousel, we ordered a triple scoop ice cream Sunday and gave it the ol' college try. Caved, painted, and installed by some of the world's most acclaimed carousel artists, children can ride one of 37 unique Montana animals on The Great Northern Carousel ($1.50/ride). As the carousel spins, patrons reach for plastic rings held on a wooden arm that extends out towards them. The rings are then tossed towards a wooden clown holding a net (but don't throw the brass ring, as this lucky rider wins a special prize).
Staggering Ox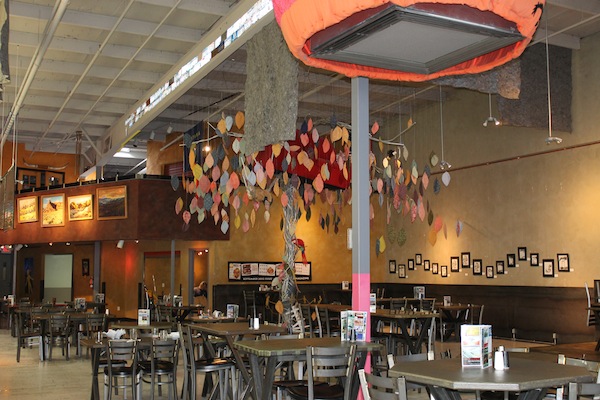 If you follow this site regularly, you know we try and frequent independent and "hidden gem" dining venues everywhere we go. Whether it's the ambiance, the food, or the experience, the Staggering Ox meets all three criteria for a truly awesome discovery. Somewhat hidden in a strip mall next to CVS pharmacy (400 Euclid Avenue, to be exact), the Staggering Ox is absolutely huge on the inside. From the up-cycled decorations, to the cement tabletops, and the fountain drinks served in mason jars, people come here to order clubfoot sandwiches, which are sort of like hollowed out loves of bread that look like they were baked inside a can of beans.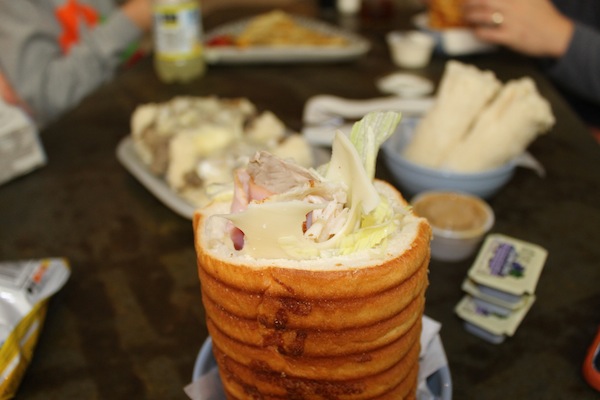 Of course, none of the kids would try a clubfoot sandwich, so we ordered them ox fingers with peanut butter and jelly and peace was restored for one more meal.
Boulder Hot Springs & Conference Center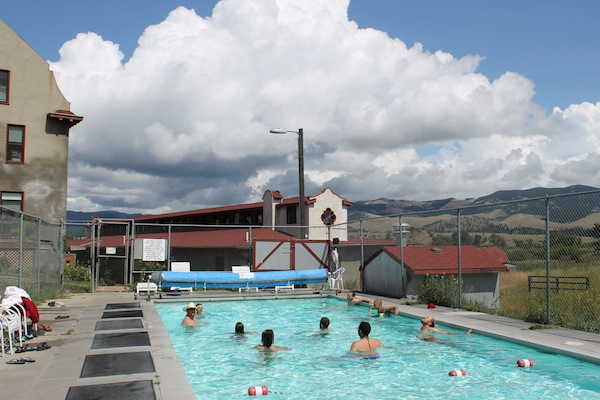 A short drive south on Interstate 15, Boulder Hot Springs & Conference Center in Boulder, Montana is a "must see," if you want to experience the benefit of the regions geothermal activity. While people stay at the B&B portion of the hot springs and conference center, we confirmed it was possible to visit for the day and planned ahead with bathing suits and towels. Families will enjoy the larger outdoor pool, which is heated to a comfortable 96-100 degrees Fahrenheit. Inside the genders are separated into men and women's spa areas that feature steam rooms and hot pools (kept slightly warmer at 103-106 degrees Fahrenheit). Sorry guys, but the women's area also has a fabulous cold plunge pool that does wonders for our blood circulation.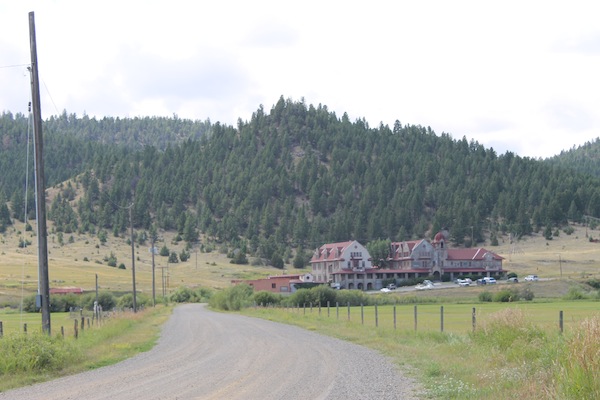 Now, if you are used to a five-star spa experience with infinity pools and cabana boys, this is not the venue for you. That said, if you are just looking for an affordable and unique way to get you out into some of the most beautiful scenery you can imagine, by all means go. When you're done, you can even buy a soft serve ice cream cone (and, if you forgot your suit or towel, you can rent both from the front desk). P.S. If you believe in ghosts, keep an eye out for strange activity inside the building.
Helena Montana GeoTour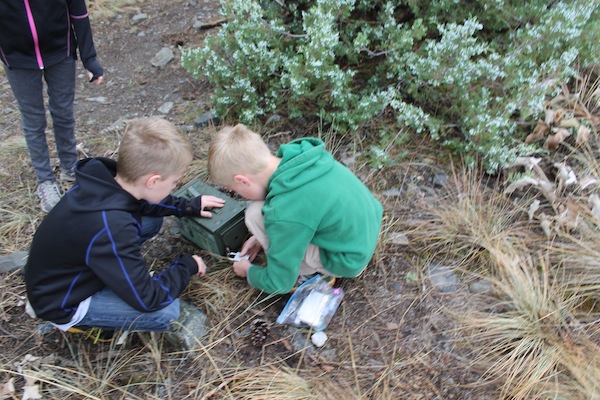 Recently selected by Rand McNally as the best place for geocaching in the United States, the Helena Montana GeoTour showcases the best Helena has to offer by taking high-tech treasure hunters to 38 truly unique destinations located in town and out into Lewis and Clark County. Coming into town specifically for the GeoTour, look for a more complete story on this experience soon.
Big Dipper Ice Cream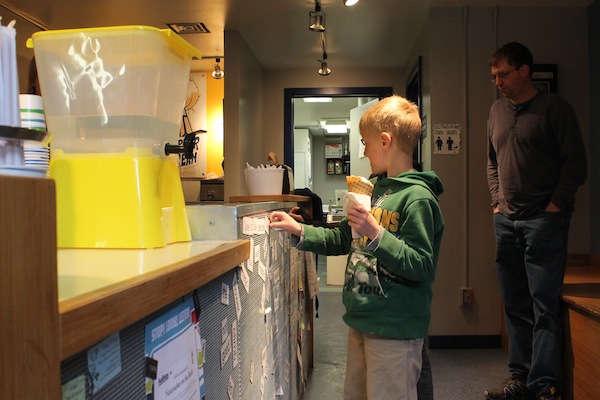 Licking our way through Helena's ice cream hot spots, Big Dipper Ice Cream was one of our favorites. Located on the downtown pedestrian mall, patrons can enjoy their treats on-the-go or from anywhere in the two-story seating area (ask for chalk if you go upstairs, or just stay closer to the cash register and play with the giant magnetic poetry).
Tours: Last Chance Tour Train and Gates of the Mountains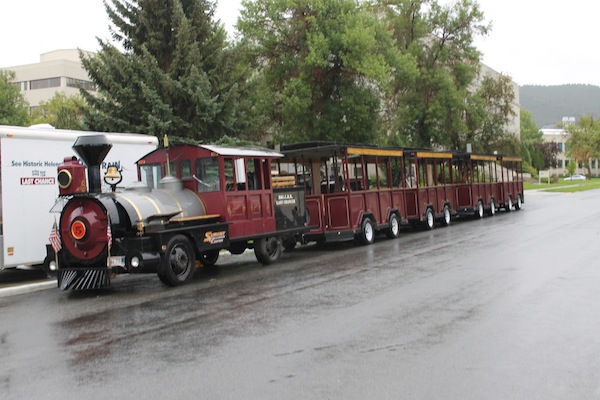 Unseasonably cold and rainy on our trip to Helena, we were unable to enjoy to of the most popular tours the city has to offer (but this is high on our "to do" list the next time we're in town). The first, Last Chance Tour Train, is a "train" ride that takes visitors on a tour of the city and boards and departs from the corner of 6th and Roberts. Tour highlights include the Cathedral of St. Helena, the Old Fire Tower, the mansion district, and Reeder's Alley. Alternately, the Gates of the Mountains tour brings visitors out into the wilderness for a two hour boat ride on the Missouri river to admire some of the most majestic scenery and wildlife (as Lewis and Clark might have observed in their 1805 expedition).
he 120-minute cruise starts at our marina, just 3 miles off Interstate 15 in the foothills of the Rocky Mountains between Helena and Great Falls, Montana. Aboard a comfortable open-air boat (covered in case of rain), you'll glide through magnificent country Meriwether Lewis would still recognize if he could return. – See more at: http://www.gatesofthemountains.com/#sthash.6dEP2WL1.dpuf
Leslie's Montana Shop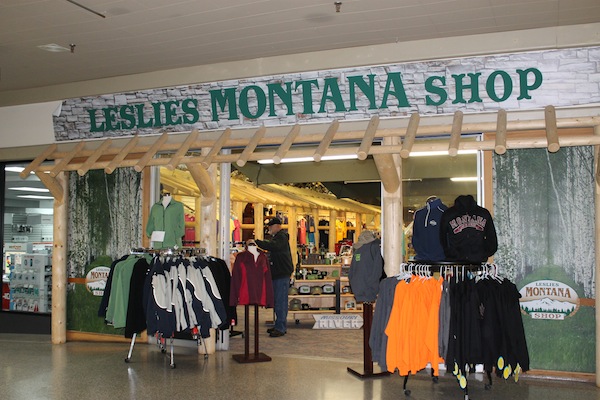 If by the end of your visit to Helena, you have developed as much of  love affair with the huckleberry as I did, consider popping into Leslie's Montana Shop located inside the Capital Hill Mall at 1600 11th Avenue (look for the entrance to Leslie's Hallmark Store and then continue through to the indoor mall area). In addition to all-things-huckleberry, you'll find clothing, regional artwork, jewelry, postcards, magnets, mugs and the like.
Where to Stay: Comfort Suites
The first of two places we stayed during our visit to Helena was the Comfort Suites located near the Helena Regional Airport. Convenient, clean, and modern, the Comfort Suites impressed us with their hospitality. From nightly carafes of piping hot soup to the water bottle friendly Brita hydration station, USB charging stations in the rooms, and the motorcycle cleaning station, it's easy to see why this location was recently awarded a 2014 Platinum Choice award from ChoiceHotels.com.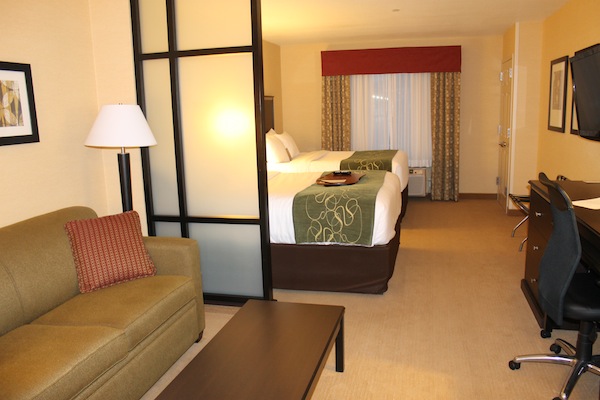 With a decent sized swimming pool and hot tub, the kids swam while we did laundry and relaxed on the comfortable lounge chairs. Not to mention, daily continental breakfast was one of the best we've enjoyed all summer long.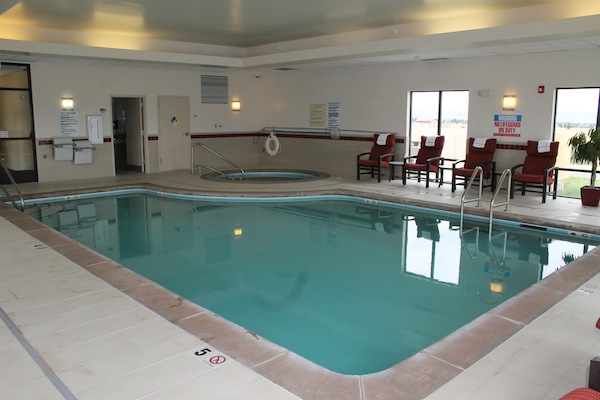 Where to Stay: Best Western Premier Great Northern
The Best Western Premier Great Northern is located in the heart of Helena's Great Northern Town Center, which describes itself as the "uptown of downtown."
The hotel is quite literally a stone's throw from fine dining, culture, and entertainment (and, to our delight, the Painted Pony/Great Northern Carousel and Exploration Works). Centennial Park and Carrol Collage are just a short stroll away on the path that runs under West Lyndale Avenue. With upgraded amenities, this hotel and conference center is set to the theme of the Great Northern Railroad (look for the working model train train located above the front desk).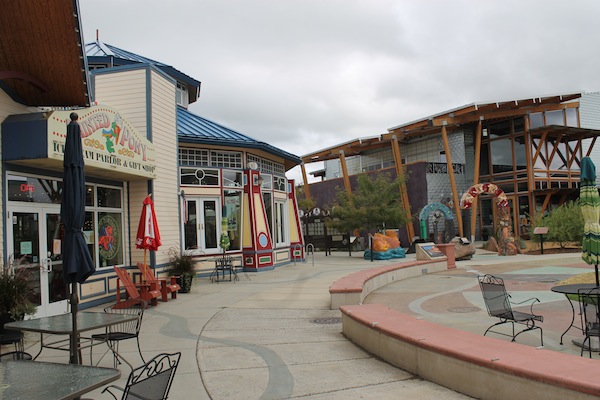 Between the books and board games in the lobby area and the modern swimming pool (and hot tub), one of the best reasons to stay at the Best Western Premier Great Northern is the size of the rooms. Featuring comfortable seating areas and modern office chairs behind oversize desks, it's easy to set up office and experience some of the comforts of home. In the mornings we enjoyed fresh and healthy choices served in real—not disposable—table service. This property has also received recent accolades, winning numerous awards in 2013 for excellence in customer service, quality, value, and commitment to the Best Western brand.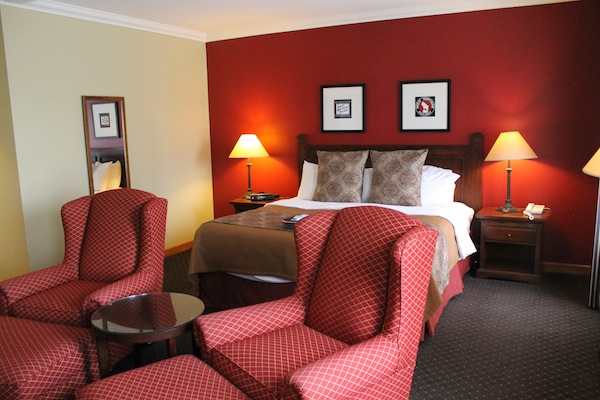 For more information on planning your own family vacation in Helena, Montana visit the Helena Convention and Visitor's Bureau website: http://www.helenamt.com/